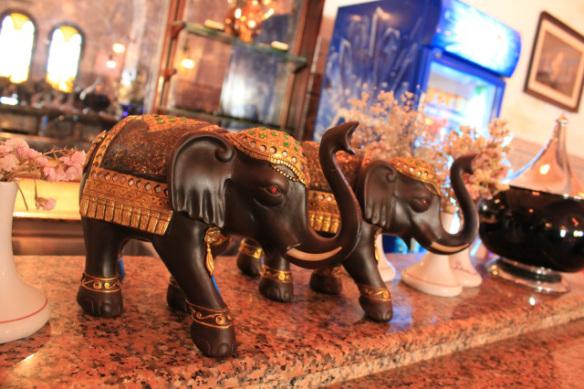 Al Safir Restaurant serves pretty good Indian cuisine in a schizophrenic interior design of Tunisian hammam meets Libyan meets Indian palace
One of the greatest perks of unplanned travels is that you find yourself in unexpected cities trying to navigate exotic routes and interpreting new cultures. Although Libya is right next door and I've always wanted to visit, especially since the Libyan revolution, I unexpectedly found myself in Tripoli with time on my hands to get to know the city. I was warned that there's nothing much to do and no good food to eat, but thanks to a network of helpful locals and a lot of walking around, I found a lot more to Tripoli than meets the fragile foreign eye.
First of all, once you've got used to the sporadic gunfire every day and night, the shrapnel in buildings and the photos and graffiti of martyrs on every wall, there is a lot to be appreciated about this coastal Libyan city that's reminiscent of Alexandria (or Maamoura if you're being nasty) in the 60s – just minus the beaches, nightclubs and women in miniskirts.
Secondly, Tripoli is a fascinating blend of Italian, Tunisian and Turkish influences in its architecture, dialect, cuisine and heritage. Even though many of the younger generation don't speak English, Italian words have been integrated into the local dialect and many buildings have Italian designs – their archways reminded a fellow Cairene of Korba.
Things you should know:
1. Libya is a conservative society. Nightlife in Tripoli consists of cafes and shisha places dominated by men, few women are seen, though some shisha places offer segregated seating. Beaches are rarely frequented by women, at least not during my stay. No alcohol is served officially.
2. Many restaurants shut during the afternoon, some re-open in the evening, but you'll be lucky to find a restaurant open past 11PM unless it's a shawerma shop.
3. Service is not included in restaurant bills, nor are tips expected, so tip out of courtesy whatever you deem to be appropriate.
4. There is no such thing as a building number or an exact address. Rely on directions like 'turn right after the mosque, second alleyway on your left' and you'll be fine. Locals are helpful in giving directions. Some might even walk you to your destination.
The greatest discovery I made in Tripoli was Souq El Turk, a massive market along winding alleyways (yes, zengas) selling silk, traditional brocaded galabeyas, turbans and vests, as well as gold, spices and incense. I stumbled upon a beautiful little shop on the Gold market alley selling heavy traditional necklaces in silver and stones, intricate silver rings and stained-glass lanterns -on your left before the bird shop and Obeya restaurant if you're walking towards the Hammam.
Also worth visiting is Hammam Dargouth, a 16th century Turkish hammam where you get scrubbed down mercilessly for 10LYD.The hammam is open to women on Sundays, Tuesdays and Wednesdays till 3PM. Bring your own towel and scrubbing towel and don't be a germaphobe. The authentic interior and baby-smooth skin you leave with are well worth the trip.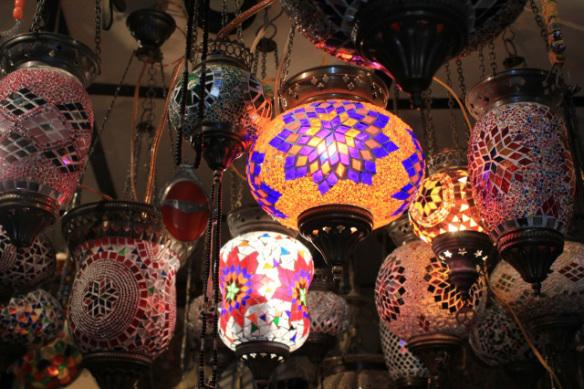 stained glass lanterns at the tiny jewellery shop, one of many along the winding Souq Al Dahab alleyway
The best Libyan cuisine in Tripoli is homemade, so don't turn down any invitation to a homecooked dinner. Your second-best options are restaurants like Tripolis, a restaurant facing the Mediterranean that serves hearty, basic Libyan fish dishes. The fish tagine (below) is served with potatoes, tomatoes, grouper fish and a generous serving of harissa. Warning: they put harissa on everything. Unless you enjoy the roof of your mouth crawling with pain and your sinuses flaring with fire, ask for your dish without. A dish is served with complementary dips. Expect to pay around 12LYD. Tripolis is one of the few restaurants in the area open past 10PM. Turn left on Omar Mokhtar at the Turkish fort arch and head past Midan El Saa'a until you find it on your left.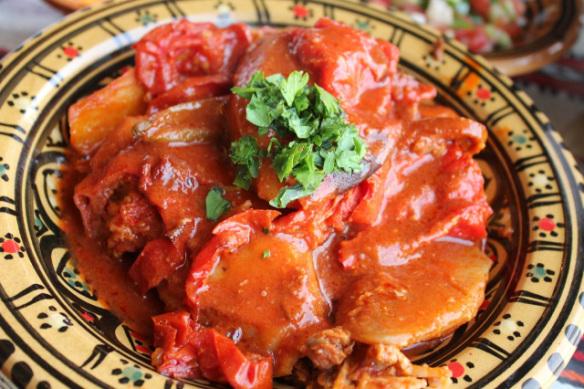 Heartbreakingly hot harissa on top of Tripolis' filling fish tagine
Close by, Athar is a tourist-friendly restaurant with its outdoor seating and front row view of the impressively intact Marcus Aurelius Arch. Most taxis will know where it is; or just ask for the arch by the sea next to Souq El Turk. The fish broth mixes spices with orzou and a hint of mint, while the couscous is served with roasted vegetables, mutton and a lacing of cinammon. Expect to pay around 20LYD for two dishes and a soft drink.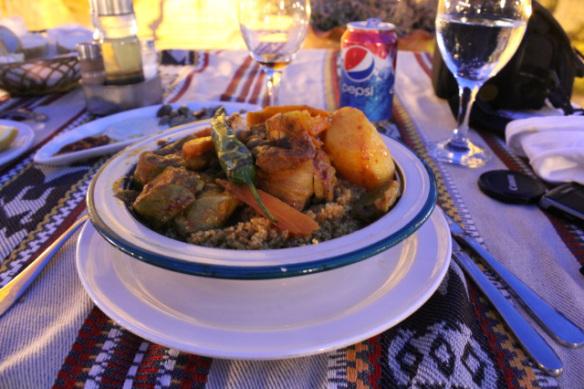 Couscous and mutton at Athar Restaurant at the Marcus Aurelius arch
I heard a lot about Obaya's stuffed calamari, but when I finally found the restaurant open (it shuts at 4PM), the kind waiter said it's out of season and they don't use frozen seafood. Kudos for his honesty. Located in the gold market in Souq El Turk, Obaya serves cheap and very gratifying dishes. I opted for the octopus salad (6LYD), which was steamed and absolutely delicious, and came with complimentary dips of spicy green olives, salad, and a Tripoli trademark: shredded pumpkin in garlic and oil. The whole meal cost 10LYD. Call Helmy if you need directions to Obaya on 00218-928646785.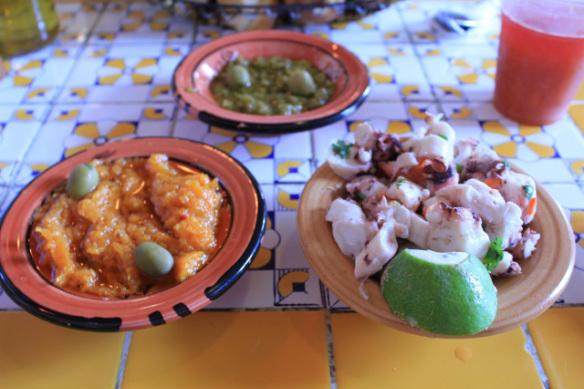 Octopus salad and shredded pumpkin at Obaya in the old city of Tripoli
For non-Libyan cuisine, Al Safir restaurant behind Al Kabeer Hotel serves pretty tasty Indian food in albeit small portions. The butter chicken was delectable and vegetarians will appreciate the grilled vegetables and curried vegetables. Two dishes and a drink will cost around 20LYD.
Further behind and next to an open parking lot, 5Stars is a Turkish restaurant that serves massive portions of lahma be ajeena (below) and juicy meat, kofta and chicken on skewers. Definitely go if you have a large appetite. They're one of the few places to serve pita bread; everywhere else in Tripoli seems to serve only baguettes. Call 00218-926081439. Also worth checking out is Coba Cabana on Omar Mokhtar street across from Al Madina club, which makes juicy, greasy, cheesy burgers just the way I like them for 10LYD a meal.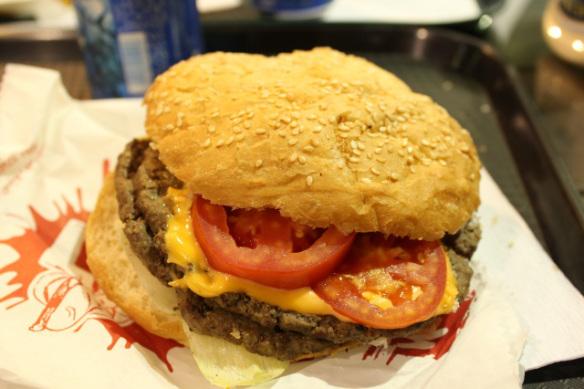 yuuuuuuum
For dessert, try italian ice cream at Zazá in Dahra (behind the Libya Museum) or cheesecake at Lamma in Gelgersh by the beach – call 00218-214770943 for directions.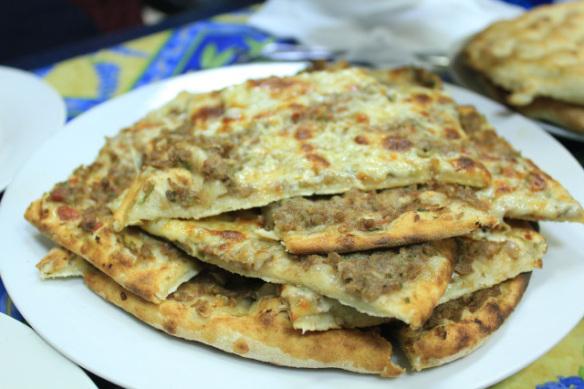 Lahma be ajeena at 5 Stars Restaurant, behind Al Kabeer Hotel
How  to Speak Libyan – at least the Tripoli dialect:
Bahy – Ok
Gdeish – How much
Tawa – Just Now
Metsakkar – Closed
Keef Halak – How are You
El Zooz – Both/ the two
Hoot – Fish
Kujina – Kitchen
Forka – Fork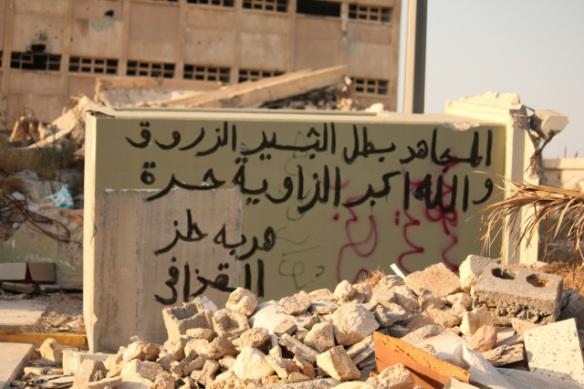 You're constantly confronted by remnants of the recent war- in this case, what's left of Bab El Azizeya, the Gadafi compound that was bombed by NATO strikes and stormed by rebels.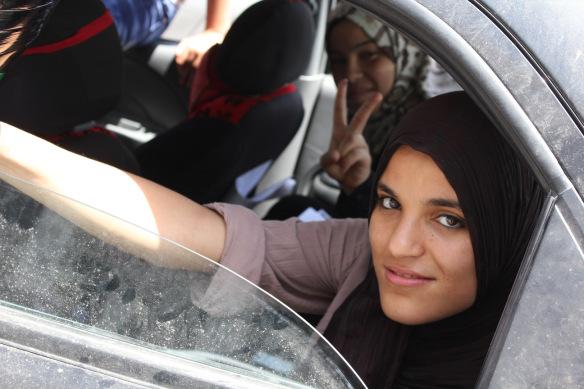 Libyans filled the streets of Tripoli in celebration after voting in the historical first democratic elections in the country. It was wonderful to be a part of their joy and capture these moments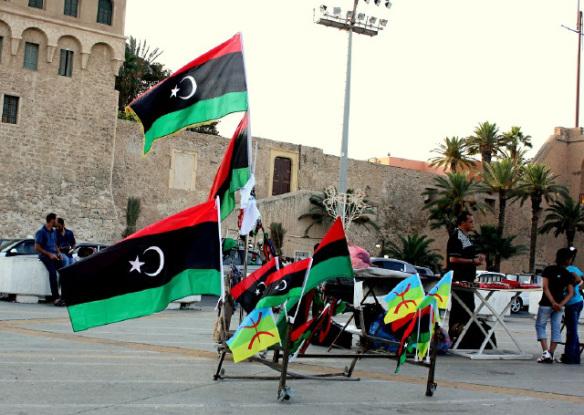 Martyrs' Square or Sahet El Shohada. Just don't call it Green Square to anyone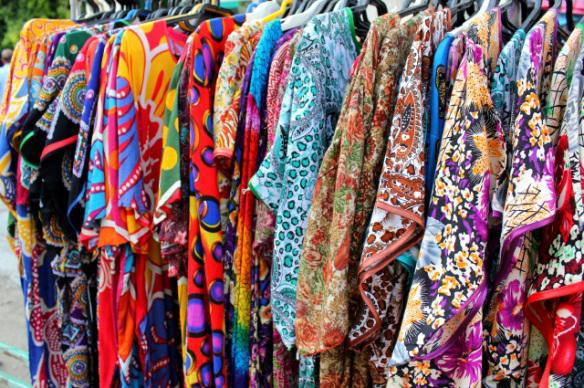 Light clothing like these eclectic galabeyas in Souq El Turk are highly necessary in the heavy and humid Tripoli heat
The indoor alleys of the silk market are airconditioned, making for pleasant mid-day shopping, especially when it comes to their traditional garb and bridal suits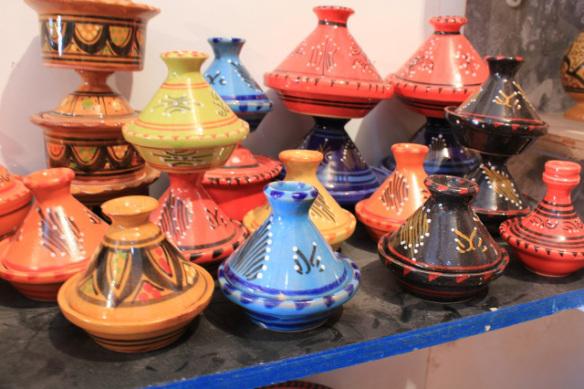 The influence of Tunisian heritage is clear in the painted pots and plates sold in hidden corners off the alleyways of Souq El Turk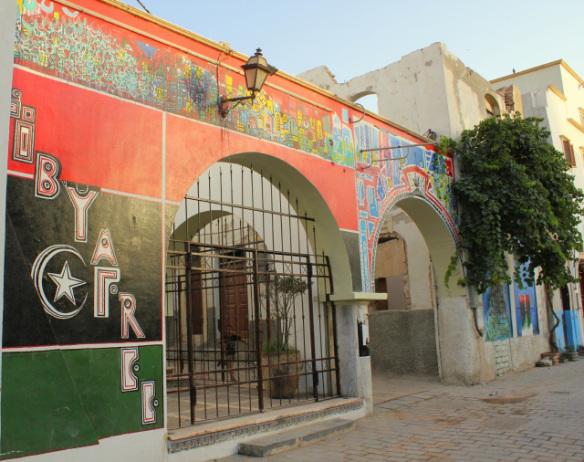 Patriotic murals and graffiti fill the streets and decorate the walls of hotels and restaurants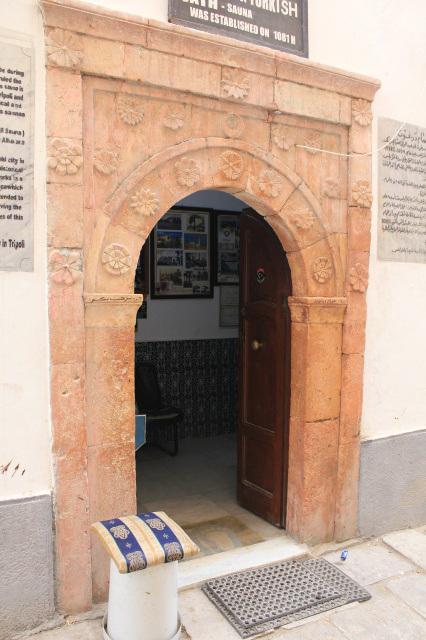 Hammam Dargouth is at the far West end of the gold market in Souq El Turk, dates back to the 16th century