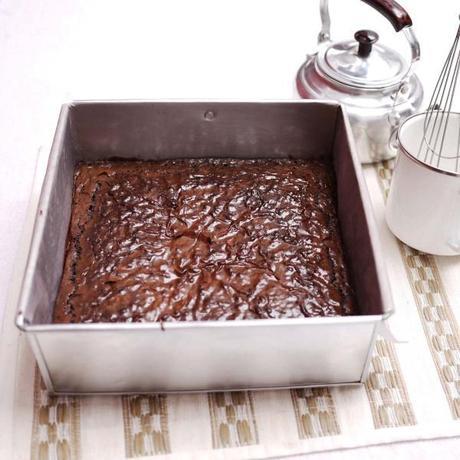 Just popped by for a quick brownie post.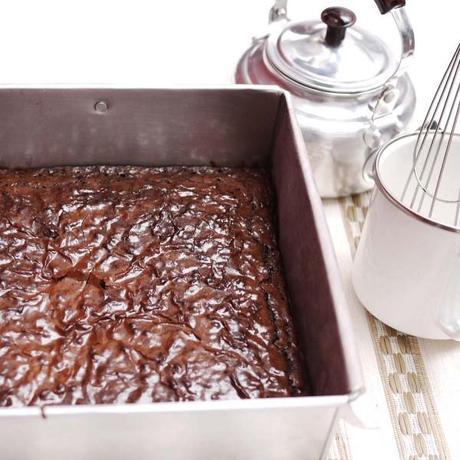 A brownie with the thin, crackly, shiny crust
That almost always promises the richest, fudgiest and most chocolatey treat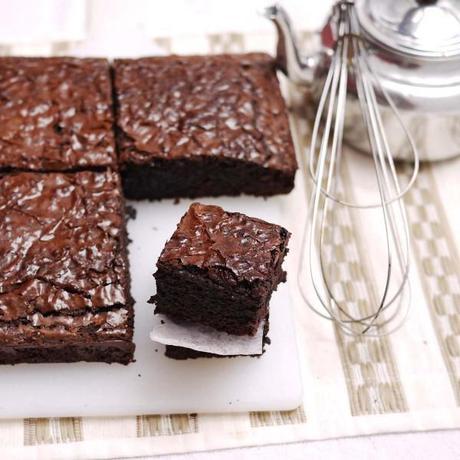 These were also spiked with espresso,
to help you get going on your busy day ahead.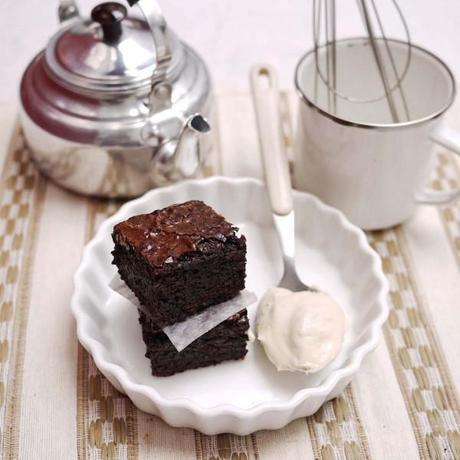 And of course, a dollop of some leftover Caramel Whipped Cream wouldnt hurt too!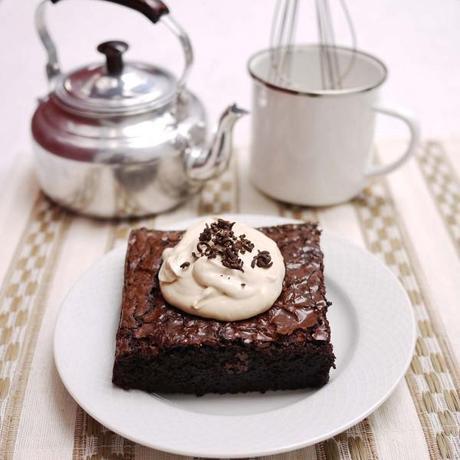 Triple-Chocolate Espresso Brownies
(Taken from Tracey's Culinary Advernture who took it from Baking Illustrated)
5 oz semisweet (or bittersweet) chocolate, chopped
2 oz unsweetened chocolate, chopped
8 tablespoons (1 stick) unsalted butter, cut in quarters
3 tablespoons cocoa powder
1 1/2 tablespoons instant espresso powder
3 large eggs, at room temperature
1 1/4 cups (8.75 oz) sugar 
2 teaspoons vanilla extract
1/2 teaspoon salt
1 cup (5 oz) unbleached all-purpose flour 
Preheat oven to 350 F with a rack in the lower middle position.  Spray an 8×8-inch baking pan with nonstick cooking spray.  Line the pan with aluminum foil, leaving an overhang on opposing sides so you can lift the brownies out easily once they're baked.  Spray the foil with nonstick cooking spray.
Add the semisweet (or bittersweet) chocolate, the unsweetened chocolate, and the butter to a medium heatproof bowl. Set the bowl over a pan of simmering water and, stirring occasionally, melt until everything is smooth.  Whisk in the cocoa powder and espresso until incorporated.  Set the bowl aside so the mixture can cool slightly. 
In a medium bowl, whisk together the eggs, sugar, vanilla and salt until combined, about 15 seconds.  Add the warm chocolate mixture to the egg mixture and whisk to combine.  Finally, stir in the flour with a rubber spatula or wooden spoon just until incorporated.
Pour the batter into the prepared baking ban, spreading evenly with a rubber spatula to cover the bottom of the pan.  Bake the brownies for about 35-40 minutes, or until a toothpick inserted in the center comes out with a few moist crumbs attached.  (Do not over bake, or the brownies will dry out.)  Transfer the pan to a wire rack and allow the brownies to cool completely in the pan.  Use the foil to lift the brownies out of the pan and slice before serving.
Taken from Martha Stewart
Ingredients
1/4 cup sugar
1 tablespoon water
Salt
1 1/4 cups cold heavy cream
Directions
Prepare an ice-water bath. Heat sugar, water, and a pinch of salt in a small saucepan over medium-high heat, stirring until sugar dissolves.
Cook, without stirring, until mixture is amber. (Do not let caramel burn.) Carefully pour in 1/2 cup cream in a slow, steady stream down the side of the saucepan, whisking constantly, until smooth (caramel will bubble).
Remove from heat, and place saucepan in ice-water bath. Let caramel mixture cool, stirring occasionally, until cold, about 20 minutes.
Whisk remaining 3/4 cup cream in a large bowl until soft peaks form. Gently fold caramel mixture into whipped cream, and whisk until stiff peaks form. Use immediately.