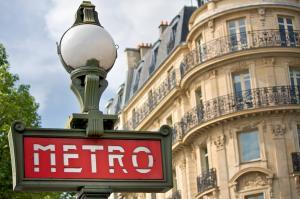 If you're planning a trip to Paris this August make sure you check out some of the great local events that are occurring through the month.  From open-air cinemas to man made beaches, there truly is everything going on in the City of Lights in the month of August. Already in Europe? Book your flights to Paris available from our friends at Jet2.com from just £21.99.  (Photo "Paris Metro Sign" by J-Stuart)
Les Plages à Paris
July and August play host to the Paris Plages, a number of man-made beaches appearing down the length of the river Seine and with them come a variety of cultural events in the city. This is perfect playtime for the Parisians and of course the omnipresent tourists, so crowds should be expected.
Branching from the Tulleries to the Pont d'Arcole, these urban beaches feature sunloungers, parasols and plenty of the golden stuff on which to sunbathe or build a sandcastle with the family. What's more there's plenty of activity on the Seine itself, with canoes, pedaloes, boats, and 'tube rollers' to enjoy near the Bassin de la Villette.
The events begin on July 20th and run until August 19th – oh, and don't forget to pack your swimsuit.
Cinema Au Clair de Lune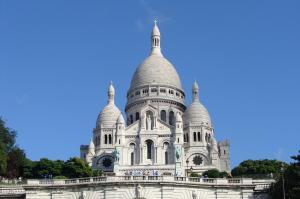 If you've had enough of the Parisian beaches for the day and the hour is drawing late make sure you set the date for the Cinema Au Clair de Lune. Open-air cinemas feature in cities across the whole world but Cinema Au Clair de Lune in Paris doesn't just play movies – it brings them to life, hosting screenings in locations where parts of the movies were filmed. (Photo "Basilique du Sacre Coeur" by 001099)
Screenings feature at iconic locations all over the city such as, the Trocadero, Montmartre, Parc Montsouris and Place des Vosges. Fans of French arthouse cinema will be particularly enthralled by the Cinema Au Clair de Lune, as some time-honored movies of the genre, as well as exciting new titles will be screened. Movies will be screened from the 1st August until the 19th.
A Natural Approach to Classical Music
The beauty of classical music and the majesty of nature are set to collide in Paris this August, as Classique au Vert festival returns to the Parc Floral for seven weekends of haunting open-air performances.
Each weekend of Classique au Vert will have a different theme, beginning on the 4th August with 'Music and Nature' which will see musicians perform pieces inspired by the lush greenery that surrounds the Park.
The theme of the following Saturday and Sunday is 'Music, Poetry and Literature', and each performance will demonstrate the correspondence between music and various texts. Whether it's a poem set to music or a narrative told through melody, this is the weekend that will enthral fans of both arts.
Music from the Movies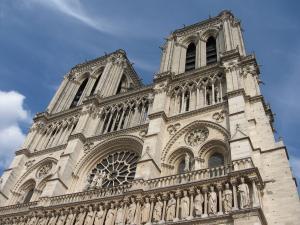 However whilst Classique au Vert may have a carefully curated program of events, there's something for music lovers of all kinds as on the fifth weekend is 'Music and Theater', when classical music artists will perform some well-known compositions from the movies, including Star Wars, Harry Potter and even the Pirates of the Caribbean. (Photo "Notre Dame" by Ralph97)
Classique au Vert even pays homage to more abstract forms of Classical Music with a weekend of 'Music and Architecture', to show how balance, proportion and acoustics influence classical music.
Every Saturday and Sunday during Classique au Vert offers a unique classical music experience that will make your trip one to remember. Cheap flights to Paris are available from Jet2.com from just £21.99 one way including taxes, so you can experience this delightful aspect of Paris culture even if you're traveling on a budget.