This review is proudly sponsored and brought to you by Trimton Singapore. Any external images, if used, solely belong to their respective owners and not to me. I only re-link and use them as part of this review.
Note that all views presented here are of my own and whether the product is sponsored or not, it's honest throughout. Only that effects will vary on the individual when applied.
WHAT IS IT:
Trimton 2 Pistol Shot Diet Pill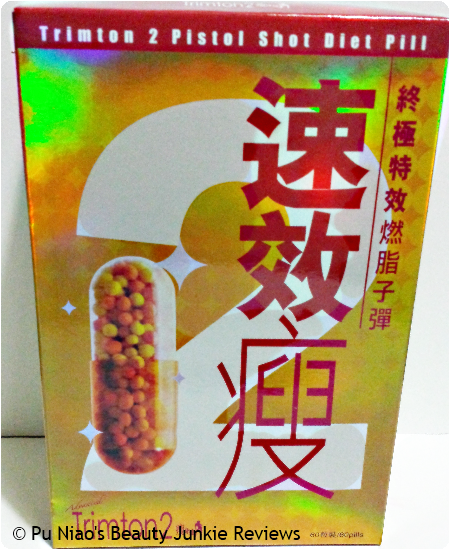 Trimton 2 Pistol Shot Diet Pill:
Tritrim Pistol Shot Diet Pill is reputed in slimming industry as precise and fast, as each pill contains 400 pistol ball, which is through a revolutionized technology called Microencapulation that encompasses every components into Sorbitol in order to deliver 100% absorption through intestines, which is the true and main step for getting hit and cutting fat.
Normal slimming pills cannot be effective, because most of them are constrained by the capsule themselves, which restrict their effect for less than 20%. The main reason for the weakness of normal capsule lies on most capsule have a invulnerability of dissolution by stomach acids, those acids dissolve all components, prevent they target rightly to the intestine and delivered to the desired area of the body for reducing fat. Yet Tritrim 2 makes a breakthrough, so through Microencapulation, enhance a 6 hours complete absorption which enact the super active slimming power.
THE PRODUCT(S):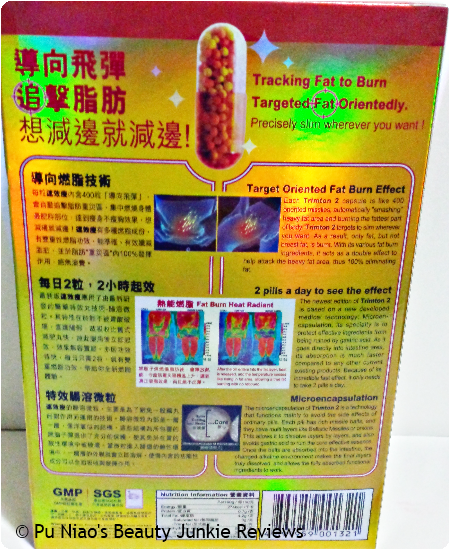 Back of the box that shows the positive effects from taking
Trimton 2 Pistol Shot Diet Pill
. Luckily, there's explanation in English as well or this Sponsored Review will never get to see the light of day in time.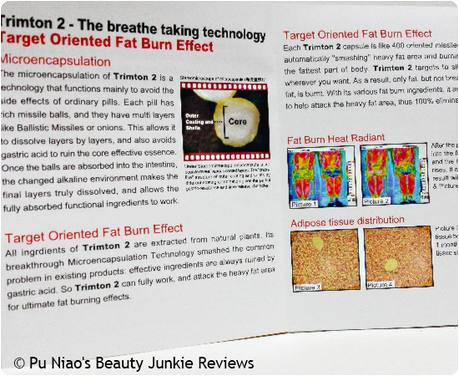 Detailed explanation of
Trimton 2 Pistol Shot Diet Pill
found in the booklet inside the box.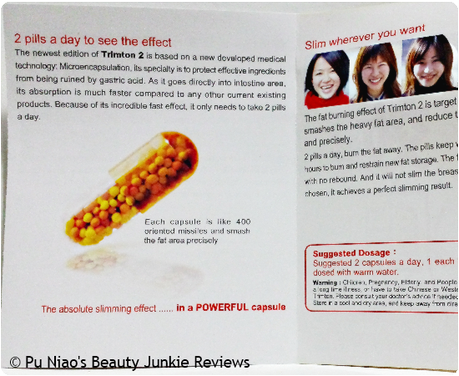 Unlike the first
Trimton
,
Trimton 2 Pistol Shot Diet Pill
only requires you to take 2 pills a day. Once in the daytime for breakfast or lunch and once at night for dinner .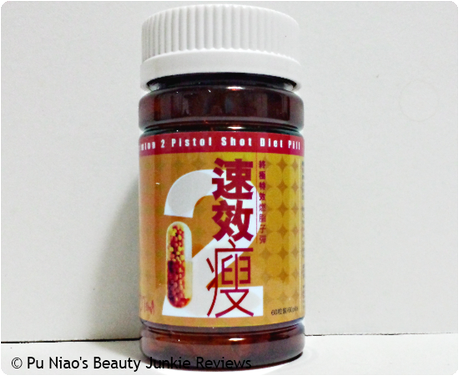 Here's a closer look at the actual bottle, despite looking so heavy, it's really a light bottle. It isn't too heavy to bring it with you out of the house. On the contrary, if you are a little "shy" like me, and don't feel like letting the entire world know that you're taking diet pills, you can transfer them to a pill box instead for privacy purposes :D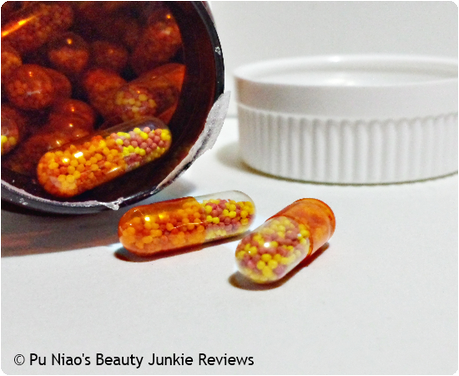 Here's a look at how the actual
Trimton 2 Pistol Shot Diet Pill
looks like. Within a semi-transparent/opaque pill are colorful red and yellow balls. Looks a little like Po Chai Pills, just a little more colorful.
VERDICT:
Well, before I go on to the actual review, kindly allow me to share my diet pills experience with you all. Around 5-6 years ago, I found myself steadily gaining weight way too fast. And due to my busy work schedule, it's actually impossible to find time to actually exercise, or even remotely attempt light exercise on a regular basis. As soon as my next available off day approaches, I find myself lounging around at home, trying my best to catch up on a lot of much needed sleep as I possibly can. As I personally can attest to the phrase "Sleep Debt", continued lack of sleep can really wreck havoc on our bodies and mind before you realized what's going on.
And before long, I found myself gaining weight as I also ate more and more at the same time. And so out of desperation, I turned to the Internet and hunt around for some diet/slimming pills. And unluckily for me, I bought some diet/slimming pills from a company whose name I already forgot. Needless to say, my weight didn't go off at all. Not a slightest bit and worse, my stomach gotten really bloated to the point where people thought I was pregnant
(I'm not joking when people asked if I'm in the first trimester of pregnancy)
. Sure, I can hide behind a pillar but the thing is, my stomach was sticking out of the pillar like a sore thumb. There goes those epic "Hide-And-Seek" moments when I thought I was well hidden, only to get "betrayed" of hiding spot because of my bloated stomach.
Initially, I attributed the bloated stomach issue to being accumulated fat deposit in my stomach. Soon, various things started happening. I started losing appetite, and with each mouthful of food taken, I found myself running to the toilet to throw everything up. It's either throwing up or taking really regular poop sessions. In short, I found myself losing appetite real fast while at the same time not having any decent intake of food. It gotten worse to the point where food disgusted me thoroughly and seeing people eat makes me feel nauseated and I felt like throwing up all the time. It's even worse when you didn't eat anything for the entire day, but your body just kept wanting to throw up. But there's technically nothing left in your stomach to puke out anymore.
A visit to my regular GP ended up with the GP writing me a letter and asking, or should I say pleading me to get to the nearest Emergency Unit as soon as I possibly can. Turns out, those diet/slimming pills induced a growth in my uterus area, which I mentioned many years back over at my
main blog
. And I do have the photo of the growth for proof as well, which my mother claimed is the mystery of my missing twin. Hmm... That growth does look like there's a face on it somehow..
This made me switched to another trusted local brand well know for their collagen drinks, which I shall not name. This new diet/slimming pill I gotten kinda messed up my body to the point where I never had my menstruation for a good 2 years in a row. And when I do, it wasn't even menstrual blood that flowed out. Instead, it's more like some sticky brown stuff that honestly should have been blood, but wasn't. Somehow, the consistency reminded me of glue although I myself knew better that it isn't.
So, I stopped taking any diet/slimming pills for at least 5 to 6 years to at least try and get my body somewhat healthy or back to some sense of normalcy again. Until a few months back, I encountered a new diet/slimming pill while briefly browsing through our local
8 Days
and
i-Weekly
. Although I am personally skeptical, I am honestly still open to the idea of taking diet/slimming supplement pills to at least aid in weight loss. Let's just say, when you're at my age, you'll start to get a little desperate in the weight department and be willing and open to anything that remotely helps.
Anyway, long story short, I got to know about
Trimton 2 Pistol Shot Diet Pill
and was aware that they were looking for bloggers to try and review their latest breakthrough technology. And I decided to give it a try. Partly because of the fact that my personal favorite blogger, who recently became a happy mother of a healthy baby boy actually tried it and she didn't seem to encounter nor mentioned of any bad and/or side-effects which prompted me to give this product a try. And the fact that this company is actively seeking for bloggers who are willing to give this diet/slimming pill a try meant that it should be safe. Who knows? This might be the ultimate holy grail for us girls who have been trying to lose off those excess and unwanted weight for years without even a hint of miracle happening.
Trimton 2 Pistol Shot Diet Pill
consists of breakthrough E.Microen (肠溶性微粒)Technology stimulate the effect brought by the natural ingredients. And it promotes oil-blocking effect in intestine while at the same time efectively blocks out and dissolves oil from food intake up to 80%. In short, it helps to cut oil and promote weight loss and it supposedly has no side effect & safe to use unlike those shady diet/slimming pills I've already mentioned earlier on.
Although I do have to admit, the instructions on when to take the pills was a little vague. For this review, I'm sticking to the "at least 30 minutes before mealtime" concept and see if there's any improvements for at least 2 weeks. I'll do a follow-up review when I switched it to the "1 pill immediately after stipulated meal" concept and provided I do see some effects, then I will without a doubt write up a follow-up review as well.
But to be honest, my first "at least 30 minutes before mealtime" concept isn't really working for me as my break-time isn't always at the same time. So, it's actually a little hard to be able to swallow this pill at least a good 30 minutes before my break-time comes up. And to be honest, I haven't encountered the so-called "fat burning" sensation. Which I am confidently going to attribute to the fact that most times, I am unable to get a pill down at least a good 30 minutes before mealtime. Although it is best recommended to take Trimton 2 for 3 month as a treatment, it is suggest taking 2 capsule a day, one for breakfast or lunch and other one for dinner and dosage with warm water.
But on the off-side, I didn't experience any prolonged thirst when trying these pills, as compared to previous diet/slimming pills I've tried before. Those forementioned diet pills simply made me so thirsty to the point where I feel like drinking up the entire MacRitchie Reservoir. However, I didn't encounter such an issue while taking
Trimton 2 Pistol Shot Diet Pill
. Prior to taking this pill, I am always and constantly constipated and each toilet session would end up with me sitting inside pondering what was I supposed to be doing on the toilet bowl. I guess I sat on the bowl too long and forgot my intended purpose in there LOL
But after taking this pill, I found that my toilet sessions are so much smoother and faster now. I don't really feel constipated at all and when it's time to go to the potty, it's so much smoother and faster than I can imagine. In short, go to the toilet, do my business and get out. All in under 8 minutes. I feel like a man for accomplishing my toilet session in so short a time LOL
So far, I did managed to drop half a kilo since taking this for the past 1.5 weeks which I thought was amazing. I'm going to switch to taking a pill after my meal instead starting next Monday for a good 2-3 weeks instead and see if the effects are actually better as compared to taking a pill before mealtime.
VERDICT:
✓✓✓
WHAT I THINK:
Instructions a little vague but since it didn't specifically mentioned anything with greater detailed, you can probably chose to take a pill before or after meal to see which gives a better effect on your weight. So far, I did see a slight noticeable and positive effect from using this. I'll continue to do so for another 2 to 3 more months and see if I can lose a little more weight.
Also, a side note to the company:
It would be wise to state "Health Supplement" or "Diet Supplement" on the mail order list tacked to the paper bag it came in, instead of stating "Slimming Pills" directly. You know how some courier personnel gave you that sly and dirty look when it comes to diet/slimming pills via online and/or mail-order ^^;
Why not like my Facebook page at https://www.facebook.com/PuNiaosProductReviews to be informed of latest samples I found, which is duly updated? It will definitely save you the trouble of having to hunt down samples :)