As I watched the clock slip silently past 4pm, I had become slightly anxious about my plan to stay home for Halloween. I was ready to collect the kids and take them to the local Jack o' Lantern display. I was ready to turn off all the lights and return home well after any Scream-masked figure would darken my door.
I was outta there.
When I arrived home from the store, however, it was a bit too late. I would have created more of a mess for myself by introducing traffic and long lines to extremely hungry children, so I decided (reluctantly) to stick it out at home.
I dressed Matthew in his costume a short time after his nap. It was one of those naps where he didn't sleep, and flew out of his room, pretty aptly, like a bat out of hell, at the first sign of noise in the house. On these napless days, life's a crap shoot. Will he cry? Will he whine? Will he throw himself on the floor at the slightest mention of apple juice?  If I brought him out to trick-or-treat, would he burst into tears on someone's doorstep? Would he sit down in the middle of the street? It was anybody's guess.
Tonight would also be my first-ever Halloween candy distribution, a task for which I was equally unprepared.
Gone were the Halloweens in which drinking until rolling down the hill in front of my friend's beachside home was a good idea. Gone were the days I'd pack myself up and hide out at a friend's or family member's house until I was given the all clear to return home, safely, and, most of all, quietly. Gone were the days I could either party or escape. I realized I could do neither.
So there I sat, tentatively picking at my lemon chicken, listening for the doorbell. When the first ring came, as I so fearfully knew it would, I hopped up, wearing my swaying hairy eyeball headband, and made for the door. When I got to the door, no one was there. I would swear I saw two hundred little creatures milling around just feet from my house, but no one was at my door.
Why weren't they at my door?
I stood there for a minute, thinking my lighting was inadequate or that I didn't provide enough 'doorway interest'  to lure the kids. By that point, Matthew had become extremely curious, and, after having pushed his ill-fitting Jake and the Never Land Pirates sweatband out of his eyes seventy or eighty times, I figured I owed it to the kid to take him out. As I got him ready, the doorbell began to ring with regularity. I entrusted the candy distribution to my mother.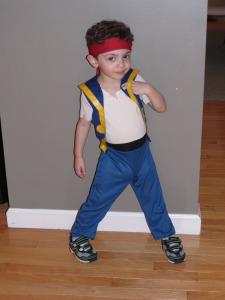 At the time of our departure, Matthew was armed with bucket, fleece jacket, and one-piece polyester costume that was slightly short in the crotch. We were ready to go. He took to the evening's activities like a duck to water, nothing at all like a boy who completely missed his nap. He even managed to remain composed in the face of a dangling, shaking, and screaming long-haired skull, a haggardly witch with a crooked nose, and a completely overzealous golden retriever. I gave him the option to return home after every house, but, to my surprise, he had become increasingly enthusiastic after each plunder. He done good. And he only forgot to say "Trick or Treat" a handful times.
I spent the rest of the evening doling out Nerds and Everlasting Gobstoppers and several items that contained traces of nuts, shaking hands, saying hello, and reminding the neighborhood adolescents that, "I can't give out any candy until someone says 'Trick or Treat'!" Thanks to the cover of night and my ridiculous googly-eye headband, I made more headway in this neighborhood than I've been able to in six months.
When we returned home, my son showed off his candy to anyone who would look, and I seriously considered wearing that headband indefinitely.
Some of the doors we went to were more elaborate, louder, and more colorful than mine. And some of my neighbors were goofier and more disarming than me. But I was reminded of how much fun my son was having as we descended each and every driveway. And I smiled and laughed because I was surrounded by droves of happy children.
In my book, that's a win.
I've learned that there is life beyond doing shots with plastic eyeballs floating in them, or volunteering to work in hopes of avoiding 'the nonsense' altogether. I've reached a point where I am no longer the kid in the costume, and can no longer run away.
I'm a parent.
And that's a very happy medium.