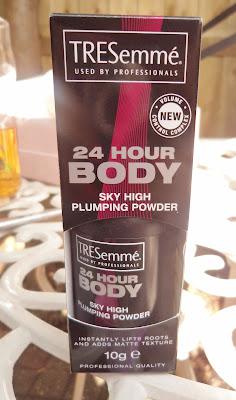 I posted about the Schwarzkopf Volumising Hair Powder in January, I liked it. It gave my hair good volume at the roots without making it greasy. I've used it on and off for some extra texture after washes since I've used it. Surprisingly it's last very well and I still have half a tube left, roughly, its so light you can't really tell. ]
I've not needed a new one but this Tresemme version was on offer in my local Tesco for something silly like £1.20 and also a 3 for 2 so obviously I got three. The product is exactly the same in texture and end result as the Schwarzkopf version but the dispenser is a little different. The Schwarzkopf version has lots of little holes like a salt shaker which can get a little messy whereas the Tresemme version has one single hole which means you can direct the product on either your hands or hair a lot easier. 
I've found that applying the product straight too the hair is a lot more effective than putting it on your hands first like some packaging suggests. Basically the jist of this post is that out of the two Tresemme is my favorite hair powder due to its bottle but if you find one for a bargain just pick it up because the contents is the same and they last for ages. They're brilliant at making the hair matte and adding texture to hair that's just been washed. 
Has anyone tried any other versions of hair powder? 

Please note some of the images are missing from really old posts if you end up at one. I deleted a lot of images by accident and I can't work out how to get them back without going through like 70 odd posts and putting them all back in and I really don't have time for this at the moment. Hopefully it doesn't really make much of a difference as they are all really old posts :)