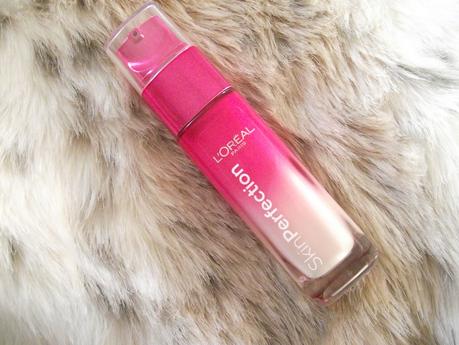 L'Oreal Skin Perfection Serum £16.99




I've had this serum for a while (it's actually nearly an empty) and have been using it nearly everyday.

I went to write this post about 2 weeks after using it and just didn't have any words to put against it. I kind of still feel like that but wants to put my blah feelings out there. This serum is nice, it is nice under moisturiser, a little hydrating and a nice consistency. But I hate the word nice - I've been waiting for this to amaze me and it just hasn't. I want something more from a serum to be honest I want better skintone, better texture or just an altogether better base. It doesn't do those things sadly - it is in no way offensive it's never broken me out and the pink pump packaging suits me just fine. I just wouldn't buy this again - to me it's not worth the money I'd rather spend a little more on a serum that improves my skin tone or offers a serious amount of hydration. I'm sure this works amazingly for some people and I have enjoyed using it but I've never thought damn this is amazing which is what I look for in skincare. Sorry for my blah review but I wish I'd read this before buying it so I could head for something else so I hope this manages to maybe do the same to someone in the same position.
Georgina x.