After the not-so-overwhelming results from the TRESemmé Climate Control Shampoo, I wasn't expecting much from the conditioner in this range. But I did try it for the sake of this review and here is what I think of it.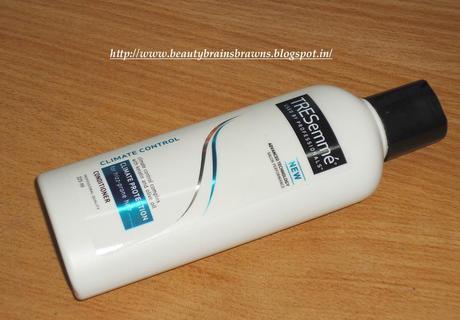 PRICE:  Rs. 128
QUANTITY: 225 ml INGREDIENTS: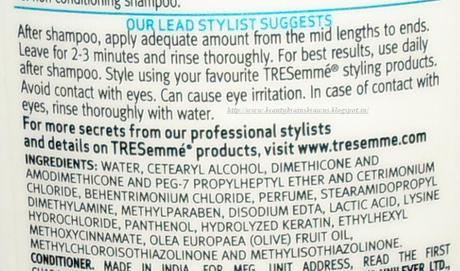 WHAT IT CLAIMS:
Enriched with Climate Control Complex formula, this Climate Control Conditioner coats your hair with Proteins that help in fighting against humidity, wind, static and harmful UV Rays. This conditioner also smoothes the hair cuticles by deeply conditioning and moisturizing thus leaving them looking shinier and more vibrant. Suitable for all hair types, this TRESemme Climate Control Conditioner protects your hair from the harmful effects of bad weather. Now, you can style your look by trying different hairstyles without worrying about your hair getting damaged due to bad weather conditions.
MY EXPERIENCE:
TRESemmé Climate Control Conditioner comes in a similar flip cap packaging as the shampoo, but in a white bottle. It has got a slight wheatgerm kind of smell

which I am not really fond of

. 2 - 3 pumps of the conditioner is adequate for my mid back-length hair. It applies easily and doesn't leave any slippery feeling while rinsing it off.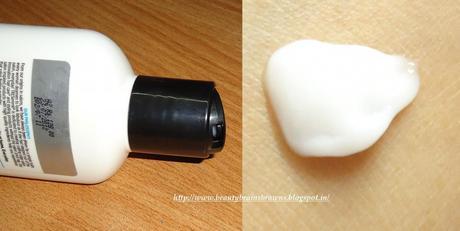 Coming to the results, it worked much better with shampoos other than the one from this range. It makes hair soft and smooth, without weighing it down. As for the frizz control, it does that too, to some extent. My only gripe is that, when I shampoo my hair the next day without using the conditioner, my hair looks more frizzy than it naturally is. Hmph! As for the quantity and the price, I believe its economical. To sum it up, WHAT I LIKED:
Applies and rinses off easily without leaving any slippery

/residual

feeling. 
Makes hair soft and smoothe

s

frizz to a great extent

(

when trie

d

with other

shampoos.)

Doesn't weigh

down my hair.

Effective packaging.

Economical for the quantity and

price.

 
WHAT I DIDN'T LIKE:
I feel this range worsened my hair condition, esp. th

e

shampoo.

Wish it had a better fragrance.
VERDICT: The conditioner is definitely better than the shampoo from the Climate Control range. However, I am not totally swayed by it. Try it at your own discretion. Silly me still wants to try out the Smooth and Shine range from TRESemmé (as I have heard good things about this third range), even though the other two ranges weren't that impressive. What do you suggest? Should I try it? RATINGS:4.25 out of 5