¡

Hola amgios! (sorry, that sounds like Dora is speaking to you) another week gone by and the weather has gone back to norma-lish for this time of year. Sunny but cool. You can definitely wear short sleeves but carry a blazer or light jacket because the temperature drops as soon as the rays are gone.
We reached a major milestone in the Very Busy Family this weekend. My little man FINALLY got around to riding his scooter.
I had bought him a Micro Scooter a good few months before leaving London (and a very cool red helmet). Both the Mr. and I were beaming when we bought it, we thought he would go mad and want to ride it everywhere, but he rolled it into his room and left in the corner.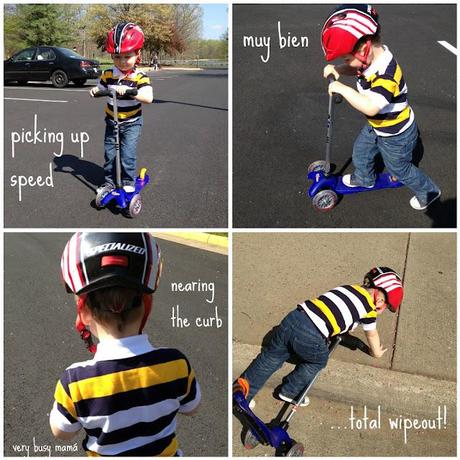 We tried several times to get him on it, but he wasn't having it. However he LOVED wearing the helmet! That we couldn't get him to take off.
Anyway, now here in the US, we unpacked it and re-introduced it to him. He still didn't want to go on it, but he's been scooting around the house on the carpet and I think that made him feel a bit safer.
This weekend I really encouraged him to take it out and once we were out the door he scooted like nobody's business! I got him pushing then putting his foot up, and weeeeeeeeeeeeee! He was off!
He's a pro now and he just looked so darn cute in his helmet and his striped Nautica Kids polo that his tío Tomás gave him for Christmas.
I'm a big fan of stripes, and kids, especially little boys always look super smart and neat when wearing them.
So here he is, Little M getting it right with stripes!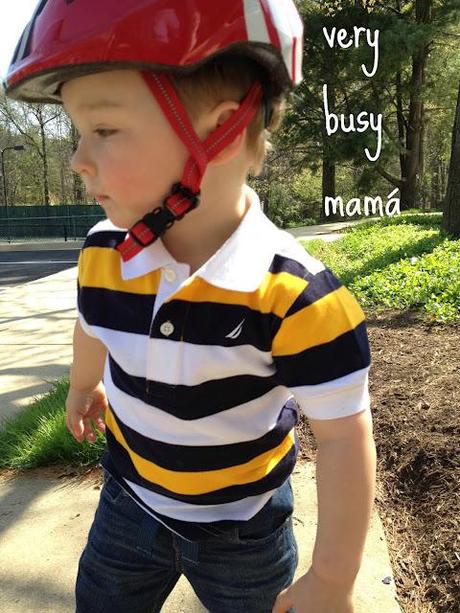 He looks so grown up!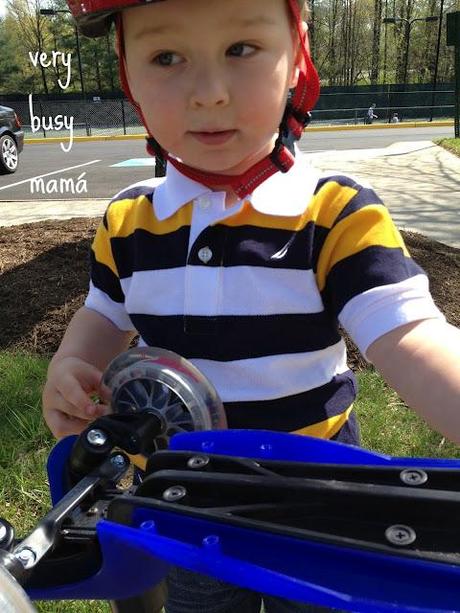 Helmet: Bought at local bike shop in Chiswick  Striped polo: Nautica Kids Jeans: Genunine Kids by OshKosh as seen here Trainers: Koala Kids from Babies R Us Scooter: Micro Scooters
*Not sponsored. All clothing and toys are own*


Now on to you! Show us what your littles are rocking around town this week.


If you are new, WELCOME! 

1. Please link your kids fashion/style related post (it doesn't have to be just for today's link up) and please take our badge and display on your site or link back to us in your post.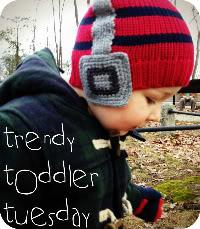 Grab the button,




show your style and link to us!


<a href="http://www.verybusymamablog.com" target="_blank"><img src=" <a href="http://s1111.photobucket.com/albums/h469/mummysbusyworld/?action=view&current=TrendyToddlerTuesdayMummysBusyWorldBadge-1.jpg" target="_blank"><img src="http://i1111.photobucket.com/albums/h469/mummysbusyworld/TrendyToddlerTuesdayMummysBusyWorldBadge-1.jpg" alt="Photobucket"></a>
2. Don't be shy, tweet us to let mami know you have linked up and she can RT @verybusymama 3. Please comment after you leave your link

4. Visit other blogs and remember link is open through Saturday

5. Mami will also share your post on Facebook and tweet them throughout the week

Thank you again for joining in! 
*Interested in sponsoring Trendy Toddler Tuesday and having us feature you?  Review and giveaway opportunities available! Please get in touch at:  majoseovalle AT gmail DOT com for details*
Easter film giveaway on Mummy's Busy World

Win a copy of The Lion of Judah on DVD (US Only)