It goes without saying, I have too much to do and no time to do it in. Add getting ready for a wedding in Upstate New York this weekend and looking for shoes for the cutest ring bearer in town and well I'm all over the place. Mostly my fault, I do tend to leave things to the last minute. Oops!
Anyway, here's a sneak peek at my mini Don Draper/James Bond in his tux. I want to save the wedding pictures for after the event.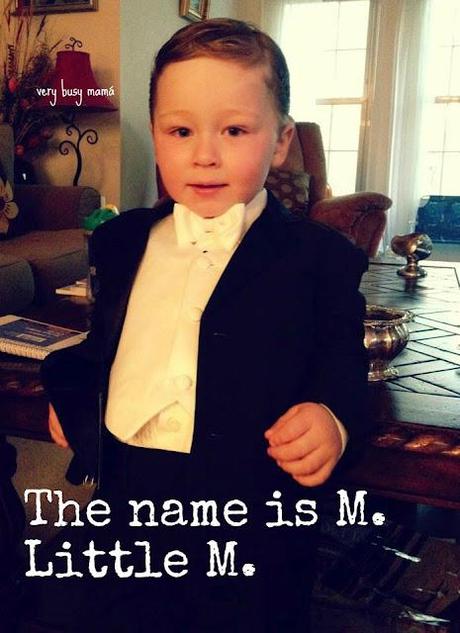 Yesterday afternoon I ran out to find a smart pair of black dress shoes for him and I got lucky at the first store I went into: JC Penney or JCP (not sure what it goes by).
I actually laughed out loud when I saw them because they look exactly like the Mr's shoes and they just looked so big! When the salesman measured his foot and we tried them on, they still looked big but he said its because of the pointed toe.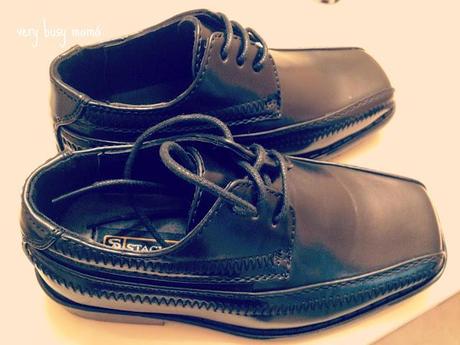 Little M looked to grown up, I couldn't stop staring at him. Now I just hope he can walk in these!
They were not inexpensive, but it could have been worse. I got them for $25, but at this point time is precious and I wasn't about to go running around the mall looking for another pair. Time is money after all and we were out of there pretty fast and made our way to the park.
So that's us for this week!
WIN IT! 
Custom made SqueakerBeeBow
We have a special little giveaway for all the lovely girls who like to wear bows in their hair!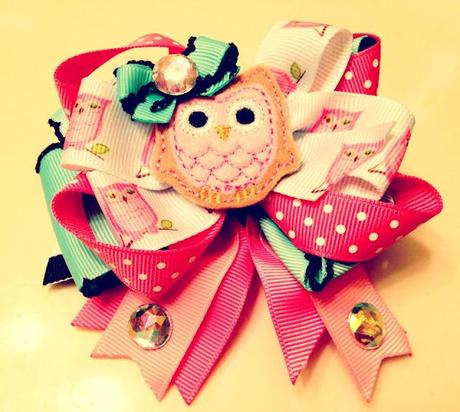 Amanda from SqueakerBeeBows is giving one lucky winner a cute hair bow. This one was sent to me, and I'm keeping it in a safe place (let's hope when the time comes the stork brings me a girl!) And if you place your own order, you get free shipping when you use VERYBUSYMAMA.
She custom makes every bow and even takes special requests, you can see her creations on her Facebook page. Anything from themes like Harry Potter or Disney! This is US only, sorry mummies but I have more international giveaways coming up.
All you have to do is link up your post here and LIKE SqueakerBeeBows on Facebook to be entered and while you are there, why not say hello!
Good luck!


Linky is below and stays open until Saturday.




1. Display our badge on your post or blog and link back to us. I ask that you please do this :)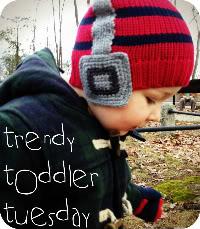 Grab the button,


show your style and link to us!


<a href="http://www.verybusymamablog.com/p/kids-fashion-trendy-toddler-link-up.html" target="_blank"><img alt="Photobucket" border="0" src="http://i1111.photobucket.com/albums/h469/mummysbusyworld/TrendyToddlerTuesdayMummysBusyWorldBadge-1.jpg" " target="_blank"><img src="http://i1111.photobucket.com/albums/h469/mummysbusyworld/TrendyToddlerTuesdayMummysBusyWorldBadge-1.jpg" alt="Photobucket"></a>
2. 

Don't be shy, tweet us to let mami know you have linked up and she can RT @verybusymama

3. Please comment after you leave your link

4. Visit other blogs and remember link is open through Saturday

5. Mami will also share your post on Facebook and tweet them throughout the week


*Interested in sponsoring Trendy Toddler Tuesday and having us feature you?  Then get in touch majoseovalle AT gmail DOT com for details*