Happy Thursday Lovelies !
Trend trotting Thursday is back again with another trending topic- NAIL ART !
Today Pooja from a dash of style with a sweet smile and I have teamed together to bring to your feed, not one but two different summer nail arts. I had met Pooja  at one of the DMV blogger events and I have to admit that this girl has a penchant for everything stylish, be it clothes, shoes, accessories with nails following . Her fondness for colors and fabulous nails, show well through in her weekly series, which she likes to call Mani Monday. 
The ' watermelon ' nails that Pooja has in store for us today is easy, summer-perfect and pretty rad. Do check out her blog for more nail art inspirations. 
Unlike Pooja's tutorial, my ' butterfly '  nail tutorial  is tad bit lengthy, involves a few steps and uses a few tools as well.  If you remember this post, I had some nail pieces left from the pack that I've used for today's at-home-mani. 
So keep scrolling for the fun stuff.....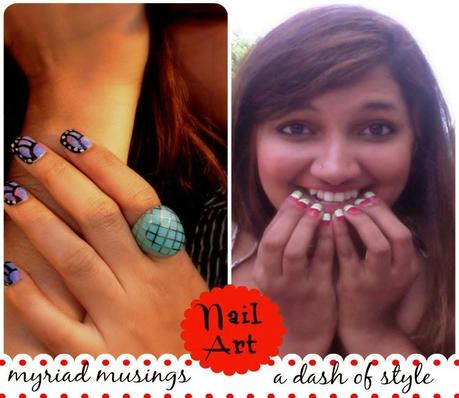 For the watermelon nails Pooja used :- 1) Essie 'watermelon' 
                                                           2) Sally Hansen 'green with envy'
                                                           3) a black and white polish.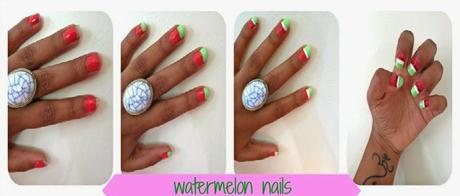 For the butterfly nails you need 6 color polishes, feel free to use any coordinating color mix.  
I used 1) H&M  'blue my mind'
           2) Essie ' where's my chauffeur' 
           3) NY&C  'peony petals' 
           4) Essie  ' lilacism ' 
           5) NY&C ' darkness ' 
           6) Essie ' no place like chrome ' 
In addition you would also need a fine tip nail art brush, a polka dot nail pen and some food plastic wrap.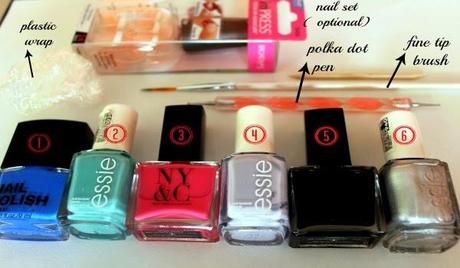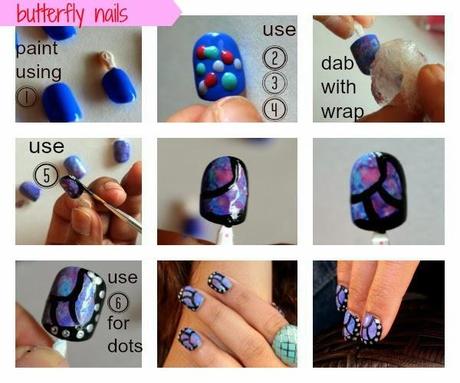 Hope you enjoyed the nail art tutorials today! If there is any other trend that you would like to see here, feel free to drop a line about it in the comment section below. Also if you would like to co-host, shoot me an email at [email protected] .
Have a great day and thanks for stopping by.
XO