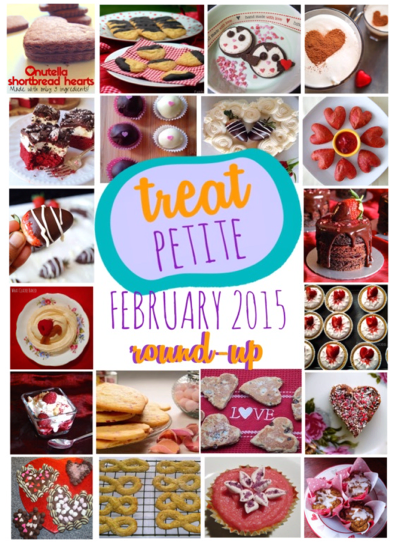 This month's theme for Treat Petite was 'Love Is In The Air' and it certainly was! It's been great to see all the love out there expressed through baking. It's amazing how many food types can be made heart shaped too! Read on to drool over the beautiful treats and look out for March's theme over on Cakeyboi soon!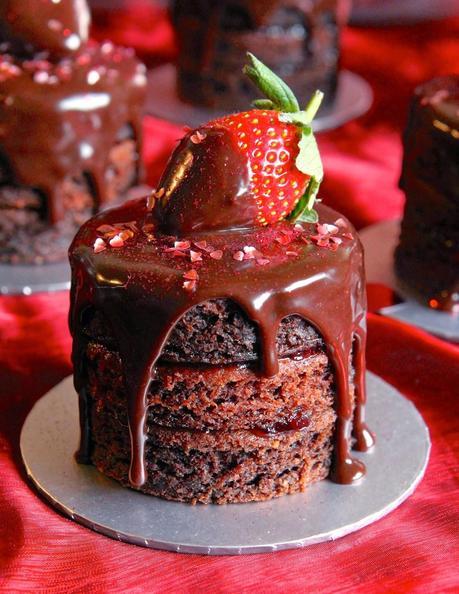 The first entry were these beautifully presented Chocolate Layer Cakes by The Gluten Free Alchemist - chocolate heaven!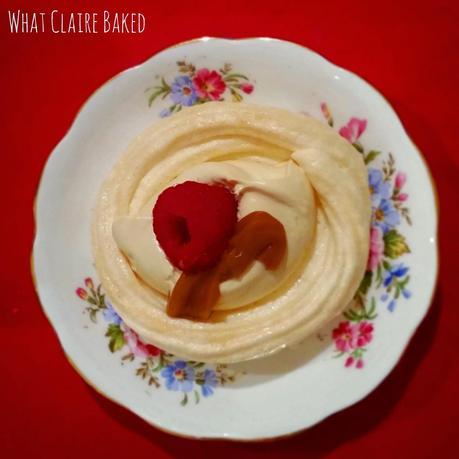 What Claire Baked sent us these Raspberry Ripple Meringue Love Nest, filled with salted caramel cream, they sound like a sweet tooth's dream!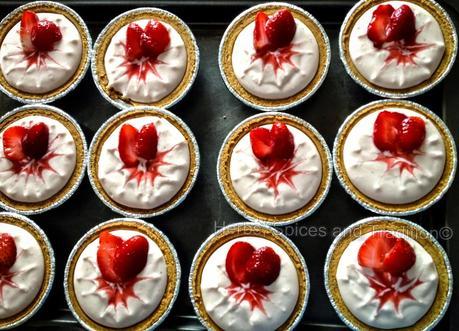 Herbs, Spice and Tradition made these perfectly uniform and very pretty No Bake Strawberry Cheesecakes.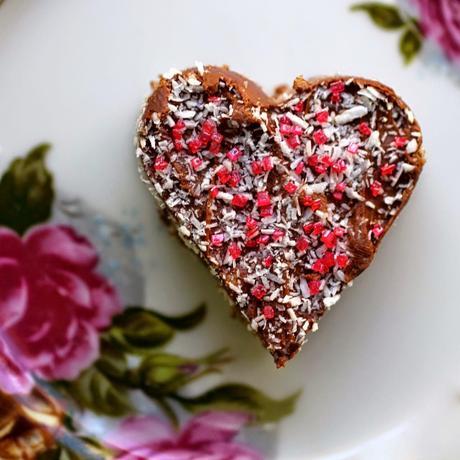 The Green Gourmet Giraffe made these Nutella Rice Bubble Slices in a heart shape. Anything to do with Nutella is great in my opinion!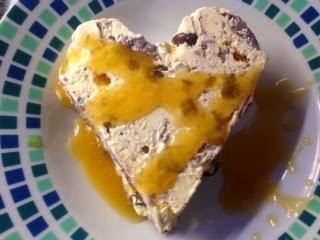 This delicious looking Nigella's Ice Cream Cake with Butterscotch Sauce was submitted by Caroline Makes... An easy no bake recipe shaped into hearts using a clever cake mold.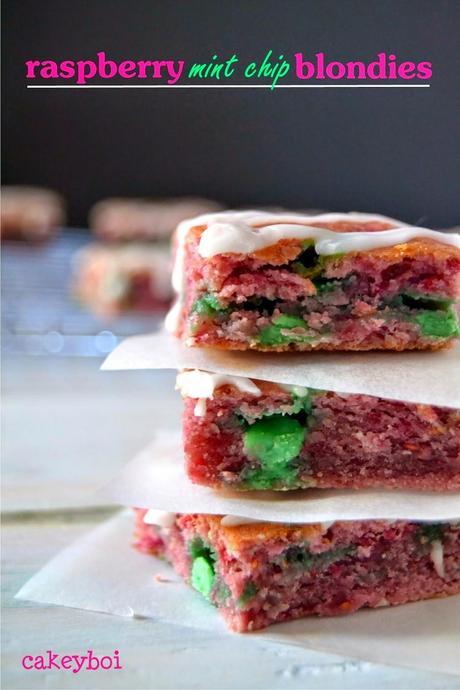 My Treat Petite co-host Cakeyboi made these Raspberry Mint Choc Blondies which are pretty in pink and I would imagine taste very refreshing!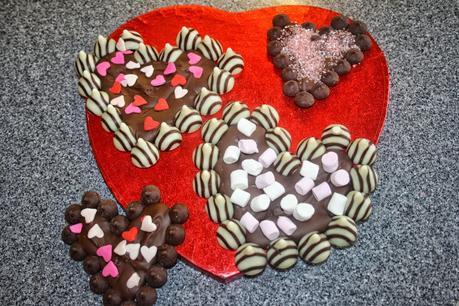 A second entry from Caroline Makes... was these Valentine's Chocolate Hearts which are very cleverly made with Hershey's Kisses.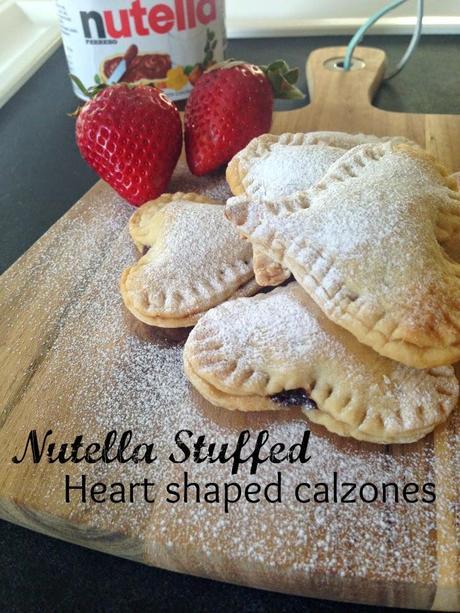 Kerry Cooks entered these awesome Nutella Stuffed Mini Heart Calzones. I think they look awesome, Nutella surely wins my heart!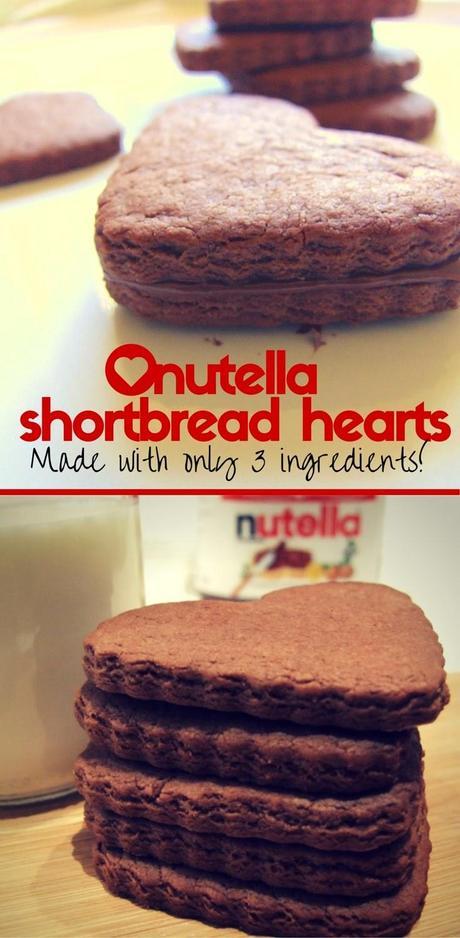 Another Nutella entry with these beautifully baked Nutella Shortbread Hearts from Family-Friends-Food.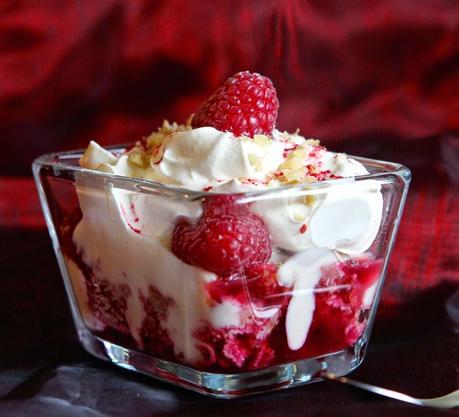 This stunning Raspberry Lemon Drizzle Trifle from The Gluten Free Alchemist is perfectly presented, gluten free and a great use for leftover cake!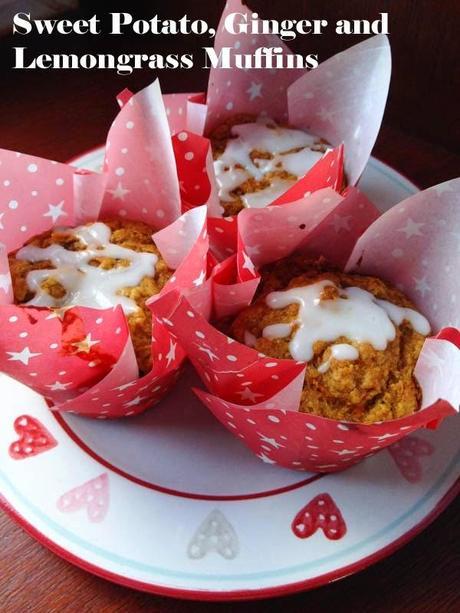 A very interesting flavor combination from Farmersgirl Kitchen with these Sweet Potato, Ginger & Lemongrass Muffins. Good for your heart in more ways than one!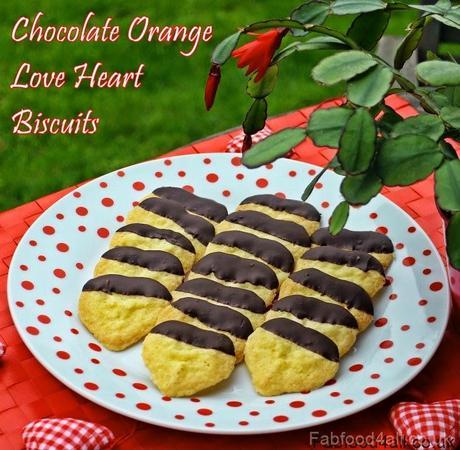 These pretty Chocolate Orange Love Heart Biscuits by Fab Food 4 All are dipped in chocolate and look delicious. They would be great with ice cream as recommended by Camilla!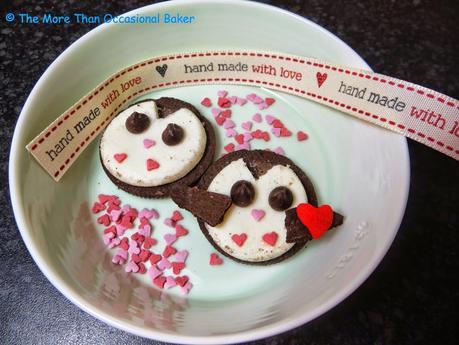 How adorable are these Penguin Oreos from The More Than Occassional Baker?! Almost too cute to eat!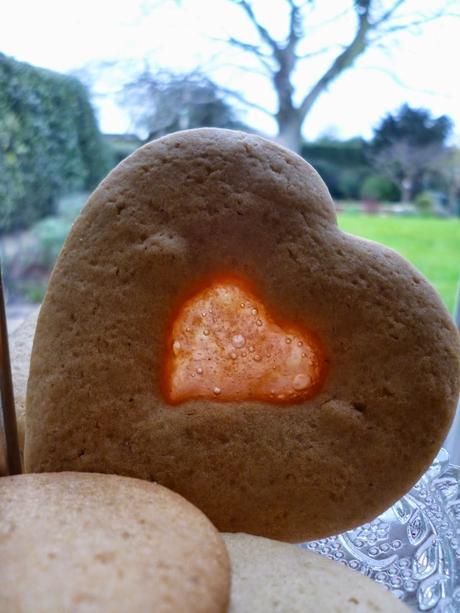 Garden Tea Cakes And Me sent in these Heart Shaped Stained Glass Biscuits, made by melting a boiled sweet in the middle of the dough for a pretty stained glass effect.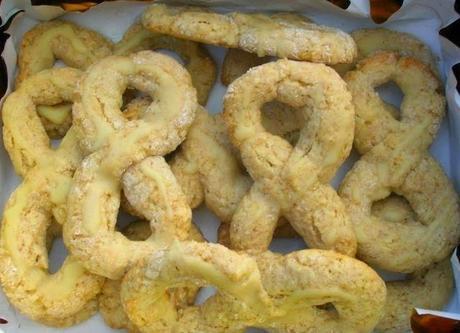 Chocolate Log Blog sent in these Jumbles with a White Chocolate Lemony Drizzle. I've not heard of Jumbles before but these figure of eight shaped biscuits flavoured with citrus fruits sound delicious!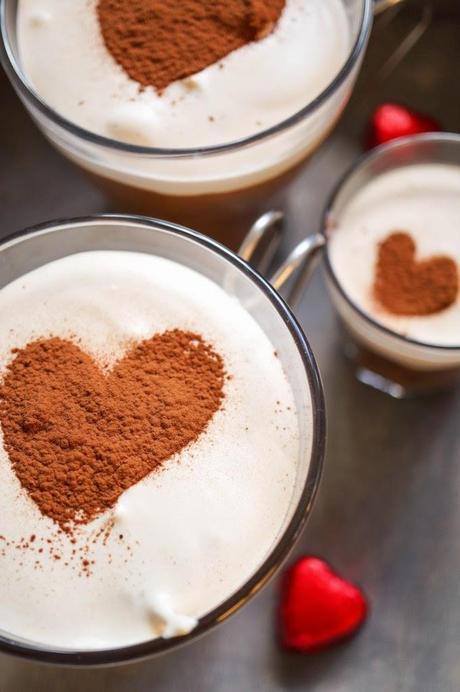 Who needs restaurant food when you can make these gorgeous Valentine Mochaccino Mousses by How To Cook Good Food yourself at home, stunning!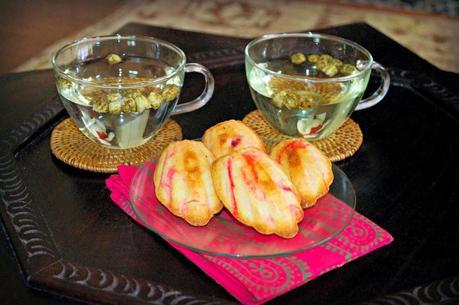 These gorgeously marbled Raspberry Madelines were sent in by Cooking For Kishore. I love the streaks of raspberry through the batter.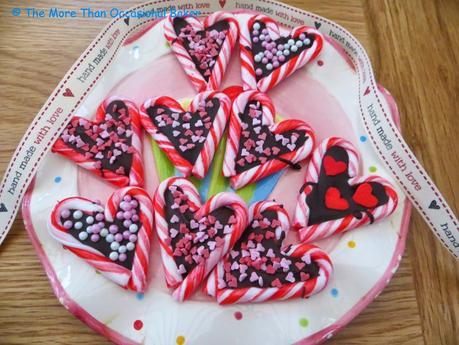 These fabulous Valentine Candy Cane Chocolate Hearts by The More Than Occasional Baker are an easy no bake recipe and a great way for using up Christmas sweets.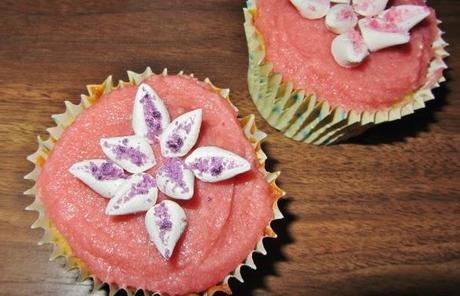 Searching For Spice cut up some mini marshmallows and dipped them in coloured sugar to create the pretty decoration on these Marshmallow Flower Cupcakes.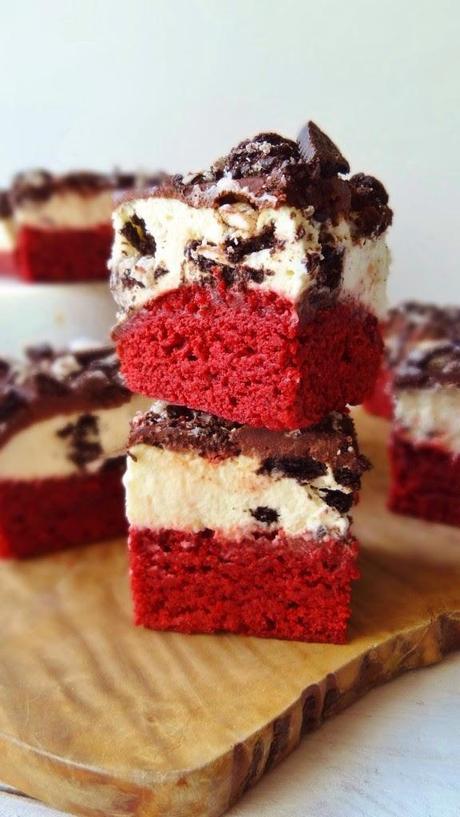 How amazing are these Red Velvet Brownies with Oreo Cream Cheese Mousses & Chocolate Ganache?! I think I want to marry Domestic Goddess!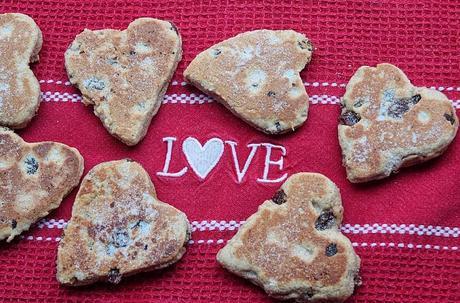 I love Welshcakes and they are especially good warm, these Vegan Valentine's Welshcakes from Allotment2Kitchen are super cute and gorgeously golden.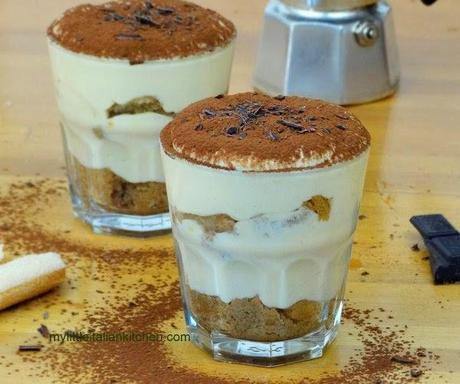 These Individual Tiramisu's by My Little Italian Kitchen would be the perfect ending to a romantic meal! A rich classic dessert that has stood the test of time.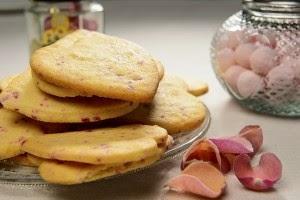 Roses are so synonomous with Valentine's day so what a perfect flavor to use in baking. These Valentine's Rose Heart Biscuits are so pretty and Simply Cooked With Love sent some to her daughter for Valentine's.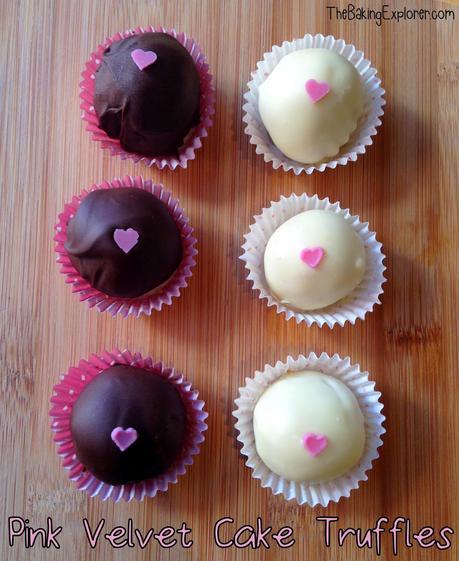 For my entry I made these Pink Velvet Cake Truffles using leftover cake and cream cheese. They are an easy no bake recipe and decorated with a single heart sprinkle I think they look quite pretty!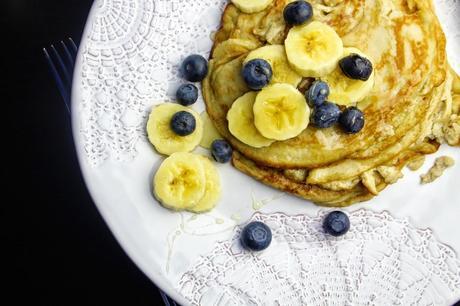 Belleau Kitchen sent over these Two Ingredient Banana Pancakes which are made using only bananas and eggs, I'm pretty impressed by this!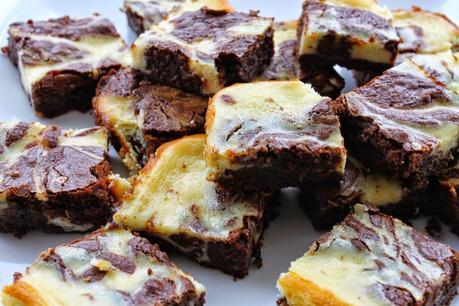 JibberJabberUK made these Cheesecake Brownies that look awesome! I've had cheesecake brownies before and I know what a yummy treat they are.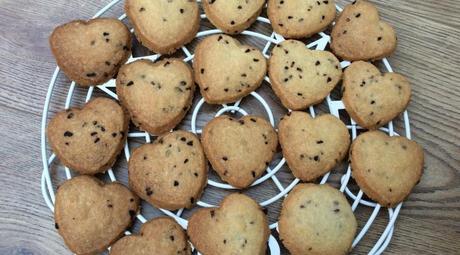 These pretty little Raspberry Shortbread Hearts from BakingQueen74 are made with freeze dried raspberry pieces which are full of flavour, she baked these with her children.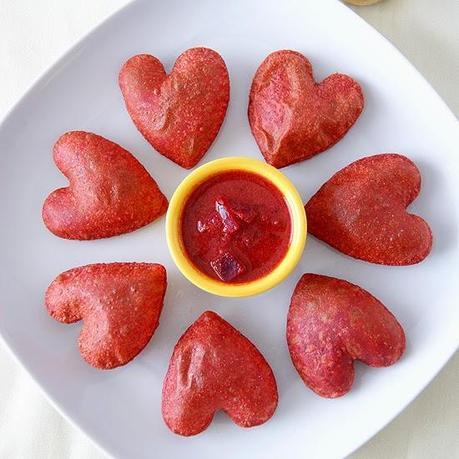 Now we have three gorgeous entries from Revi's Foodography. First are these Mini Heart Poori, which are a savoury Indian snack that puffs up when fried, it has been coloured red with beetroot and looks so pretty!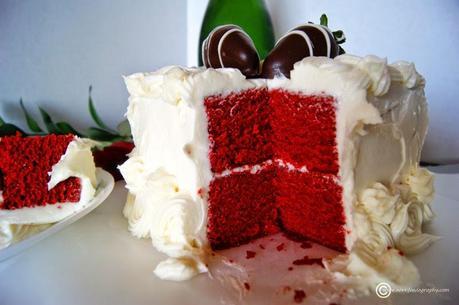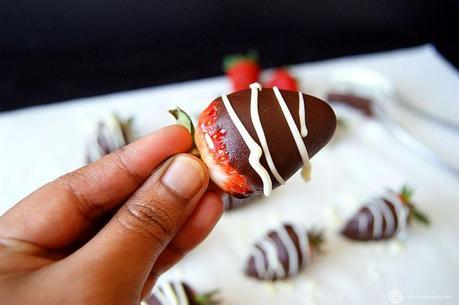 Revi Foodography's second and third entries are Chocolate Covered Strawberries and an Eggless Red Velvet Cake. They go beautifully well together and they look amazing and so romantic!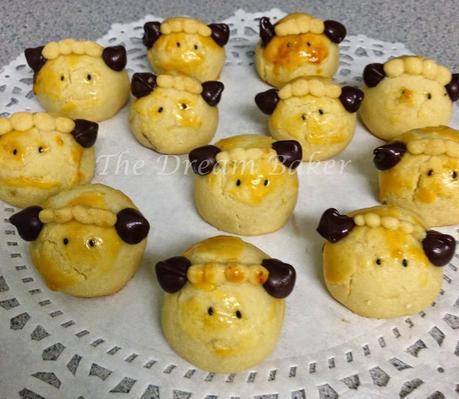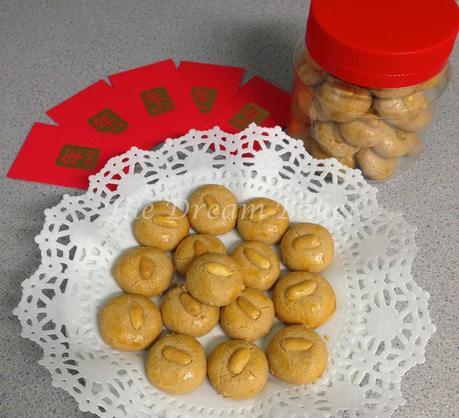 The Dream Baker made some Chinese New Year themed non-dairy treats for her husband. Absolutely adorable sheep shaped Pineapple Cookies and cute mini Peanut Cookies.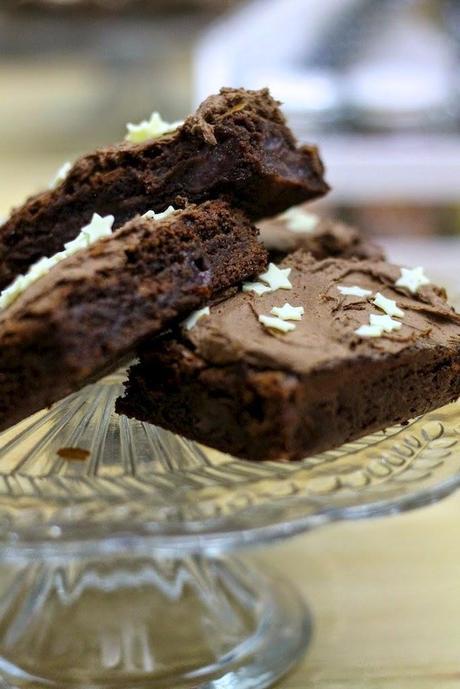 Finally, The Crafty Larder sent in these sumptuous looking Black Forest Brownies, such a delicious combination of flavours and a great twist on a classic.