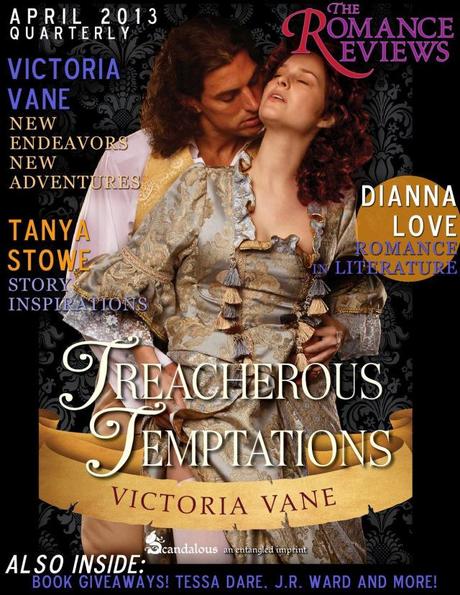 PUBLISHER'S BLURB:
A reluctant heiress resigned to her fate … Mary Elizabeth Edwardes has one of the largest fortune's in England, but has no desire to leave her quiet country existence… and even less to acquire a husband she cannot choose for herself.

A dissolute nobleman bent on retribution … Trapped in a duplicitous existence since scandal destroyed his fortune and family name, Lord Hadley Blanchard has spent the better part of a decade posing as a disaffected exile while spying and seducing in the service of the English Crown.

A dangerous game of seduction, and intrigue …When summoned from abroad by a former lover, Lord Hadley perceives an opportunity for vengeance at last. By employing the full measure of his seductive charm, he woos the ward of the man who destroyed his life, little knowing that winning Mary's fortune will mean risking his own treacherous heart.
BOOK REVIEW BY MAGGI ANDERSEN
TREACHEROUS TEMPTATIONS is the dark tale of an innocent surrounded by guile and complete disregard for her personal wellbeing by those expected to safeguard her.  Her "protectors" are concerned only with their personal gain regardless of the price Mary will pay.
MaryElizabethEdwardes is on the wealthiest heiresses in England.  When SirRichardFiske becomes her guardian her peaceful rural existence comes to an end.  Mary becomes an unwilling pawn in SirRichard's plans to advance his own fortunes.
Lord HadleyBlanchard seeks revenge on SirRichard for his role in the loss of his fortune and family reputation.  What better way to avenge himself on SirRichard and gain back what rightfully belongs to him than the seduction of his ward?
TREACHEROUS TEMPTATIONS is strongly reminiscent of Les Liaisons Dangereuses however; Ms.Vane adroitly gives this classic trope a uniquely Georgian twist all her own, while weaving actual historical events into the story.
SirRichardFiske seeks political advancement.
Barbara, Lady Blanchard, seeks release from the onerous task of being SirRichard's mistress, at his beck and call, beholden to him for the very roof over her head.  Barbara is one of the coldest, cruelest most depraved women I've "met" lately.  Nothing seems to be beyond her.
Hadley, Lord Blanchard, seeks the return of his title, estates and fortune.  Hadley has sunk deeply into the abyss during his self imposed exile to the continent.  The seduction and ruin of Mary would gain him revenge and freedom from the reins SirRichard holds so tightly.
Frederick, Lord Barnesley, the approved suitor whose twisted desires are rooted in pain being the path to pleasure.  There's a particularly unsettling and frightening rumor regarding Lord Barnesley.
MaryElizabethEdwardes, while unsophisticated, brightly illuminates the darkness of the surrounding cast and story with her innocence and honesty. Sadly she's surrounded by duplicity.   Will Mary perceive and overcome the deceit and machinations of those around her to find love and happiness or will she fall victim?
Is Hadley as perfidious as he appears or are those glimpses when he's alone with Mary the true Hadley?  One of my favorite scenes takes place in the pool on the Montague property during Mary and Hadley's barge trip to Richmond.  Mary is, simply put, amazing in her response to Hadley's seduction.  The whole Richmond episode is portentous.  Will Mary be the catalyst for Hadley's redemption or will he continue to wallow in the mire with Barbara and Fiske?
Barbara is without doubt one of the most unabashedly irredeemable villainesses I've encountered in some time.  She takes perverse delight in her wickedness, making her contrast to Mary blatant.  You can't help but appreciate the depth she adds to the story.
Fiske is, for all the trouble and suffering he's caused, a garden variety villain.  He's ruled by avarice and lacking in imagination.
Though introduced late in the story, Lord Barnesley, is the one who sent chills up my spine.  Frederick is Barbara's male counterpart.   Creative and imaginative; the thought of the forms his cruelty would take were terrifying.
Mary herself was delightful.  Her actions are always in character and never gave me a moment's pause.
The darkness of TREACHEROUS TEMPTATIONS was a key factor in my enjoyment. Almost gothic but not quite, TREACHEROUS TEMPTATIONS is carefully balanced with just enough light to avoid stultification.  My interest was captured and held from beginning to end.  The danger that surrounded Mary was so vividly portrayed I felt it breathing down my neck.  I read avidly as there was never a point where I felt her safety or HEA was a surety and I simply couldn't leave her in such dire straits.  Danger and treachery aside; there is one love scene that, for me, was sublime and the afterwards delightful adding the perfect touch of levity.
For those who enjoy well researched and written historicals heavy on dark and danger, TREACHEROUS TEMPTATIONS is a must read.
ABOUT THE REVIEWER:
Author Maggi Andersen lives in the countryside outside Sydney, Australia, with her lawyer husband and their cat. Her study overlooks the creek at the bottom of the garden where ducks gather. Chickens peck around the yard and cockatoos call from the trees. After gaining a BA in English and an MA in Creative Writing, and raising three children, Maggi now indulges her passion for writing. She writes in several genres, contemporary and historical romances, mysteries and young adult novels. You'll find adventure and elements of danger in every one.