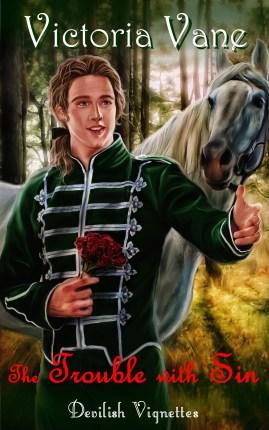 **The Trouble with Sin (Devilish Vignette #2) is a comic romp that follows on the heels of Devil in the Making. It is also a prequel to Jewel of the East ( book #5 in the Devil Devere series)**
The Trouble with Sin … Is the devil within… Aspiring poet Simon "Sin" Singleton, has lived his life only for larks, laughter, and ladies of easy virtue, eluding defying, and flouting all manner of authority until his impetuous misdeeds finally catch up with him. Having lost his muse, his allowance, and even his friends by edict from a tyrannical father and puritanical mother, Simon is ready to drown himself in drink, until receiving an ingenious proposition that could change everything.
The wages of Sin is……twenty-five percent of the net!It seems a fantasy come true when Simon is offered an independent income by combining his two great passions– poetry and lewd women –by writing poetry about lewd women! Unfortunately, maintaining anonymity may be much harder than he thought…
Review by Patrice for Romantic Historical Fiction Lovers
Georgian Era, UK
Historical Fiction  (adult language & themes)
Reviewer rating: 5.0
Series: The Devil DeVere (Devilish Vignettes #2)
INTRO
Have you ever started reading a new story or novel, and instantly, your mind produces theme music or a score to accompany the characters?  "Wicked Game" by Chris Isaak resounded through my imagination once Simon "Sin" Singleton took center stage in The Trouble with Sin.  Womankind fuels his youthful rebellion and the lessons learned are tried and true.  This vignette offers the realities of youth and coming-of-age in the Georgian era.  How very different from our own times while striking a chord of truths to move a reader beyond the boundaries of history—or her-story.
Okay, so you don't like Chris Isaak?  You say he's too whiny?  Then the only replacement I could think of was Prince.  Take your pick, the Purple One is prolific to the point of excess and besides, I think he could appreciate Simon's poems.
SYNOPSIS OVERVIEW
What happens when Simon "Sin" Singleton's misdeeds finally catch up with him?  He finds a way to thumb his nose at his overbearing father and straight-laced mother by indulging in his favorite illicit pastime, and earning an income, when his allowance is cut off. Sin soon learns that without the protection of his friends, the price of false independence is high and the cost is not worth the fleeting defiance he expresses towards his parents.  Without Ned's temperance to guide him and DeVere's cunning to instruct him on self-preservation, Sin's choices force him to confront the winds of caprice and the possibility of his parents' wrath if he is caught.  Indeed, the "wages of Sin" weighs in.
Just a little warning in case you've not had the immense pleasure of exploring Ms. Vane's stories.  There's amazing research and brilliant notes at the end to support the characterization, plot elements, and the historical twists and turns.  The language is strong and the content is adult themed, bursting at the seams with the seedier elements of London, particularly Covent Garden, and the skin trade. So if you're easily offended—wait a moment!  If you've made it past the first meeting with DeVere & Co., why am I warning you?  Except to tell you that in terms of sexual content, lust is verbally expressed but kept behind doors, and this works quite well with the flavor of the writing.  By no means was I disappointed by the less visual aspects.
CLOSING THOUGHTS
Through Ms. Vane's insightful depictions, I've come to understand how well we can all connect with her Georgian nobles.  If Ned embodies strength, character, and honesty, DeVere, beauty, lust and wisdom, then Sin recalls creativity, sensuality and innocence; the inner-child lured away by forbidden enticement to discover burns, bites and scrapes, yet always the sweetness of Mother is there to sweeten the sting.  Upon reaching adulthood, Sin finds the world a deadlier foe, and Her weapons are avarice, violence and heartache; womanly companionship is fleeting and not constant as Mother, yet modest Love evades him as her gaudy sister, Infatuation lures him away.  Sin chases the spangled hem of the ninth muse's sheer gown around each blade-edged corner. To revisit, again and again, the fragrant alcove where first Erato, did lure him to her dewy bosom with lascivious words exhaled from ambrosia-perfumed breath.
I can't wait to for him receive his HEA in distant years in the arms of seduction, fortitude and loyalty.  After reading his story, you'll agree. So now, dear readers, we all must share in the next league of Simon's journey. Ms. Vane's own personal muse has enticed and inspired her to writer yet another wondrous tale to stir our hearts and other sinful portions. It's time for more wicked Georgian games.