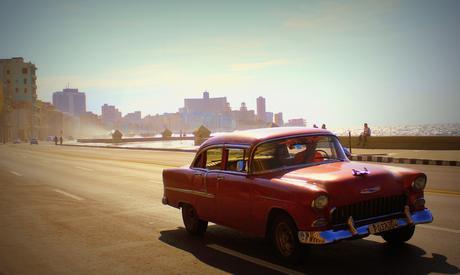 Because a lot of friends have asked, and because travelling to Cuba is trendy now 'before the Americans get in and ruin it' (please stop saying that), I've decided to write up a brief guide on what to do and how to do Cuba. Here you go:
Travel in off-peak season: we went in May, also known as hurricane season, which ended up being one or two rainy days, nothing serious. As a plus, there were fewer tourists and we managed to get discounts on travel and entertainment.
Fly direct if you can: Direct flights leave from Paris and take about nine hours. I made the stupid mistake of flying from London, which took 20 hours with two stopovers.
Book ahead: flights from London often drop as low as 350£ if you book well ahead. Good hotels in Havana will fill up months ahead, and trust me on this, you need good accommodation there.
Get your visa sorted in advance: while I got mine in less than 15 minutes in London, my travel companion in Egypt had a massive run around with the embassy in Cairo; so make sure you've got several weeks, not days, to go when you apply. You'll need a hotel booking as well as a flight itinerary to get the visa. Our hotel was nice enough to send us a booking receipt before we'd paid our deposit, as they were familiar with the visa process. Keep a print out of your hotel booking; you will need to show it to Havana airport passport control. Also, if you're worried about getting your passport stamped, don't worry: the Cuban visa is literally a slip of paper that they will stamp when you enter and exit the country, so there will be no proof of your stamp on your passport. Note: you pay an entry and exit tax at the airport: around 30 CUCs as far as I remember.
Stick to casa particulares: these are bed&breakfasts where you stay with a Cuban family for an authentic and much cheaper experience than a hotel. Hotels are either state-run or foreign franchises, ridiculously overpriced and not worth it. If you can afford it, definitely go for boutique hotels.For Havana, I highly recommend La Rosa D'Ortega, a stunning colonial villa on the hills on Havana's outskirts, where the in-house chauffeur drove us around in his vintage Mercedes for 10CUCs return (a great deal btw), and we slept in large rooms with four poster beds and high ceilings for around 35Euros a night, breakfast included. Trust me on this; don't stay anywhere else in Havana, you will not find the quality and also wonderful hospitality of Rosa anywhere else.
As a tourist, you're being scammed anyway. Accept it: You pay in CUCs, a currency that is the equivalent of a US Dollar. However, Cubans pay in pesos, which are roughly 26 to one CUC. This means that you're paying a lot more for everything than the locals. As a tourist, you can't buy pesos but you may get them in small change if you buy off street kiosks etc. Before you complain, please note that Cuba is still cheaper than you will expect, and the Cubans you meet are a lot poorer than you, so...
Don't trust your guidebook: Cuba is changing rapidly and even if your guidebook was published this year, it's already out of date in terms of prices and reviews. We used two guidebooks and found them to be completely inaccurate, sending us to tourist traps and unimpressive restaurants around Havana.
Don't trust Trip advisor either: you're better off sticking to digital travel articles by travel experts, because a lot of restaurants, hotels and destinations highly praised by Trip advisor users were absolutely crap.
Beware of the tourist traps: first of all, if it's called a restaurant then it's aimed at tourists, you'll get tourist prices and tourist-targeted foods. If it's called a paladares, it's most likely to be frequented by the locals with more affordable prices.
Beware that food may disappoint you: Cuba has some of the most delicious fruit you'll ever have (I tried to smuggle a mango home), and their coffee is so rich that it will burn a hole in your stomach but you won't care. HOWEVER, most of the meals we had were nothing worth writing home about, unless you like bean based meals with overcooked meat and little to no seasoning. An exception was La Guarida in Havana, a beautifully decorated and high end restaurant where we paid a hefty 80CUCs for a three course gourmet meal for two (I say hefty compared to our average of 30CUCs or so). If you can't afford the meal, go for a drink at the bar and fawn at the celebrity photos covering the walls.
Get out of Havana: there is so much more to Cuba than its capital, which we found to be lovely but overrated. You can do Havana in two nights, and be sure to visit nearby destinations like Varadero for its incredible beaches (a few hours by bus), Trinidad for its quaint and colourful houses and the best live music we'd heard. My longest trip was to Vinales in the mountains, a beautiful village with barely one main street, a handful of restaurants and horses that take you on treks through the waterfalls, tobacco plantations and countryside.
Haggle for a taxi: we found taxis parked outside every cross-country bus stop, offering us more or less the same rate if we travelled with them instead of the bus. Haggle the price down and the larger your group, the better. Don't be shy and ask nearby tourists if they want to pitch in for the same destination. If it's summer, you'll really appreciate the A/C and speed of a taxi versus the mundanely slow and less comfortable bus.
Don't fall for the tobacco scam: don't buy bundles of cigars off people on the street or even off tobacco plantation owners. I was lucky to be travelling with a cigar expert, who showed that - when unravelled - the cigars we purchased were full of sawdust. You're safer if you stick to the state-run shops, where cigars are still massively cheaper than if you bought them in Europe.
You need to dance salsa: every street corner of every city we visited seemed to have the best live music we'd ever heard, and venues known as 'casa de la musica' usually had evening concerts where people dance till the early hours of the morning, and you're served overflowing rum cocktails for 5CUCs. If you're intimidated by how good everyone dances in Cuba (and you will be), try a private class for under 20CUCs an hour; a fun and sweaty experience that will leave you in awe of the Cuban's rhythm and elegance.
Learn Spanish: a few words will go a long way, especially if you're dealing with markets, shops, pharmacies, bus stops... Actually pretty much everywhere outside of your tourist bubble.
Be tactful and respectful: The Cubans we met were incredibly sweet and accommodating, but sometimes conversations about politics or socio-economics can be a little stilted. It is still very much a communist state, with CDR signs (Committees for the Defense of the Revolution, a defacto civilian-based intelligence system) everywhere; so be aware that some may not be as forthcoming about their political views or lifestyle choices as you may want them to be.
Don't be a snob and use their public beaches: first of all they're free and just as good as the private, secondly no one cares that you're there and they'll ignore you. Thirdly, you'll get a taste of the real Cuban life, and the occasional band might come along and break out into an impromptu concert if you're lucky.
Hope this helps! Love Cuba? Been there before? Let me know your favourite destinations and experiences there!