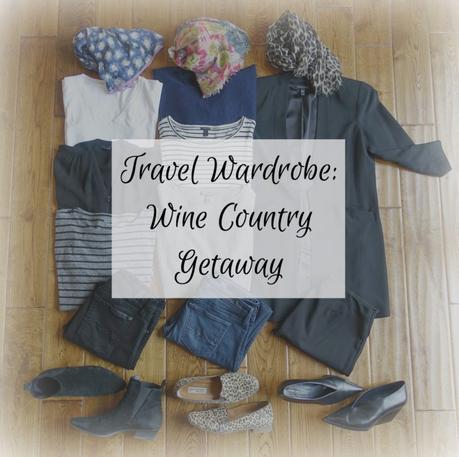 We'll be off to Napa Valley in a few days to celebrate my 60th birthday! We've been wanting to get back to Northern California's wine country for some years now, and are really looking forward to this visit. We're driving rather than flying, which gives us more latitude in packing. But even so, I'm keeping it simple: 10 pieces for 5 days. Plans include wine tasting (bien sûr!), dining, exploring the area, and just relaxing. Currently the weather forecast for our stay is calling for mild days, chilly nights, and a slight chance of rain on at least one of the days.
So let's dig in…
The 10-Piece Travel Wardrobe – Spring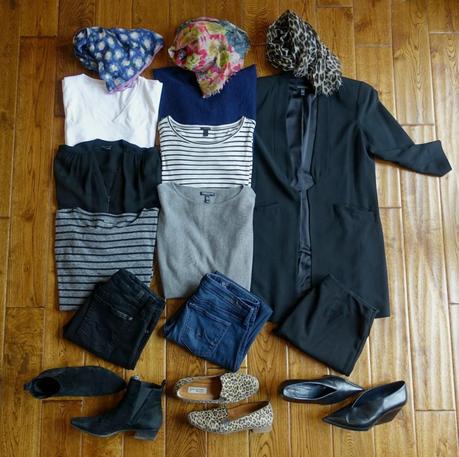 As usual, I do not count shoes, outerwear, accessories, sleepwear or "underpinnings" as part of my 10 pieces. I've gone with the usual ratio of 2 tops for 1 bottom. I'm anticipating a couple of dinners where we'll want to dress up just a bit, hence the jacket. I've stuck with a black/white/grey/navy wardrobe, and will add color and pattern with scarves.
Shoes
I think three pairs will be plenty. If the forecast shifts warmer before we leave, I may throw in a pair of walking sandals.
weather-resistant ankle boots. I've been getting SO much wear from these. They went to Paris with me in December and worked brilliantly.
casual walking loafers (similar style). These are a few years old, a little bit worn but still comfortable. They aren't weatherproof, but if they get muddy or dusty, no worries.
dressier pump (similar look). Dressed up, but laid back enough for Napa.
Pants
black slim leg jeans. These can go casual or dress up with the jacket and pumps.
blue slim leg jeans (similar). For daytime and casual evenings.
slim ponte pants. Very comfortable, can dress up or down.
Tops
short-sleeve white cotton tee. For layering underneath sweaters, or wearing alone if weather turns unexpectedly warm.
silk blouse (similar). Mine's a few years old from Theory, and is my go-to piece when I want to dress up a bit.
long-sleeved striped tees, here and here.
navy cashmere sweater (similar).
grey lightweight tunic sweater
long jacket (similar). This is light enough to wear underneath my outerwear if needed.
Outerwear And Bags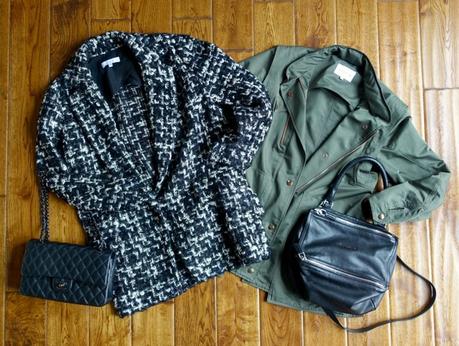 I'm bringing two outerwear options because I can. If we were flying instead of driving, I'd leave the bulkier tweed jacket at home.
tweed coat (same fabric, different style)
utility jacket, water-resistant (similar)
Chanel classic flap bag (pre-loved options here)
convertible satchel/crossbody. My Trusty Sidekick. I've had this bag for a few years now, and it's still my favorite bag for travel.
I'm still sorting out what jewelry I want to bring, will post my "bundles" later in the week. I always travel with a couple of silk jersey tanks or camisoles to wear as a base layer.
Do you have travel plans in the next few weeks?
Travel Wardrobe Starter Kit…

Turn on your JavaScript to view content