Finding out where to travel to, where you want to stay, pick an airlines, eat or sleep should be fun. And it should be fast. Gekko, believe that the best trip advisor is your friends and not the strangers. You will rely on the advice of people you trust, your friends.
And now Gekko integrated with your Facebook so you can easily connect with the right friends. Building a fun social platform to discuss travel tips and what to pack, cheap airline tickets at at the best possible rates. Share your favourite hotels, restaurants, clubs and bars and quickly organize your next trip
Advice Travel Tips from the right people
With Gekko, members keep track of all their discoveries and create lists of favourites. Also, we save you hours of pointless searching for the best deal online. The Gekko search engine checks all booking websites and guarantees the best price. You can go from looking to booking in a few minutes. You just have to decide where to travel to.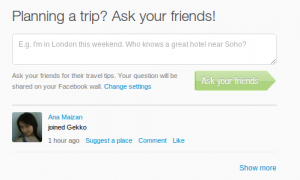 As Gekko learns more about you, they will offer you a deals that match with your personal preferences and taste. the deals become more relevant and interesting. So if you're into design and vietnamese food, and you're travelling to San Francisco, you may receive a personal discount for a hotel or a Japanese restaurant in that area
Hotels on the existing Gekko service are given a strong showing within the application, with detailed information and photographs of each property.
Gekko's CEO Michel Cassius said that Gekko is evolving the hotel discount model. Consumers get the best price and are offering highly personalised deals by hotels worldwide and by restaurants, clubs and bars. And with our full Facebook integration we add the social layer to the booking process, making it both engaging and fun.
Not only will you find hotel recommendations from the 'Request-a-Deal' feature, but discounts, drinks offers, and even upgrades.