Winter is here and so is the snow. For most people an escape to a warmer place tops the getaway list but believe me there is a different charm in paying a visit to the wintry mountains. I was able to squeeze in a mini escape with my family to the Bryce Resort- a ski resort here in VA and it was a blast. While most of you here might be ski-pros, for first-timers like me it was fun with a mix of fear. I did snow tubing for most part but my first rendezvous with the snow-sports left me unsatisfied. I need to go there again, to try out snowboarding and skiing and to satiate my sporty soul. 
Now that we have decided to make skiing an annual winter tradition, it makes total sense for me to invest in the snow gear. I borrowed the jacket from my friend which is a double-shelled insulated jacket, but I am going to go ahead and order one for myself.
Packing for your snow sports trip can be overwhelming. While overpacking is totally allowed, you certainly don't want to underpack and leave yourself at the mercy of cold which is brutal out there in the mountains. I had a major panic-attack making a list of things I should be packing, and kid you not I overpacked according to hubs, but we ended up using all that packed. Thanks to my inner instincts...
Anyhow, if you are headed to your next ski-destination and are looking for a guide to the snow gear, you are in luck. I've rounded up the must-haves for your next ski trip. 


BASIC THERMALS

- this will be your foundation for the layering, it will keep you warm without adding too much bulk. Uniqlo offers a HEATTECH line of winter inner wear that will sure come in handy. They have several levels of thermal technology and come for the entire family. We bought the shirts and the leggings for everyone, hubs included.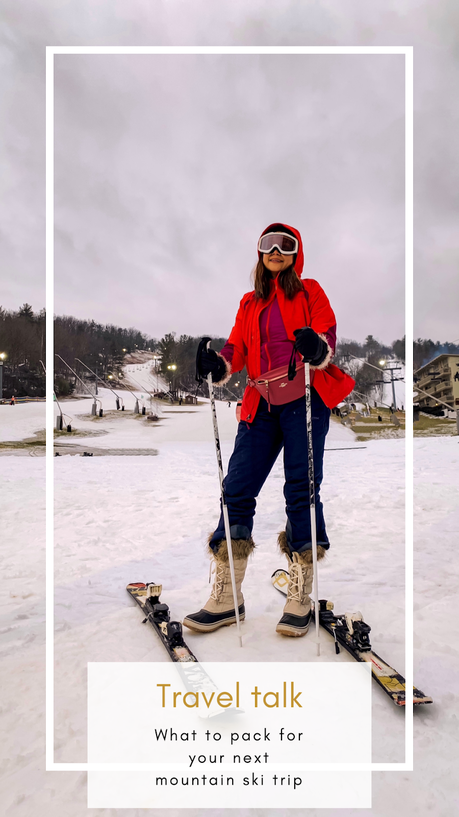 NORTH FACE triclimate outer jacket  // ARCTIX onesie // SOREL Joan of arctic boots // LL BEAN mittens // KARSAER googles 
&w;
JavaScript is currently disabled in this browser. Reactivate it to view this content.


SWEATER/TURTLENECK

- post inner wear comes the second layer, sweater or turtleneck. Personally, I prefer sweater over turtleneck as it tends to get hot a little while into the sport. I would go for a body-skimming thin yet warm knit.


SNOW OVERALL

- when it comes to pants for snow there a few options, you could either wear pants or get the overall/onesie. The one that you see on me is actually a onesie- it is insulated, is water-proof and has adjustable shoulder straps. Onesies are convenient, they don't slip and give you extra layer of covering over your sweater layer. Except for the bathroom trouble, overalls are the best. Shop my overall here.
OUTER JACKET- This outer is not like your winter jackets. This one has to be warm, waterproof, water-repellant and lightweight. These jackets tend to be on the pricier side cuz they are double-lined and last you season after season. The one that I am wearing has a shell liner inside which can be worn on it's own or layered with the outer shell for extra warmth. It was pouring for most part of the trip so I wore mine as a complete set and it stayed dry.
SCARF/SNOOD- this one would technically go over your outer jacket if its water proof, otherwise inside the outer jacket if not water proof. Since my jacket was high neck and I could zip it all the way, I skipped the scarf.
HAND MITTENS/GLOVES- look for a less fancier one, one without the fur trim, cuz no matter what the trim is guaranteed to get wet. Mine is super warm and waterproof too, but the fur trim got thoroughly drenched. So look for one that is less fancy and more functional like this one.
HAT/ EAR MUFF- I carried both anticipating cooler temperatures than forecasted. But I really didn't need it. Get a tighter-fitting beanie which happens to be the most functional of all hat options out there. If required you could throw on an ear-muff to keep the hat from coming off loose while skiing.
SOCKS- when it comes to socks, the thicker the better. My toes generally get too cold and if my toes are warm then my body is warm. I ended up wearing a pair of tights sans socks under the overall to keep my legs and toes extra toasty. It didn't hurt to add another layer.
BOOTS- Nothing like a pair of Sorel snow boots or Jack Rogers duck boots 

for  all your snow activities. They look clunky but they are lightweight, lined, insulated, water proof and meant for walking in the snow. Some of these boots come with a removable insulation shearling layer to make them wearable in frostiest of temperatures. The sole is made of vulcanized rubber making it anti-slip. 


SNOW GOGGLES- I had to have this one as I am used to wearing sunglasses whenever I am outside in broad daylight. My eyes start to water if exposed to too much heat or cold. So when it becomes a necessity do it in style- right? The ones that I am wearing come in a variety of screen color options and you could shop em here. 
HAND AND FOOT WARMERS

-

a must have for any cold weather outdoor activity. These warmers are like little heat patches that can be slipped into your gloves or boots to keep your hands and feet from becoming numb. One set of patch lasts for a few hours and is totally worth considering when indulging in snow activity outside.
Needless to say, you can carry extra accessories as per your liking but the aforementioned are the essentials that you need to pack for your next snow-sporting trip. What do you like to pack in addition to the above? 
SHOP MY SKI OUTFIT 

&w;


JavaScript is currently disabled in this browser. Reactivate it to view this content.