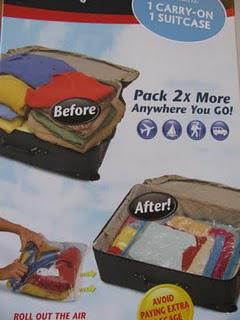 In our quest to find the best travel products on the market, we've tested out items from travel pillows, to electronics, a hammock for your head, and even applications for your iPhone.  Our recent product we got the opportunity to try out is one you may actually be familiar with: Space Bag To Go.
Space Bags have been around for years as the vaccuum bag for storage of all household fabric type items from clothes to pillows.  Recently the company has come up with a To Go version of their products that has a patented one-way air release mechanism that allows you to roll out the air without the aid of extra equipment. 
The product that we tested was a multi-pack for travelers that included one "suitcase size" bag at 18x22.5" and is advertised to hold 2 shirts, 2 sweaters, and 1 jacket.  Also included is one "carry-on" size bag at 13.5x19.5" and is advertised to hold 2 blouses, 1 jacket, and 1 sweater.
We decided to put this claim to the test and see how much room Space Bag To Go can actually help us get in our luggage.  These came with great timing as we are actually moving and need as much as space as we can get in our bags.  So we pulled out the right amount of clothing and starting packing into the bags.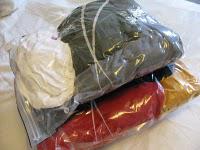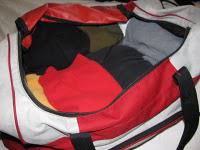 Unless our items were bulkier than originally intended, we ended up finding it a little difficult to get all the items into the bags, but with a little effort got them all in without problem.  The directions suggest that you can roll out the air, however we came about with a technique  that will get the air out just as well: sitting on it.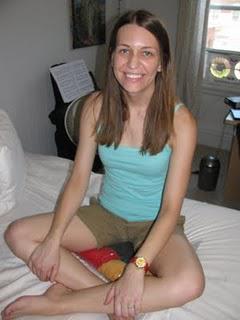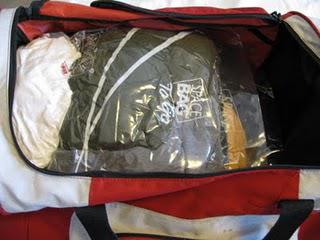 The audible sound of air escaping the bags meant we were doing something right, and our compacted clothes were ready to be put back into our bag.  To our expectations, our bag clearly had a lot of extra room for packing!  In what was an even layer of clothes throughout the entire bag to approximately 60% of the top ended up only covering 2/3 of the base to 50% of the level.   It is really a shame we only got two to test, otherwise we would be using a lot more in or moving adventure we have coming up in the next couple of weeks.
For what it is worth, Space Bag To Go are a valuable space saving tool that is a worthy purchase on anyone going on a short or extended trip.  While it might be tedious to blow air out of your bag every time you need to get in, the space saving is quite welcomed.  At about $15 for a 5 pack and as little as $9 for a three pack, these space saving bags will not eat in to your budget and are more appropriately priced than many of the travel gadgets we have tested in the past.  Check them out!