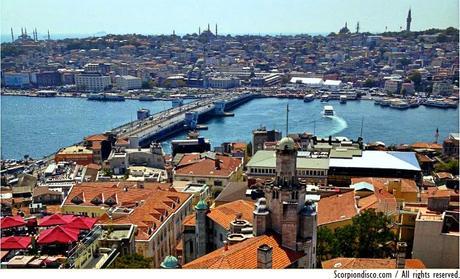 East-meets-West is the most overused cliché when it comes to Turkey, but when attempting to describe the country - and Istanbul, a city that refuses to be defined - it's often glaringly relevant.
To Middle Eastern countries like Kuwait and Saudi Arabia, Turkey is the avant-garde West. Culturally speaking, its neighbors to the East look to Turkey as a role model. Its films, celebrity culture, and reality shows are as adored (and replicated) by Middle Eastern fans as Hollywood is by Europeans.To some in the USA and Europe, Turkey is still the last stop on the Orient Express. (The worried gasps of well-meaning friends and relatives, and the questions they post, like "But isn't there a war going on there now?" are an indication of how Turkey is perceived by us "Westerners".)From either perspective, Turkey, and in particular it's cultural capital, Istanbul, are not to be missed. Like Paris, there are cute cafes and posh shops around every corner, and as in Rome, there is no shortage of old-world charm. Mystery and lore matches Dubrovnik or Jerusalem, and a hyper sort of restlessness recalls Madrid. But Istanbul is constantly shifting shapes and personalities, transforming from a beautiful, ancient metropolis bathed in orange light to a raucous, traffic-plagued urban sprawl to a hilly sultans seat to an enchanted, city-wide bazaar in the same breath
If that leaves you less sure of what to expect Istanbul to be than when you began reading, then I think I accurately described it - subject to change. Which is why once you'll always need to go back, just one more time.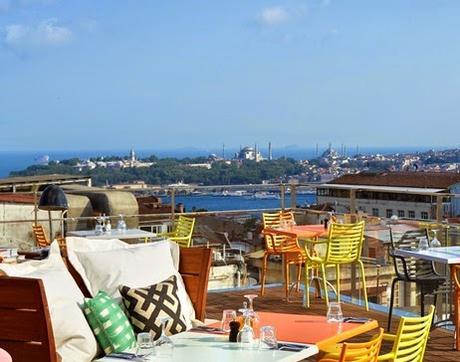 Ancient and modern, all at once. The view from Mama Shelter's rooftop.
Part 1. Beyoğlu
A major artery of the Istanbul scene is Istiklal Caddesi (pronounced JAH-des-ee), or Istiklal Avenue in English.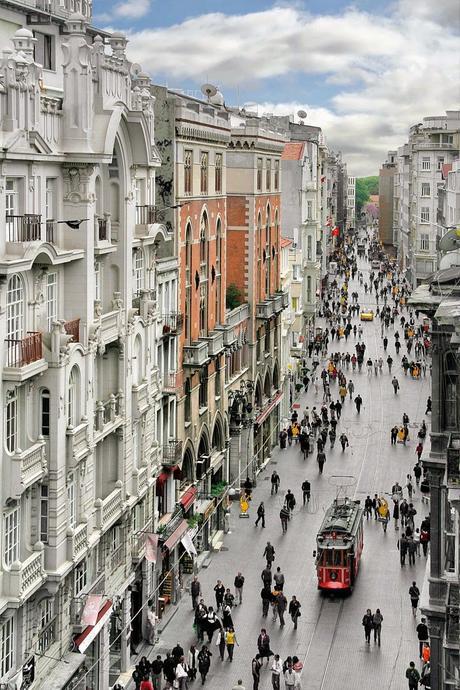 Istiklal Street by day. (Image via Istanbul.com)
Istiklal one of the busiest places in Istanbul - it gets about 1 million people a day in foot traffic. 

It runs from Taksim Square, famous for the Gezi Park protests in 2013, and ends in the Tunel neighborhood, and there are many stores and restaurants along the way, as well as interesting side streets and alleys.

Istiklal has the highest rent in Istanbul for storefronts. 

Taksim Square is a good place to get dropped off by taxi or bus, as many of them stop there.

Towards the middle, by the French school, small protests are often held - Green Peace and the like.

A trolley runs down the middle of Istiklal and goes from Taksim to Tunel.
My favorite part of Istiklal is the Tunel area, which is on the end opposite from Taksim Square.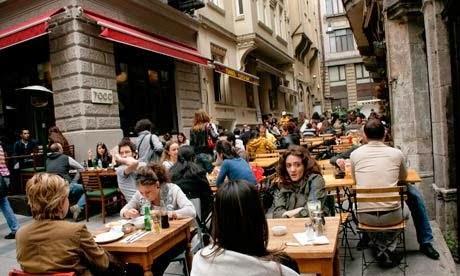 Enjoying outdoor dining in Tunel. Image via Guardian.uk
Tunel is home to a handful of posh restaurants. 

It's one of the few spots in the city where you can find sushi and Indian food - not exceedingly popular genres in Turkey.

There are also a few antiquities and art shops in Tunel, as well as some shops that specialize in musical instruments - both traditional and modern.

Tunel is great for lunch or a late afternoon snack/Happy Hour, but isn't necessarily a late-night spot. According to some locals it can get pretty seedy.
An absolute must is a trip up Galata Tower for the most breathtaking and awe-inspiring 360 views of Istanbul - especially right before sunset.

The view from Galata tower
The Galata neighborhood, an old Genovese and Jewish neighborhood, is really cute for shopping and outdoor dining/people watching. 

You can find some really amazing buys there, but it's pretty pricey. We found a shop right in front of the tower selling handmade felt hats and pointy shoes, as well as a couple store selling high-quality Turkish hammam towels that make great souvenirs.
Here's where I love to eat, sleep, and shop when I'm in Beyoğlu:
EAT
 / Istiklal:
Stop at Midpoint, for the very chic people, extensive menu (finicky travelers will rejoice) and for the views - the entrance, on Istiklal, doesn't do it justice - once you go upstairs to the patio, you can dine al fresco overlooking the water of the Bosphorus (the Golden Horn) and observe the apartments and street scene, as well.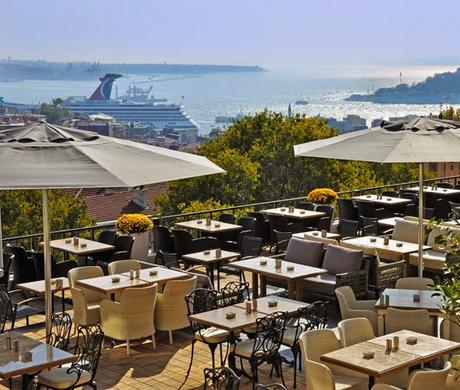 Overlooking the Bosphorus at Midpoint
Çiçek Pasajı is a covered arcade lined with restaurants and cafes. It was a flower market in the 1950's, hence the name (Çiçek means flower) but is now more suited to ducking off of the main street and enjoying a meal under European-style architecture.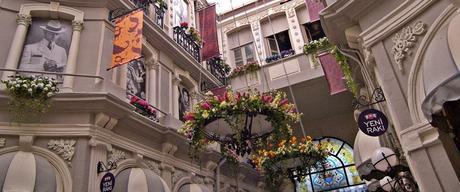 Looking up at Cicek Pasaj. Photo via Istanbul.com
If you just want to nost while you walk, grab some chestnuts, which you can find roasting on carts all along the street. There are also plenty of vendors selling simit from carts - they're like large bagels topped with sesame seeds.

And if you really can't wait, when you first enter Istiklal, you'll see a couple spots to the left that have spinning doner kebap right in front. They're pretty good - just don't eat what they call "wet burger".
STAY / EAT /DRINK Istiklal:
All but this location of the small chain Mama Shelter is located in France. It's so painfully cool you will find yourself making excuses to stay in. Fortunately, the hotel has a rooftop bar and restaurant with views that rival Galata tower, so you can get your site-seeing and culture fix in while you nosh, and listen to the sounds of the evening prayer.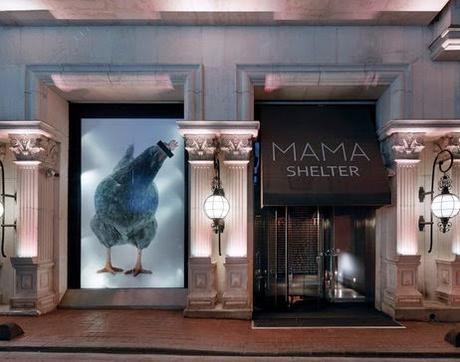 SHOP / Istiklal:
A lot of stores on Istiklal are national or international chains (Topshop, Mango, Camper, and the like) but the real treasures can be discovered at bookstores (ok, I may be a bit biased...) like Ada, which is such a beautiful space and has a great cafe, as well. 

Peruse the books and then stake out a table to read, eat, and enjoy.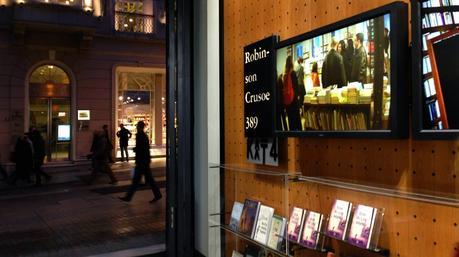 Robinson Crusoe's display on Istiklal. 
Pandora, just off Istiklal, also has a pretty wide selection of English Language books.
EAT / Tunel:
Happy Hour: Que Tal - Out of this world Sangria, plus the spot to spot the Pretty Young Things as they head in for a drink and flirtation with friends after work.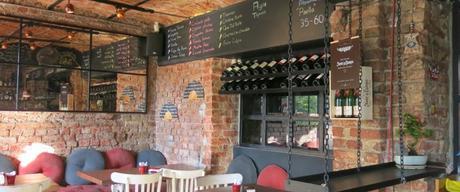 The main room at Que Tal
The House Cafe

 is the spot for power lunches and chic meet-ups. The ambiance and the people watching are worth it alone, not to mention the beautiful decor and fantastic menu with lots of healthy options.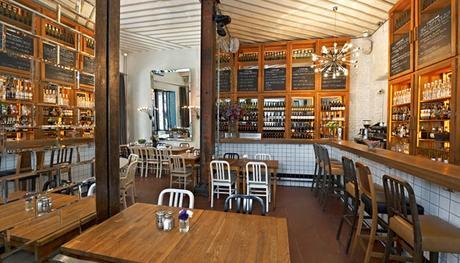 Retro design at House Cafe's Tunel location
STAY/EAT/DRINK 
/ Tunel:
A great choice for high-end dining is 

Mikla

, which is at the top of the 

Marmara Pera Hotel

. The "Scandinavian/Turkish fusion" cuisine is divine, but better yet are the views, the cocktails, and the outside patio.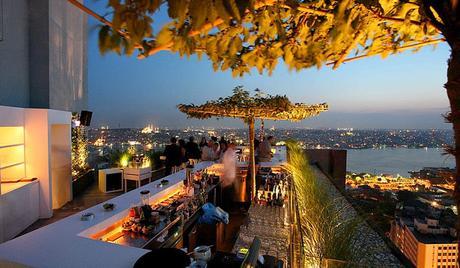 The outdoor bar space at Mikla, atop the Marmara Pera Hotel.
EAT / Galata:
Lunch: sntrl.dükkan - Cross between a Restoration Hardware and a hipster café, everything from jewelry and structured leather bags to penne arrabiata and Turkish Breakfast, on arguable the best people watching corners of the neighborhood.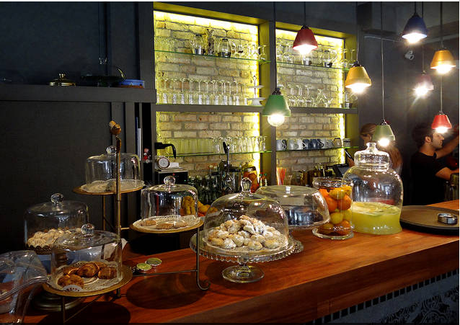 Desserts and lemonade on the bar at Sntrl Dukkan

STAY/EAT/DRINK / Galata:
Check out Pera Palas, which is where Agatha Christy wrote Murder on the Orient Express. It's been named one of the most mysterious hotels in the world. It was recently renovated, and there are a few restaurants and cafes in it, so even if you're not spending the night, there's ample opportunity to sit and soak it all in over a cappuccino.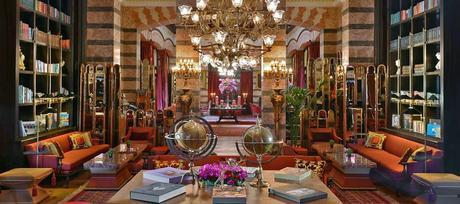 The lobby at Pera Palas
Or, check in to the Georges, a boutique hotel with a sleek restaurant on site serving up French fare. It's a contemporary spot with rustic exposed brick, right next to Galata tower and a handful of great shops.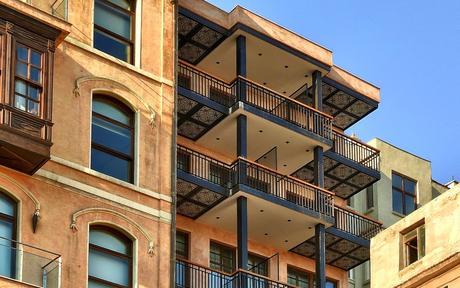 Balconies at the Georges Hotel
SHOP 
/ Galata:
Paris, Texas

 - Real Dries van Noten and Acne, unabashedly fake YSL Artsy rings. The selection of men's jewelry rivals the women's offerings, and that's some feat.
Studio - Shared storefront of designers Yasemin Ozeri and Biswear, Reyhan Ertürk'sline of super-chic dresses and separates in beautiful silk and linen. Ozeri and Erturk's work is the perfect balance of ethereal and urban.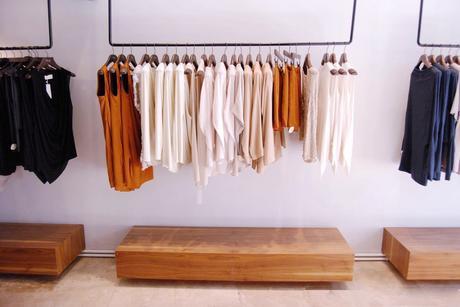 Clothing at Studio
BNG - Minimalist, if minimalists like to layer. Tons of drapey, crinkled linens in soothing earth tones and every hue of purple. Stock up on leather sashes made from jagged, ultra-thin hides, and head to the BNG outlet in the basement.
Arzu Kaprol- Come in for the leather accents, architectural coats and jackets, and leg-baring miniskirts that practically beg to be taken for a spin in the limo, and stay for the mile-high shoes and elbow length leather gloves.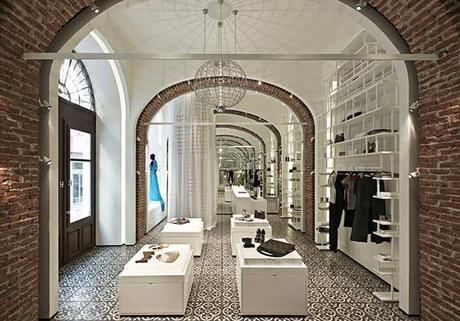 The light and airy Arzu Kaprol outpost in Galata
Stay tuned for new neighborhoods - I'll give you a heads up via twitter at @scorpiondisco so follow me there.