On holiday we tried out a few products pretty much specific for travel/holidays and so I'd do a little post on them incase you are jetting off on your travels and wondering if there are any must have items you need!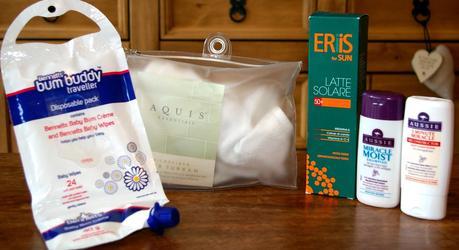 The first product we found super handy was this Bennetts Bum Buddy traveler pack. It's a disposable pack of wipes and has the little bum creme attached at the bottom, such a genius idea! It's handy for the changing bag at all times, I hate having to dig around for the tiny pot of Sudocrem! Both the wipes and nappy creme do a brilliant job and we really found this little pack handy for the beach bag, it takes up much less room and is lightweight. Bennetts is in the process of launching from South Africa and is now the 2nd biggest brand in the country so definitely worth checking out!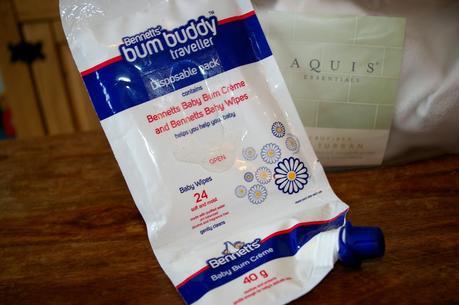 For when I wash my hair, I have been using the Aquis essentials microfiber hair turban and it has become a part of my weekly routine! I do have long hair and when it's dripping wet from being in the shower, it can take ages for me to blow dry it. With this being microfiber, it soaks up a lot of the water and drips whilst I get dressed so when it comes to blow drying my hair, I'm much quicker! It also has a handy button on the back to secure it so it doesn't fall off when I'm pottering around getting ready. It's a great idea for packing in your suitcase or wash bag as it is tiny and more effective than a regular towel I would normally use!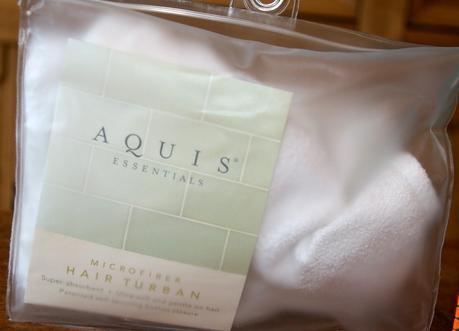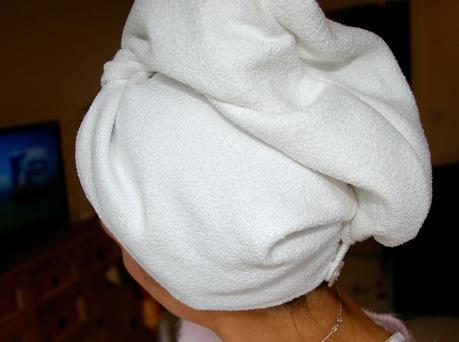 I don't know if I'm just 'one of those mums' but when the sun decides to poke it's head out, I panic about Sienna not being protected enough and slather her in suncream. I'm very against sunbathing and sunbeds so use a high factor all the time on myself and Sienna. This ERiiS sun protection milk has been the one we have been reaching for lately as it is fine to use on all of us. Not only is it SPF 50+, UVA & UBA protection and suitable for sensitive skin, it also protects from Infared Rays which for a paranoid mom like me is great, the more protection the better! I haven't come across that in a sunscreen yet but I like the idea of protection our children from everything we can so I think it's a winner!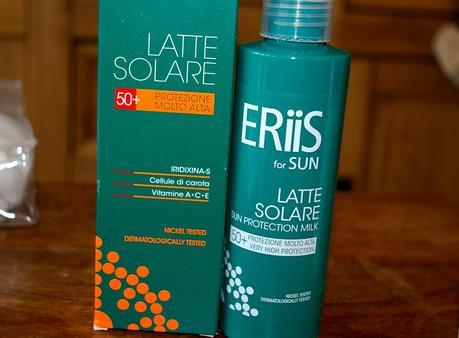 Last but not least is the Aussie miniatures. I got these for wash bag for our holiday and forgot how great they are! I love the smell, the texture and the results they have on my hair. They are small bottle but you really don't need much because they're great quality meaning they easily last a week or 2, depending how often you wash your hair. If you're going in the sun on holiday, your hair will definitely dry out and become more damaged than normal but the 3 minute miracle reconstructor will definitely help so I'd really recommend it!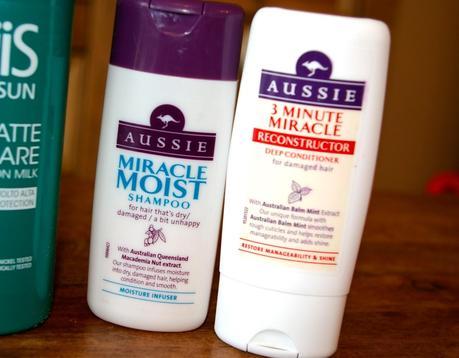 What are your travel essentials?