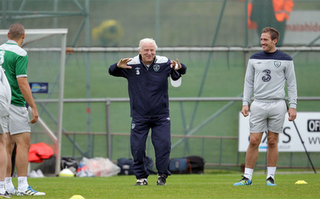 Republic of Ireland manager Giovanni Trapattoni has signed a new contract to stay in the role, meaning that he will coach the team throughout the 2014 World Cup qualification campaign. Those over at casinos online .com note how Ireland secured their place in Euro 2012 with an excellent play-off victory over Estonia earlier this month of course and the Italian signing a new deal is a testament to the job he has done.
 Speaking about signing a new deal, Trapattoni said:
"It is a huge honor and privilege to represent the Irish team and we look forward to continuing. Marco and I believe very strongly in the work that we are doing to grow and develop the Irish team."
The former Italy manager will earn around £1.25m per year as part of this new deal, with businessman Denis O'Brien contributing to this fee and helping out the Football Association of Ireland.FAI chief executive John Delaney said:
"On behalf of the FAI board of management, we are very happy to agree a contract extension with Giovanni and his team. They have done fantastic work bringing us to a major tournament for the first time in 10 years. Giovanni's experience, professionalism and achievement in qualifying for Euro 2012 has impressed everyone including the players and the FAI board. The FAI board of management are particularly grateful to Denis O'Brien for his continuing contribution which gives the Irish team and supporters the benefit of Giovanni's services into the next World Cup campaign."
Trapattoni certainly has a favourable record as manager of Ireland. He has guided them to 21st in the world rankings after 19 wins in his 42 games in charge. First and foremost, he has made the Irish hard to beat, something which is backed up by the fact that he has only lost on eight occasions during his time as manager. Then, as far as they Euro 2012 qualification campaign was concerned, they only lost once in their 10 games, conceding just eight goals along the way.
Many have argued that they need more attacking flair if they are to be successful in Euro 2012, but they have a few months to work on that and it is more important that they have a solid foundation to build upon. It is excellent news that Trapattoni has committed his future to Ireland too. There will be no speculation going into the tournament next summer now, something which could have distracted the players from the job in hand. The next significant date for Trapattoni and Ireland is the Euro 2012 draw which takes place on Friday afternoon.
What are you thoughts on Trapattoni's success at Ireland? Will it continue with this extension? Share your thoughts in the comments below!