I remember the first time I was formally taught the word "transgender". I was sixteen years old and attending a summer writing workshop at the University of Virginia. One of the other students liked to borrow girls' clothing and wear it to class. I'm not sure if he* was the impetus for our session about "Sex and Gender" or if it was already on the schedule but one afternoon someone somewhere decided that it was time for us to learn the correct terminology. We learned what LGBT meant. We learned the difference between sex and gender. We learned about pronouns. Coming from a slightly conservative public high school in Virginia, and a liberal but very sheltered upbringing, all of this was news to me. Interestingly, I took it all in stride. My biggest concern was that someone should really teach him how to dress better, because the skirt and top combo didn't match at all.
Later, when I attended Smith College, these early lessons in terminology came in handy. That's not to say that Smith wasn't a culture shock, because it totally was. During a weekend for accepted students I was housed by Junior who a) had the shortest hair I had ever seen on a girl and b) was openly gay. Interestingly, all the students that she lived with seemed to veer largely toward the Lesbian side of the spectrum. This certainly isn't the case all over the Smith campus, but in that particular house my long hair-polo shirt wearing- one step away from having pearls-high school self stood out.
Three years later I would be leading a session for new students where I talked about LGBT terminology. Full circle from clueless fashion-conscious sixteen year old to more knowledgeable but still pretty clueless twenty-one year old.
Yesterday I was riding a bus through Dorchester, which is one of the poorest neighborhoods in Boston. Two Black teenagers, a guy and a girl, were talking about what drag was, which then turned into a discussion about a family friend's decision to transition. They knew the terminology. Was that because they'd read up on what to say and how to say it after learning of their friend's decision? Of course that's possible. But I also think it's possible that media is playing a role.
'Orange is the New Black' got a ton of attention this summer. It tells the stories of women in a prison, one of whom is transgender. The role of Sophia Burset is played by Laverne Cox, who is herself transgender. The show doesn't sensationalize Sophia's experience but instead presents it in much the same way as the other women's stories: this is how it was. When I watched Sophia during the initial stages of her transition--seeing her learn how to dress like a woman, seeing her wife support her, seeing her son struggle--I remembered the first time I heard the word "transgender".
I was very young, young enough that adults talked around me as though I wasn't there. My parents were throwing a dinner party and the subject of conversation was a colleague of my father's (a colleague who was not present). He had recently decided that he was going to start living as a woman. My parents and their friends were weighing in on the appropriateness of this decision. They were liberal, and my mother at least had been somewhat of a hippie, but they disapproved. I'm not sure that I was cognizant enough at that age to determine if it was total disapproval or not, but I do know that their biggest concern was that this man had a wife and several children. My mother viewed his decision to transition as a form of abandonment. Watching Sophia's story unfold on 'Orange is the New Black' made me wonder what happened to that colleague and his wife and their children.
I recently, quite literally, stumbled across a description of 'Hit and Miss': "Mia is a pre-op transsexual contract killer whose life is changed when she hears from her ex, who reveals that she's dying and that Mia has a son". It all sounded very dramatic to me and I couldn't imagine that it would be very good, but since I'm a supporter of soap opera-esque hysterics I decided to watch a bit.
'Hit and Miss' is a beautiful show. Not only beautiful because of its lovely cinematography or HD quality, but beautiful because it shows the full spectrum of human emotion. The premise may seem implausible, but the human heart is all there. I'm four episodes in, so I can't tell you if the quality lasts, but it is so wonderful so far that I want to encourage everyone to watch it. 'Hit and Miss' portrays human misery and dissolution in all of its beauty.
My one disappointment with the show is that the actress who plays Mia is not herself transgender. That being said, Chloe Sevigny does a wonderful job of making Mia a believable, multifaceted woman. I suppose we could argue endlessly about whether the show's creators ought to have found a woman who was really transgender, but it would mimic the argument that happened when Gina McKee played the wheelchair-bound Bella in 'Notting Hill'. In other words, it would go nowhere. At this point in time Gina McKee
is
Bella in much the same way the Chloe Sevigny
is
Mia.
Both 'Orange is the New Black' and 'Hit and Miss' introduce viewers to some of the aspects of living as a transgender or transsexual person. Since a poll by GLAAD in 2008 found that only 8% of Americans personally knew someone who was transgender, representation in television is important. The murder of Islan Nettles this past week only serves to strengthen this point.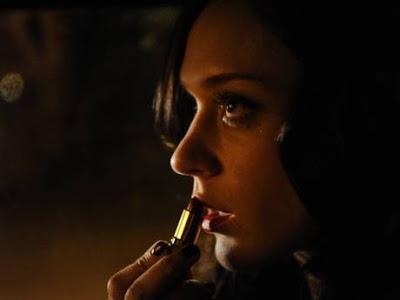 Sevigny in 'Hit and Miss'
*I'm using the male pronoun here because that was his preferred pronoun at the time.
As an interesting note: In June of 2013 it was announced that 'Hit and Miss' had been bought by Sony Channels
Russia
. This announcement was made shortly before the Russian "ban on homosexual propaganda" went into effect.
'Orange is the New Black' and 'Hit and Miss' are both available for streaming on Netflix.