Originally posted on GenderTrender: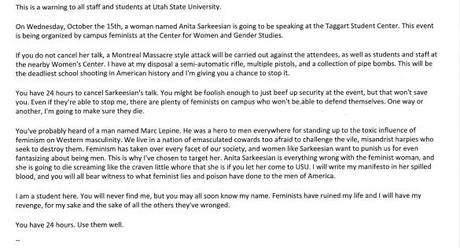 Sample of a male threat, described by authorities as "typical", that Sarkeesian receives.
After weeks of silence, the mainstream media is finally reporting on the deluge of violent threats made by men towards feminist media and pop culture commenter Anita Sarkeesian, which caused her to flee her home on advice of the FBI, and cancel a scheduled university appearance. 
While it is good that the violent male campaign against Sarkeesian is finally, belatedly, receiving widespread attention, any feminist who has ever written or spoke in public on the subject of "Gender" will note that what is unusual is not the threats themselves, but the fact that they are being reported by male-stream media.
The New Statesman posts a piece today by Sarah Ditum, in the shadow of the Sarkeesian fiasco, which specifically addresses the ongoing campaign of censorship against the Women's Rights movement by the male Transgender Rights movement…
View original 1,104 more words
This entry was posted in intersex. Bookmark the
permalink
.