We were very fortunate to be blessed with the presence of Ms Christine Lee of Boo Lee Scrumptious former Little Venice notoriety yesterday. She came into our kitchen to share her expertise with us and talk about our current designs and offer tips. Even Vincenzo with 15 years in a kitchen under his belt found himself learning more but truly amazing was with 30 years experience even Christine found herself taking home some new found knowledge; A successful day all round.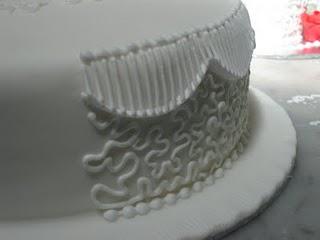 This is the first lesson we worked on it has a myriad of names sometimes called webbing or netting a very old style of finish but with it recently being used on the Royal Wedding Cake we are expecting a surge of requests for this so Christine thought it would be a good one to start practicing. It looks simple but is so fiddly and we later looked at different cakes it had been used on and some had thinner piping then this alot of work but it does give a beautiful finish.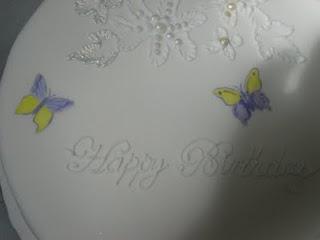 Next we worked on the flower designs on the top of the cake on the right, you've no idea how simple these are to do but I'm not giving away the secret. The butterflies are painted on with cocoa butter and edible dye. We also worked on some new writing styles and different ways of writing on cakes.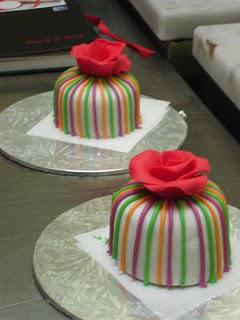 Next was the Individual cakes and Gum paste roses on the left. I finished the piping on one side of these little beauties and am delighted to say you cannot tell the difference between Anna's, Christine's and my own piping.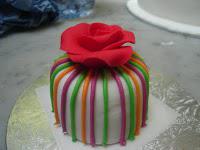 This piping with a Fluer de lyse style to it is my favorite an old fashion piping style done in vivid modern colors so simple and so effective.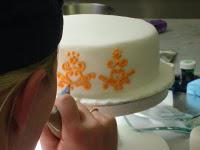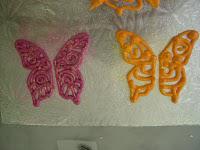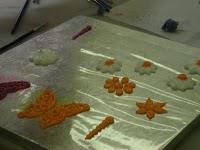 By piping straight onto a clear clingfilm like material we can actually create our own cake toppers, Anna has the steadiest hand I've ever witnessed these beautiful butterflies on the left are hers.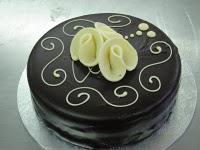 This is our Italian style chocolate mousse cake with a new finish Vincenzo covered with Melted artisan chocolate and added some White chocolate finishes, this cake was Delicious to begin with now my thighs gain weight just thinking about it.
You can grab a little lesson of your own from Christine on from this link, Enjoy!
http://www.youtube.com/watch?v=20d_im09fGw
Please take a look at Christine's website I promise you won't be disappointed but just don't abandon us completely!
http://www.booleescrumptious.co.uk/
Nicola Quigley