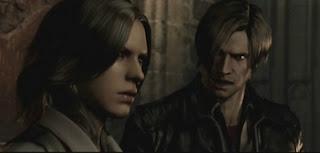 January, Capcom announced the game made ​​by those who have been waiting for Resident Evil 6.
Then in April they launched a new trailer from the legendary zombie game that has existed since the days of the first PlayStation.
Today Capcom released a long trailer (4 min) of this zombie game. 
From the title it seemed that this game will follow the Resident Evil 5, bringing style action-oriented gameplay, with the sequence snowmobile and motorcycle chase with.  The setting is 10 years since the Raccoon City incident. President of the United States has decided to reveal the truth. As a personal friend of President and one of the survivors of the Raccoon City incident, Leon S. Kennedy faced a difficult decision when the place is suffering from a bioterrorist attack, and Leon was forced to confront the president has changed due to a bioterrorist attack and must make the hardest decision of his life.  At the same time, members of the Bioterrorism Security Assessment Alliance Chris Redfield'''' arrived in China, itself under threat of a bioterrorist attack. 
With no country is safe from the attacks and the subsequent outbreak, people around the world have been united by the same fear, that there is no hope left. 
This game will be released on October 2.
source