It's tragic to hear that New Zealand's White Island, an active marine volcano, has erupted with little warning, killing at least five tourists, with more still missing. It's devastating news and my heart goes out to all those involved.
White Island is a submerged stratovolcano (also known as a composite cone), with 70% of the cone underwater. The island is about 2km in diameter and up to 320m high. It is New Zealand's most active volcano and a drawcard for tourists.
Known as Te Puia o Whakaari or simply Whakaari in Maori, meaning 'to make visible', White Island lies 48 km off the North Island's Bay of Plenty on the east coast. It is the northern most point of the Taupo Volcanic Zone and Whakatane is the closest town.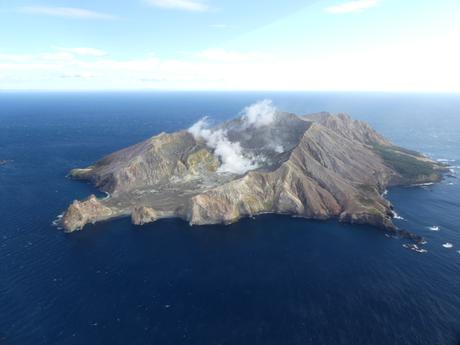 There is no doubt White Island is a volatile place. The volcano has been active for at least 150,000 years and according to records there has been continual activity and small eruptions since human settlement of New Zealand. Prior to yesterday's eruption, the most recent was in 2000.
You can visit the island by helicopter or by boat, and I was privileged to do both earlier this year. I've always been fascinated by volcanoes and White Island has been on my radar for a long time. It was part of a trip taking in the Taupo Volcanic Zone, including the geothermal areas around Taupo and Rotorua, and the volcanic rift of Mount Tarawera.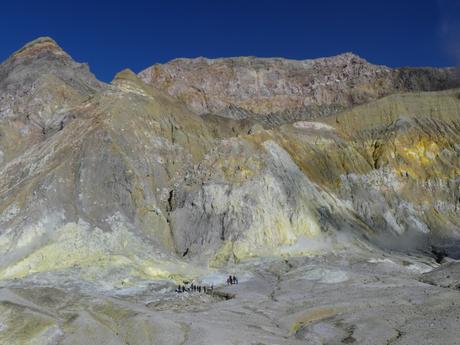 Why visit an active volcano? Firstly, because it's allowed and secondly to witness the power of nature in its raw, rugged, desolate and hostile beauty. It's the same allure that draws tourists to Mt Vesuvius, Mt Etna and Mt Kilauea.
Flying around the island in a helicopter was thrilling and offered a perspective of the topography not possible from sea level. Cliffs encircle a distinct crater, and within this a lake spews up clouds of steam and gas often visible from the mainland. Winds buffeted our helicopter as we landed and continued to pummel us on our tour.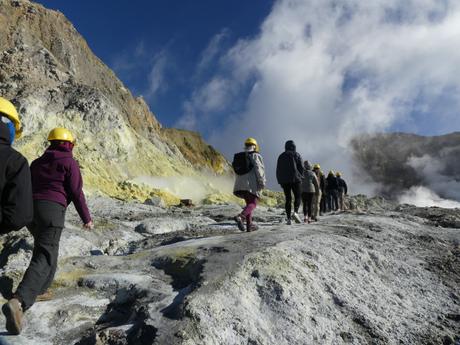 Walking on the crater floor you are surrounded by runnelled cliffs in 50 shades of yellow crystallised sulfur. There are spurting fumaroles, sulfur vents, boiling pools and steaming streams. The large lake is acidic and the day I was there, swathed in swirling steam with a distinct sulfur dioxide smell.  It's a barren habitat, with almost no vegetation, making it feel other-worldly.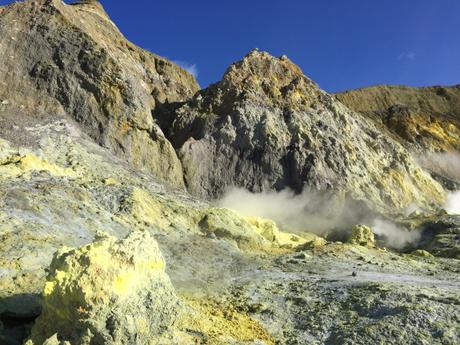 Sulphur mining took place sporadically on the island between the 1880s and 1930s with 11 miners losing their lives in a landslide in 1914. Rusting remains of their equipment can be seen in the derelict factory. There are no marked paths on the island, because the surface of the crater is constantly changing. Guides know where it is safest to walk and visitors must follow them exactly.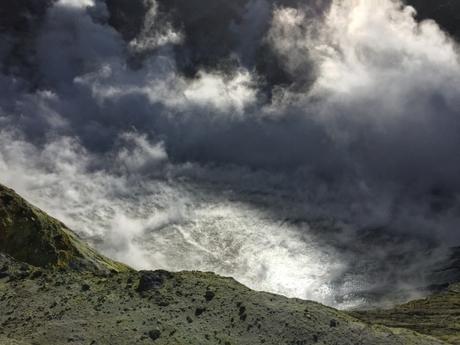 The island is monitored by GNS Science (formerly the Institute of Geological and Nuclear Sciences) with webcams, a seismograph and microphone, along with regular visits to take measurements and samples. GNS assigns alert levels for volcanic activity from 0 (typical background surface activity) to 5 (destructive with major damage beyond volcano). The week before I visited there had been 183 small earthquakes recorded in a 24 hour period.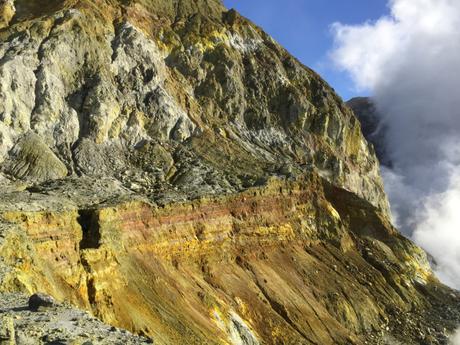 I was aware I was taking a risk as this is an active volcano (and there are the usual indemnity forms to sign), but also thrilled New Zealand offered the opportunity to walk on an active volcano. I also felt reassured GNS monitoring would alert operators of serious increases in activity that could indicate an eruption.
On arrival at the island we were issued with compulsory hard hats and given gas masks to carry should we find the air quality a problem. I didn't need to use the mask, but was glad to have it should the fumes have increased.
On the helicopter trip we were advised to run back to the aircraft should an eruption occur, or if it was too hazardous to fly, to run to a shipping container hidden behind a small hill. Arriving by boat we were advised to head back towards the ocean in the event of an eruption, keeping low and ensuring our masks were on. I doubted we would be able to outrun any eruption, but I assumed there would be warning signs, like rumblings or tremors, which would have alerted us to run towards the perimeter of the island. Tragically, this appears not to have been the case.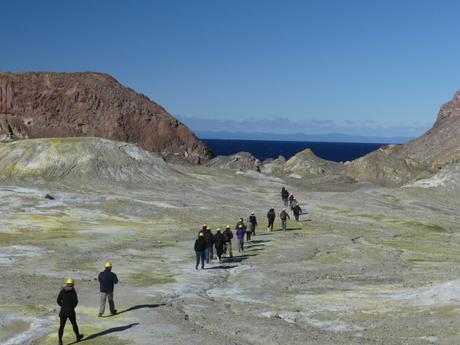 It is with sheer horror and disbelief that I watch this tragedy unfolding having walked there so recently.
My heart aches for everyone caught up on the island. It is devastating that a day spent in awe of nature should end in such tragic circumstances. My sincere condolences to everyone involved and affected by the dramatic event.