Quarantini – I love this term, meaning a martini drunk in isolation, or more generally any cocktail enjoyed during quarantine at home during Covid-19.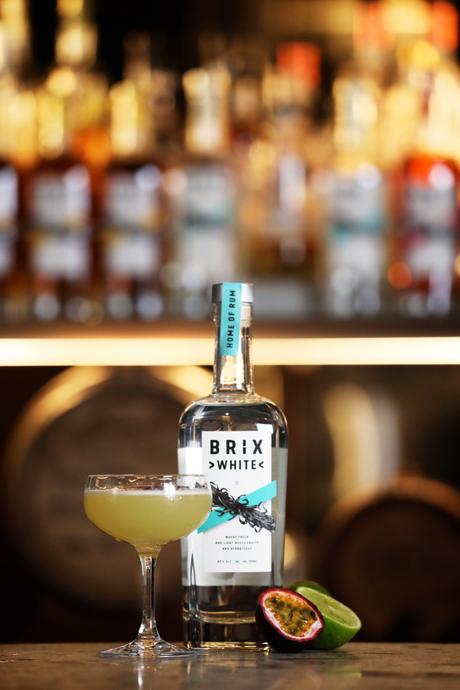 I think most of us who imbibe have been drinking more during ISO, especially initially, but much like our relationship with cooking in ISO, where we are taking the time to try new recipes, we are expanding our traditional drinking choices and mixing it up, trying old-school cocktails and experimenting with new ones.
Cocktail Masterclass
I was lucky to be invited by Destination NSW to participate in a Cocktail Masterclass via Zoom, as a way of helping some of the state's distillers. I was delivered a beautiful 'Quarantini Kit' beforehand, (haven't deliveries become an excitement during lockdown?) which included all the ingredients required to make two cocktails.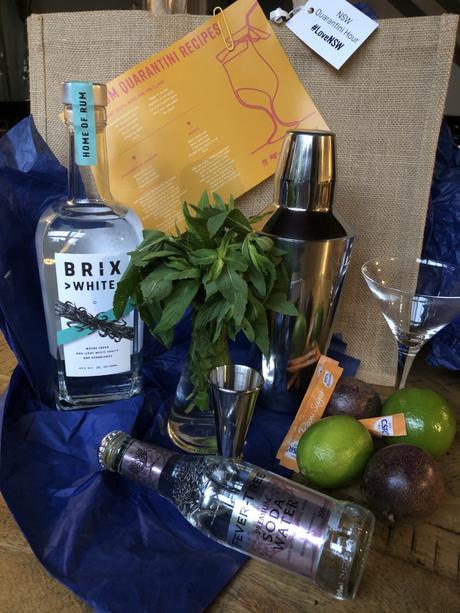 It was a rum cocktail kit, and along with mint, soda water, limes and passionfruit, was a bottle of Brix white rum. Brix Distillers is located in Surry Hills in the heart of Sydney CBD and their white rum recently won gold for Best Unaged Pot Still Rum at the 2020 World Rum Awards. That's pretty awesome for a distillery that only opened in 2017.
Actually, I have to confess, I'm not a huge fan of  rum, especially dark rum. Yet white rum is the basis of my two all-time favorite cocktails, the daiquiri and mojito. And guess what? They turned out to be the two cocktails featured in this masterclass. What a win!
Home setup
Preparation felt like gearing up for a a science experiment, with a list of required utensils (knife, chopping board, glasses etc), but the hardest part was deciding where to set up. Alcohol and computers aren't a great mix (yes, I may have once spilt a glass of wine on my keyboard) so Zooming on my PC at my desk was definitely out, which meant using my iPad mini. But where? The kitchen would see other family members coming and going, so decided on the dining room table. But as sitting down to shake cocktails seemed weird, I brought in a kitchen bar stool. Then began the fiasco of getting the iPad to the right height (you know the drill, not looking up your nose, not looking down on your head, tilting it without it toppling over). I was certainly in need of a cocktail by the time we began.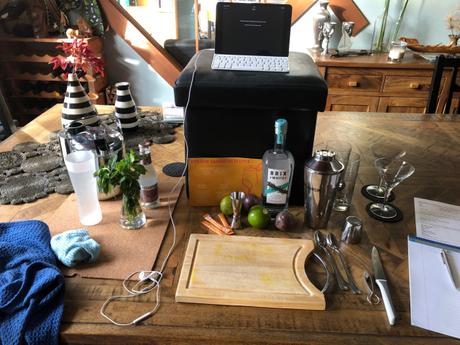 Quarantini Hour was presented by journalist Amy Cooper and award-winning bartender Charlie Ainsbury. To help us get 'in the spirit' Charlie had created a rum-inspired Spotify playlist, which I had going in the background – think Rum & Cola by Calypso Rose and Cocktails for Two by Machito Orchestra.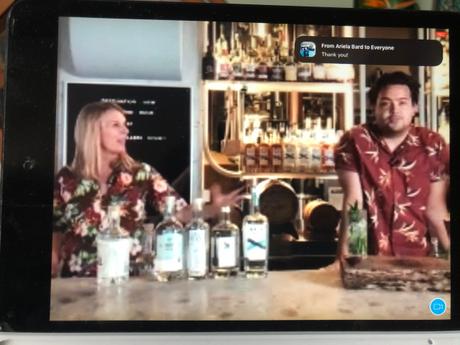 Basic Sour Cocktail
We started with a daiquiri, one of the 'building blocks in the cocktail lexicon' according to Charlie. "Bartenders are showoffs," he says. "They look like they know thousands upon thousands of recipes, but they all stem from seven basic categories." And the daiquiri belongs to the 'sour' category, which is:
2 parts spirit (60ml) – rum
1 part sour (30ml) – lime or lemon
1 part sweet (30ml or  2tsp) – sugar
But if you swap the spirit to gin you have a gimlet, to vodka you have a kamikaze, whiskey  a whiskey sour . Simple! The sour can be lemon or lime, whatever you have, so long as it's fresh, "Lime juice comes from a lime, not a bottle," says Charlie. And the most liberating thing for me was the sweet part doesn't have to be sugar syrup (you know, that ingredient you never have, that takes 15 minutes to make, by which time you've given up and resorted to wine).
Passionfruit Daiquiri
We start our daiquiri with 2 teaspoons of raw sugar in the cocktail shaker, then add 30ml of fresh lime juice, swirling it around to help dissolve the sugar. Then we add 60ml Brix White rum, and to give this daiquiri a tropical flavour, pulp from 1 1/2 passionfruit. (This could be swapped for fresh mango for a mango daiquiri or strawberries for a strawberry daiquiri. Because we have the balance of our cocktail sorted with the first three ingredients, we won't upset it by adding any sort of fruit.)
Shake, Rattle 'n' Roll
We add ice to the shaker, pop on the strainer and lid and 'get our shake face on'. With one hand over the top of the shaker and one under the bottom, the idea is to make the liquid go up and down in the shaker as fast as possible. (This is where you can break out a move, develop your own signature shaker style.) When the shaker gets too cold to handle, it's done.
After taking the top off the shaker, it pays to hold the strainer in place as you pour into a cocktail glass. For decoration, float half a passionfruit in the center of the glass. Voila!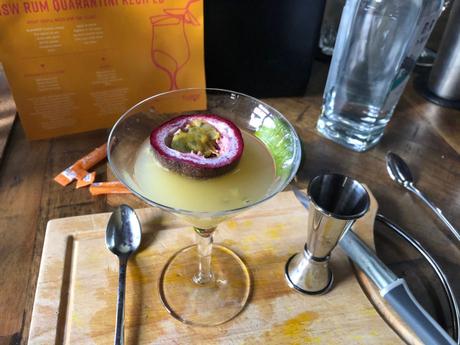 Mojito
I love a refreshing mojito, so much that I have tried making them (not very successfully) at home, hence my experience making sugar syrup, which I thought was an essential ingredient. But Charlie tells us any type of sugar can be used – castor sugar, raw sugar, brown sugar, demerara sugar, even maple syrup or honey! (This info was reason enough to love this workshop.)  Two teaspoons of sugar is the equivalent to 30ml of sugar syrup. Too easy.
Directly into a highball glass we put:
2 tsp raw sugar
30ml lime juice
dash of soda – swirled together to help dissolve sugar
leaves from two large mint sprigs
60 mls rum
stirred with a spoon, including up and down, to bruise mint and dissolve sugar
Added ice to top of glass, added some soda and stirred again
garnished with squeezed mint sprig (squeezing releases aroma)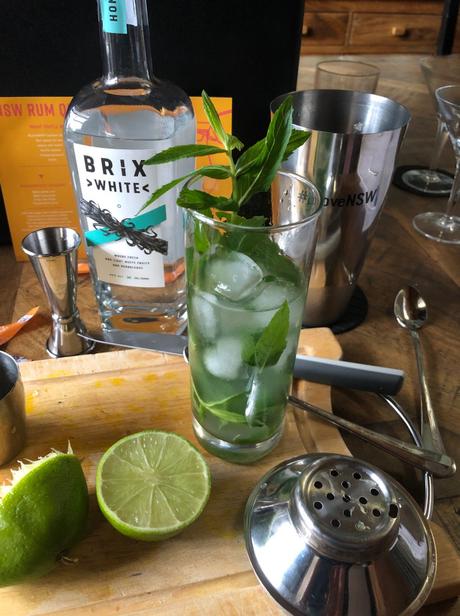 Delicious. Turns out the mojito is Charlie's favorite drink too. He also gave us his top four favorite Sydney Rum Bars, being Brix Distillers, The Lobo Plantation, Burrow Bar and Jacoby's Tiki Bar. Also check out Kittyhawk and Newcastle's Blue Kahunas as many of these places are offering home delivery during Covid-19 so you can still get your rum fix in isolation.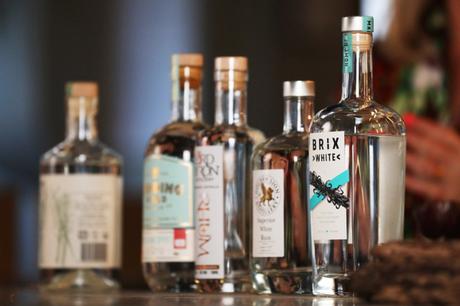 And when travel restrictions lift and we are allowed to move about New South Wales once more, consider a rum-themed tour. Here are some distilleries to add to your road trip.
For more information visit www.visitnsw.com and if you go on a NSW Rum-ble, don't forget to post to social media using the hashtags #LoveNSW or #NewSouthWales
Disclaimer: I received a complimentary Quanantini Kit from Destinaion NSW to participate in this masterclass, but I have no affiliation with any of the companies.