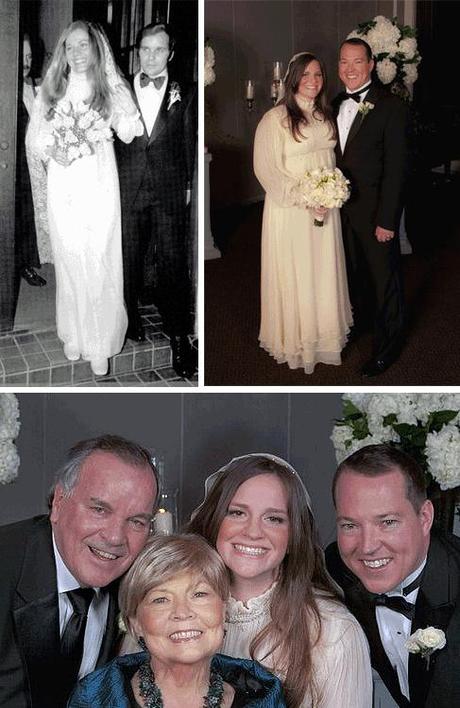 Clockwise: Maggie Daley and Richard Daley on their wedding day in 1972, Elizabeth and Sam,
Family picture from the ceremony.
I would be remiss if I didn't mention the recent passing of Maggie Daley, wife of former Chicago Mayor Richard M. Daley and our city's first lady for 22 years.
The Daleys' younger daughter, Elizabeth Daley married her long time beau, Sam Hotchkiss at Spiaggia in Downtown Chicago on Thursday, November 17th. Their original wedding date was scheduled for New Year's Eve, but it was moved up to ensure that Mrs. Daley, who had been battling cancer, could witness and participate in the nuptials/celebration. Wonderful decision as Maggie would sadly succumb to her illness a mere 7 days later on Thanksgiving, a little after 6:00 P.M.
As I read this story with interest, I came across photos that showed Elizabeth wearing her mother's dress, seemingly preserved exactly as it was. How refreshing! With many of today's blogs reminding brides that this is
their
day and if they MUST wear their mother's gown, they shouldn't be afraid to take it to a seamstress, update it, etc... For the dress to be worn unviolated must have had so much meaning for Mrs. Daley and the family! Even though this loss must be devastating, the family can comfort themselves knowing that one of her final memories was seeing Elizabeth in that perserved gown.
Maggie was first diagnosed with breast cancer in 2002 and her battle inspired many suffering with the same illness. Mrs. Daley's works were far reaching and were city-wide. Her legacy includes programs well-known to Chicagoans. After School Matters and Gallery 37 emphasized the exploration of visual arts/communication, and impacted thousands of Chicago's youth.
A public funeral Mass will be held today, 10:30 A.M. at Old St. Patrick's Church, located at 700 West Adams St. in Chicago. Our thoughts and prayers are with the Daley family.