10/12/2011 – by Cynthia Wright
Tracy Morgan appeared on the "Late Show" on Monday, where David Letterman asked him about his summer  date in Nashville. Even though, shortly after the media got a hold of his special brand of "comedy," in whichhe blatantly stated that he'd "kill his son if he was homosexual," Morgan seemed apologetic…enough.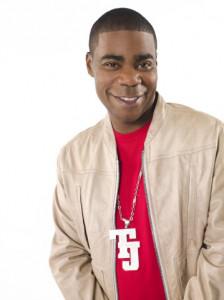 Tracy Morgan
Not so much, anymore.
Instead, Morgan is upset that folks didn't find his show funny that evening.
"At the end of the day, I'm a comedian. I try to use my gift that God gave me to help the world, to heal the world, not to hurt anyone. I was hurt by it because people came to the show and were bummed out so I apologize to those folks that came and was bummed out."
Continuing his unapologetic apology, Morgan also explained that he came from the "old skool" way of comedy a la Richard Pryor, Lenny Bruce and George Carlin. Although, they were actually funny.
"I don't believe that anyone should be bullied or just made to feel bad about who they are. I totally feel that, in my heart, I really don't care who you love, same-sex or not, as long as you have the ability to love. So now, at this point in my life, it's an opportunity to make a difference, I don't really see gay or straight, I just see human beings."
What I need to know is, outside of 30 Rock, who finds Morgan funny anyway?