Jack from Tonner was kind enough to walk me through his booth this Toy Fair!  Needless to say,  I left wanting to expand my Tonner collection.  As far as high fashion dolls, there weren't many new ones on display.  I feel like Tonner does a great job of letting fans know what is to come on a regular basis.  They don't wait for Toy Fair for all their big reveals.  There were a few surprises, though.  One of them, I think you'll all love!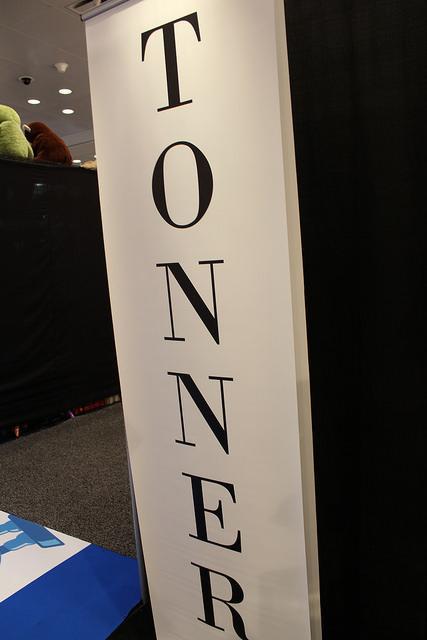 The most exciting news I took from the booth tour was this: Maudlynne Macabre is not dead!  The line was put on hiatus, but they plan on eventually going back to it.  There are no exact plans yet, but hope is not lost!  I made a point to mention to Jack that you guys love Maudlynne.  (She's the most asked about doll on my YouTube channel after Little Miss No Name.) So they know she has a fan base!  Good things come to those who wait, right?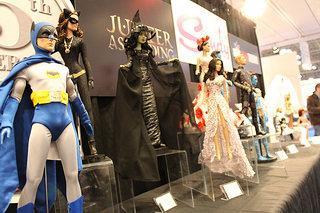 The usual Tonner fair of high fashion dolls were on display.  The amazingly detailed Avatar figures were present and accounted for.  I never realized how neat they were until I saw them in person.  The details are fantastic on them.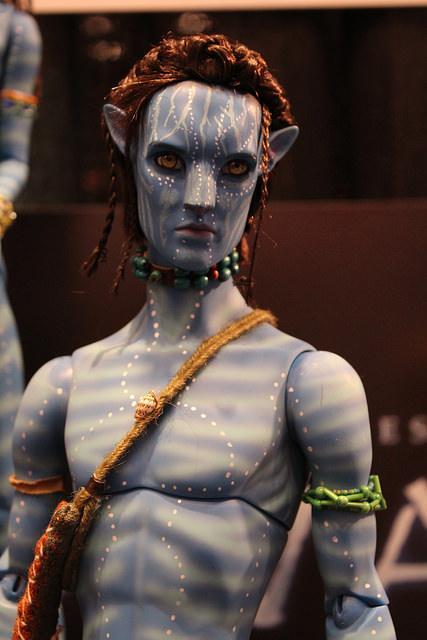 They also had the new Jupiter Ascending dolls on display.  While the dolls aren't my cup of tea, the white dress with red flowers is fantastic!  So elegant!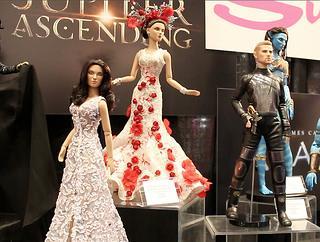 The Diana Prince collection was on display.  The collection is a nice introduction to the Wonder Woman story and was designed to impress both fashion doll collectors and DC fans.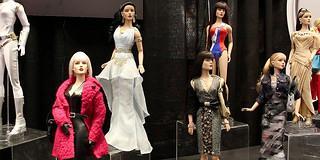 Big Bang was front and center, as well!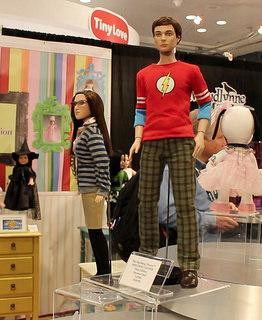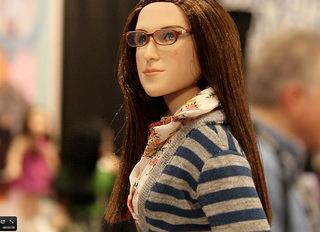 And Sindy!  I can't tell you how much I want a Tonner Sindy.  They're so cute.  Designed more as a collector item, these aren't meant for the very little.  However, they look like they'd photograph well and be a great addition to my doll collection!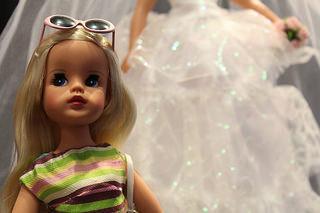 And the big news of the show?  Tonner is re-joining the world of 18″ dolls with their My Imagination dolls.  With a face sculpt somewhat reminiscent of Magic Attic (also sculpted by Robert Tonner), these guys are adorable.  Now, I decided to do quick overviews of the new doll lines shown at Toy Fair and to save hard core, highly detailed reviews for when I have the items in my hand and/or they're on sale, but if you want to know more about this new line, stop by the Doll Diaries.  Char talked to Robert Tonner himself to get details on these.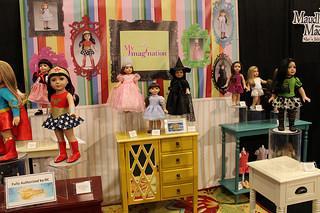 Here's the quick rundown, though.  They're 18″ tall. They have thick bodies and a gorgeous head sculpt done by Robert Tonner.  Because Tonner is a master at licensing, there is potential for this new 18″ line to have some fantastic tie-ins with the world of Wizard of Oz, DC and other properties. (Could you imagine a young Scarlett O'Hara-esc doll?  That would be adorable!) A few of those tie-ins can be seen here with the DC Comic and Wizard of Oz dressed dolls.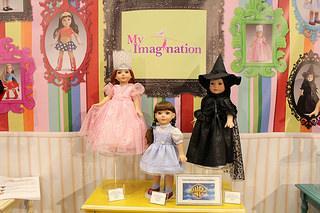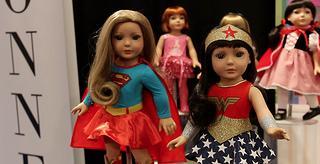 Little Red Riding Hood (seen here with Alice) is one of my favorites!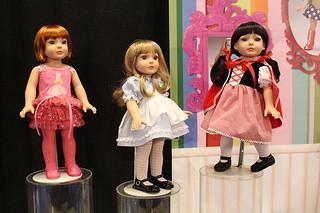 As far as starter dolls go, there are a few things to know.  First off, the basic dolls have removable wigs!  Fantastic, right? (Most of the dressed dolls will have glued on wigs.)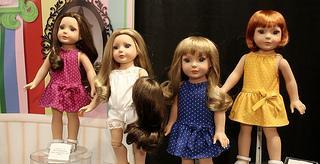 Second, you have a choice between a doll with knee joints (Deluxe Basic My Imagination, seen here holding a wig) or without extra joints (Basic My Imagination).  The doll with knee joints, the 'Deluxe Basic', is my personal favorite, not only because of her extra movement, but because she comes with a total of two wigs. Now, if only they had elbow joints!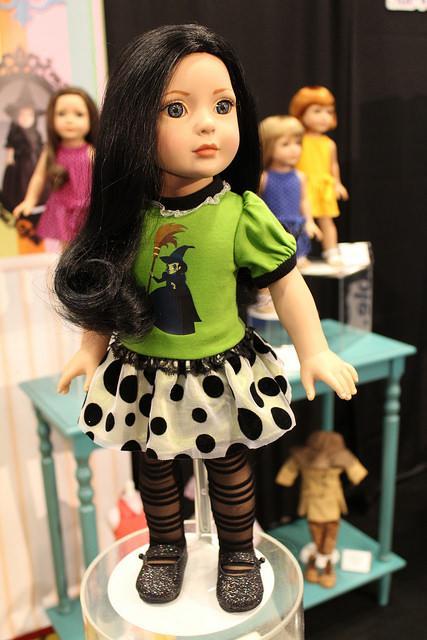 This Wizard of Oz fashion is one of my favorites, especially on this doll. I love the dark hair and steel eyes!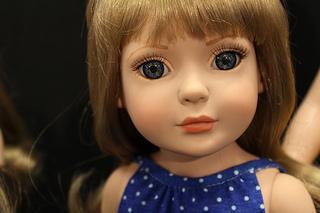 And this face!  How can you not love it!
I see a ton of potential in this new My Imagination line and can't wait to get my hands on one!  They could be a huge thing for Tonner and bring a totally new audience to the company.  I, personally, have always preferred the more childlike Tonner dolls to the high fashion ones.  The Starter Basics will retail at $79.99 and Starter Deluxe Basics will retail at $124.99. Outfits (which are sure to be adorable) will retail around $24.99.
More photos can be found in my flickr album.  And make sure to keep an eye on Tonner's website for more information on the dolls featured here!
What are you most looking forward to from Tonner in 2015?  Share your thoughts below!
February 24, 2015. Tags: toy fair. Toy Fair 2015, Uncategorized.