Here's the actual Toy Fair 2015 post!  Sorry to all those who received the rough copy.  WordPress jumped the gun and decided to publish it… Here you go!
I haven't reviewed much in terms of 18″ doll furniture here on my blog. That may have to change, though! The Queen's Treasures and Laurent Doll had some wonderful pieces on display at Toy Fair this year. The two companies, now working together to cover all the bases, cater to many different kinds of active play. The Queen's Treasures does more vintage inspired pieces, where as Laurent Dolls is more contemporary.
Here's a quick video tour of the booth!
There were so many different items on display!  My favorite series on the floor had to be the Salvation Army pieces modeled after the World War I "Doughnut Girls". I had never actually heard of the Doughnut Girls before, but the story is actually quite interesting. (Members of the Salvation Army were sent to France in 1917 to help ease homesickness amongst the troops. They did that by making doughnuts. For a longer, more in-depth history, check out this link.) There were two outfits inspired by these brave ladies, the Vintage Salvation Army Uniform and the Doughnut Girl Uniform. Set up in the diorama out at Fair was also the 1930's American Style Oven, a lovely table and cute doughnut accessories.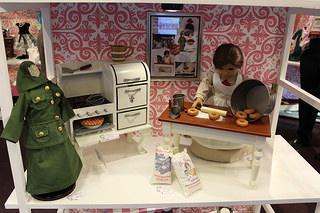 The 1930's Sewing Machine and the 1940's School Desk were two of my favorites from The Queen's Treasures, as well.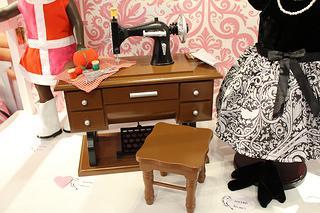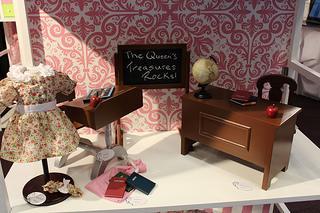 One key feature that was apparent in many pieces was the ability to adapt them to your play space. For example, The Doll Storage Trunk and Bed set is both a doll trunk and a playset! The bed folds down if you want to play with your doll and folds back up when you're done! The Royal Tea Shoppe Set is a great piece, too, because it can also change depending on how you wish to play! You can buy different signs to put on your display case. Pretty cool, I think!
This tent set was on display. This project is super secret at the moment! There is also another super secret project in the works that I can't share. Stay tuned!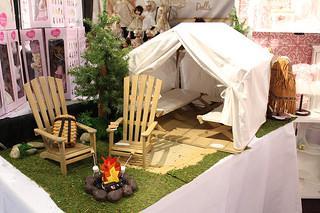 Another great piece from The Queen's Treasures? This Christmas collection!!! I love it.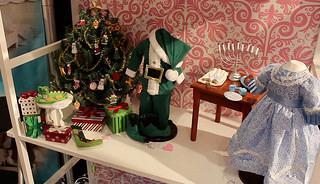 On the Laurent Doll end, there were also some fantastic contemporary pieces. Their beds looked wonderfully made. One of my favorites was this Loft Bed Set. A nice thing about this piece is that you could adjust its footprint.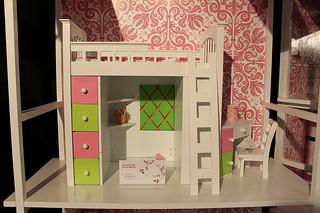 The Stackable Beds were great, too! You may be thinking to yourself, these are great, but why are they so white? The idea is that every girl or boys idea of the perfect color will be different, so why not keep these simple. Plus, these white pieces of furniture will fit with anyone's room decor!  Most of the bed sets don't come with linens for the same reasons. You can order linens in various colors and designs.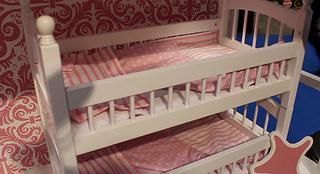 This was one of my favorite Laurent Doll pieces. I love the design on the dresser. The colors on the dresser will match the linens on the bed next to it when sold. (Which is a shame because I love the current color scheme on the dresser!)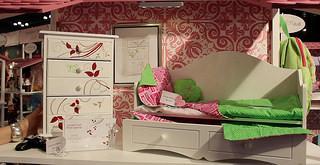 The running theme when it comes to color combinations for the Laurent pieces seems to be a creamy pink and bright green.  You'll notice the drawers on a few pieces painted with those two colors.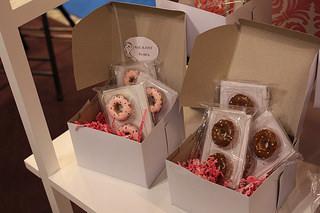 Laurent Dolls also had some adorable food and beverage sets scaled down to be the perfect size for 18″ dolls! The tiny food fan in me loves these!
While neither company sells their own 18″ dolls, The Queen's Treasures sells these adorable scaled pets for your 18″ dolls.  An adorable Yorkie is currently being sold and in 2015, three more cats will be introduced.  This line, called Awesome Animals, looks so cute!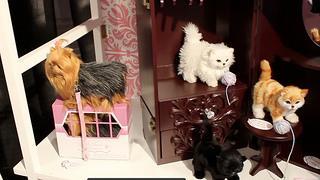 For more information on what these two great brands have to offer check out their websites: The Queen's Treasures and Laurent Dolls. More photos can be found in my Flickr album!  What are your favorite pieces? Share your thoughts below!
February 24, 2015. Tags: toy fair. Toy Fair 2015, Uncategorized.