Spin Master was kind enough to let me into their Blogger Breakfast during Toy Fair 2015.  It was tons of fun! Spin Master had set up some of their newest toys on tables around the room for us all to explore and play with, because that's the best way to really understand a toy, isn't it?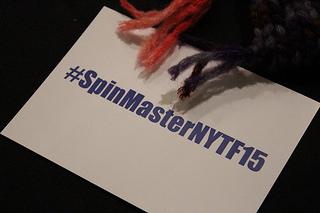 As far as dolls, there weren't many on display, but then again, Spin Master isn't exactly known for their doll products.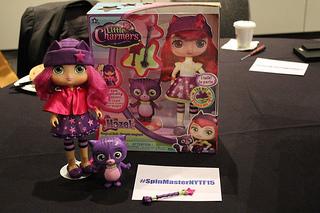 The only doll item they had on display was a Little Charmers Hazel.  Hazel and her pet Seven are two of the stars of a new preschool cartoon on Nickelodeon (which is co-produced by Nelvana and Spin Master). Hazel has rooted pink hair and a molded purple hat with 'cat' ears. The hat is very similar to what we saw on some Kawaii Crush figures, just much larger! I love how her hair and hat work together. Little Charmers is based around magic, so this Hazel doll ties in with that, too.  Hazel's cape magically disappears when you wave a magic wand.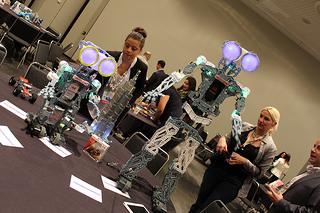 It was hard to miss the Meccano Tech kits, MECCANOID G15 KS and MECCANOID G15. They reminded me a bit of Number 5 from the movie Short Circuit. Both Meccanoid models can be programmed three different ways: using an app to control him like a ragdoll via an avatar, through learned intelligent movement and by motion capture (through your cell phone). They can walk, roll and talk, not to mention countless other things!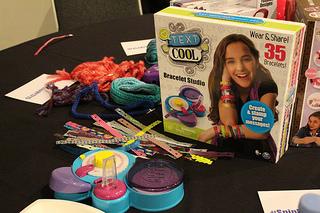 Spin Master has three new DIY sets that follow in the footsteps of last years successful Sew Cool. First, there's the Text Cool Bracelet Studio, which allows you to emboss letters and emoticons on bracelets. It works similar to an old school label maker, but is much prettier and more compact.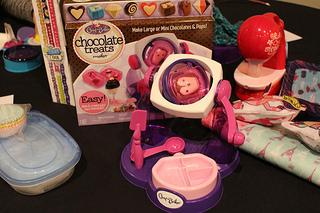 Another set they announced was the Cool Baker Chocolate Maker, which allows you to make chocolates without a stove or microwave. Last, they had a Knits Cool Knitting Studio, which plays on the idea of arm knitting.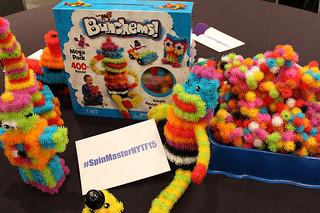 Bunchems seem like a fun little travel toy. The concept is super simple, but for the right child, they could be a great crafty toy. Bunchems are plastic spheres that stick together on their own to form whatever you want to make. They had a few on display and I can attest that they really do stick together with no problem! You get 370 Bunchems in the starter kit and accessories.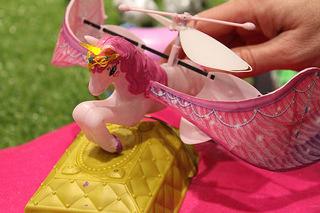 The new Flutterybye Unicorn is just as neat as the Flutterbye Fairies. It hovers over your hand, just like the fairies!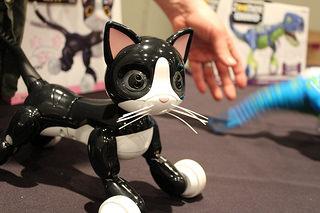 My favorite thing at the Blogger Breakfast, though, was Zoomer Kitty. It's so adorable! Much like the Zoomer Dino that won many awards last year, Zoomer Kitty interacts with you by cuddling, playing, purring and more! She moves like a cat, too, albeit a cat on wheels. Trust me, you'll want to see this kitty in action!
To really understand what these products can do, I would recommend checking out this short video I put together with clips of the blogger breakfast.  You'll get to see Zoomer Kitty and the Meccano Tech robots in action!  Also, check out my Flickr album for more images!!!!
Did something in this post catch your eye?  Share it in the comment area!
February 19, 2015. Tags: spin master, spinmaster, toy fair. Toy Fair 2015, Uncategorized.