Monday, I visited the Mattel Gallery at New York Toy Fair.  It was amazing.  Like myself, I think you'll love what Mattel has in store this year for their fashion doll lines!
Before we get to my favorites, here's a video!  It will give you an idea of what Mattel has in mind for 2015!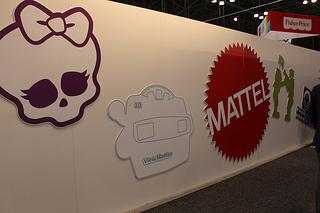 Here's a few highlights from the gallery floor! Starting off with the most exciting reveal, Mattel is planning on releasing more than one 17″ doll!  In the upcoming Freak Du Chic line, we'll meet Gooliope Jellington, daughter of the blob.  What makes her special?  She's a whopping 17″ tall!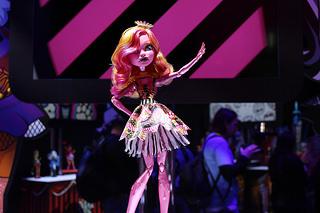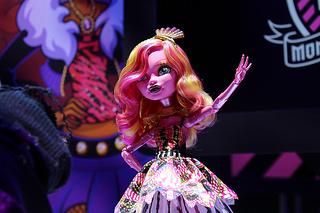 Jointed in all the same locations, she looks amazing.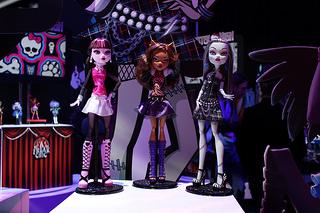 One 17″ doll would be great on its own, but Mattel is also creating larger versions of our favorite ghouls, Frankie, Draculaura and Clawdeen!  They look really, really neat in person.  Hopefully, my photos do them a little justice!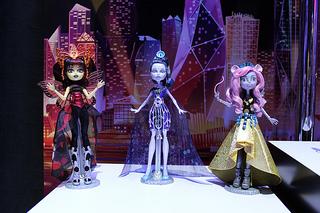 The Boo York trio is pretty exciting, too.  My favorite is Elle Eedee (center of photo).  The other two are (left) Luna Mothews and (right) Mouscedes King.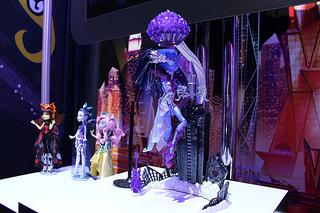 We'll be meeting one other new ghoul in the Boo York line and she has a gimmick.  Her name is Astranova and she levitates. The effect is neat, though the price point ($50.00) is a bit much.  I've always cared more for the dolls than the gimmicky playsets, myself.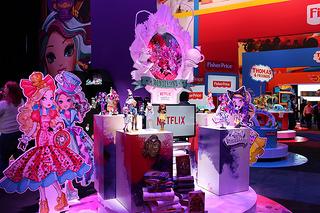 There wasn't much in the Ever After High station that was new.  A lot of what they were showing had been leaked or was already on store shelves.  However, I loved being able to see the new Wonderland dolls, especially Alistair Wonderland (son of Alice)!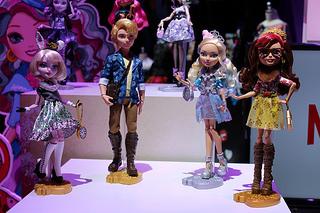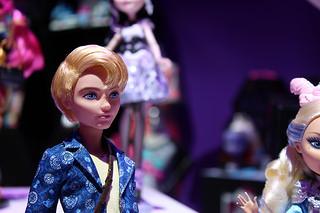 Bunny Blanc (daughter of the White Rabbit) is pretty neat, too.  I'm not a huge fan of the Charming brothers sister, Darling Charming, though, which is interesting, as I usually like the Rebels.
As far as Barbie, Hello Barbie is the item to check out this year!  Hello Barbie is an interactive, wifi enabled Barbie.  You can actually hold a conversation with her, as opposed to her saying the same stock sayings in a random order.  She was created with technology that will remember what you say, too, which is fantastic.  For example, if you say you like bagels, she'll remember that and bring it up again in conversation.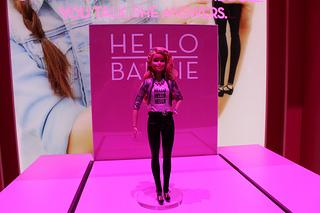 The downside I see with Hello Barbie is that due to her technology, her clothing is permanently on her.  You can only change her outside jacket.  It would have been nice to be able to change her outfit.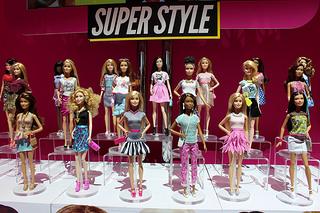 It was fantastic being able to see all the new Fashionista faces in person.  There are so many I love, which is strange for me, as I haven't wanted to buy a Fashionista ever. My favorite is the Barbie with the half flocked/ half rooted style.  I didn't notice it in the dolls at the show, but the PR rep said they'd have the new ankle joint (which allows them to wear heels and flats).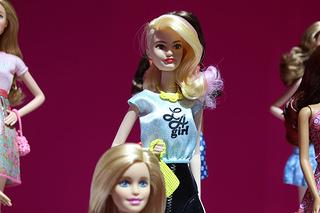 Being a Skipper collector, this caught my eye.  The doll below looks like she could pass for an older Skipper.  Do you see it, too?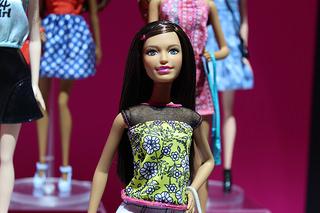 Barbie and the Royals were on display at the show, as well.  That excited me, too.  One of my side collections is Barbie and her bands and it's been a while since they've done a band!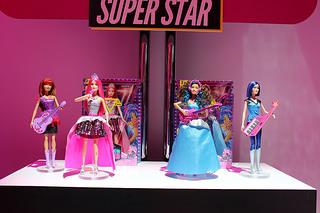 So, that's what I am excited for when it comes to Mattel and their fashion doll lines! For more photos, check out my Flickr album. What are you looking forward to from Mattel in 2015?
February 19, 2015. Tags: barbie, ever after high, mattel, Monster High, toy fair. Toy Fair 2015, Uncategorized.