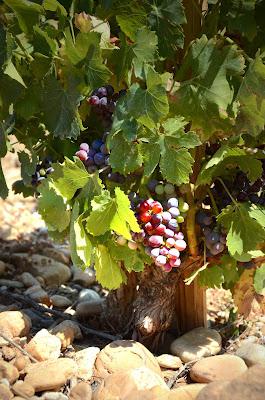 I've just introduced my eldest son to the brilliance of John Cleese. Some people are proud of their children for their academic achievements, their physical prowess, or even their beauty, but important to me in conjunction to this, is that my kids 'get' my sense of humor. And he does - the little champ, thoroughly and pants-wettingly. And the clever little eight year old hit the nail on the hospitality head at lunch today, when he loudly declared: "Wow. This place is just like Fawlty Towers!"
Perhaps we should have known as we came between the gate towers, which at a distance had appeared ancient, but close up, a little like a film set. And as we wound our way up the stony hills of Chateauneuf du Pape, I heard myself compare the building to Kryal Castle - Melbourne's white trash version of a medieval knock-off. But the terrace was inviting, divine, in fact, and close up the stones had less of a cardboard appearance, and so I put it off, believing I am simply spoilt for chateaux - there are simply so many beautiful ones around this part of the world, it was bound to happen.
The service was intermittently nonchalant, surly or non-existant. Every 15 minutes or so, the female waitress would happen by, and give us a taste of professionalism, but then she would leave politely with our requests, never to return. We would be left with a very sour version of Manuel, who would forget orders, dump the wine bottle on the table with no offer to taste first, make one of the party hold up the menu blackboard for the rest of us, then fan off to the other end of the terrace to placate other unhappy customers.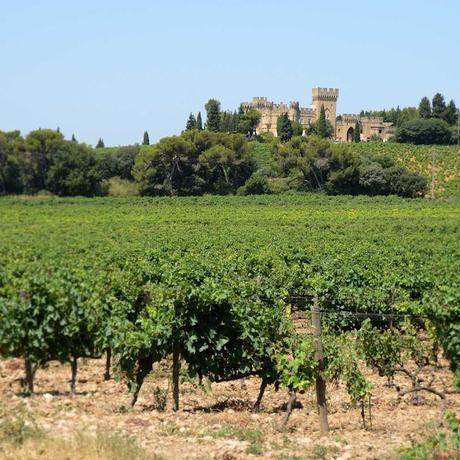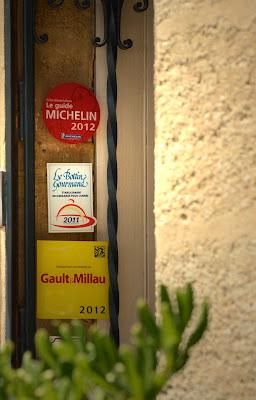 The meal, simply two courses, one of which was a cold salad, took over 2 hours to be completed. In all fairness, the carpaccio was excellent, and the tomato salad good. But the mains were poorly chosen cuts of meat, scant to say the least (The cote d'agneau main was a measly lamb cutlet with a piece of meat the size of a golfball), and plainly accompanied by a small baked potato with lumpy sour cream and a half tomato with breadcrumbs. 23 Euro for two courses, 60 Euro for a bottle of wine that never got poured for us.
This restaurant has a Michelin recommendation, a Frommers suggestion to stay and dine, and one hat with Gault & Millau. It seems, however, the reviewers have not been recently, or perhaps we just turned up on the day the chef walked out. Upon arrival at the excellent vineyard nextdoor, we saw a fellow diner in the office behind the degustation table. We asked if she had enjoyed her meal. No. She had eaten nothing at all - it was bland, and besides she had lost her appetite by the time the food finally arrived.
It reminded me of my last visit to Chateauneuf du Pape, where another commended restaurant similarly failed us. In all my visits to France, I have only encountered arrogance from the French on a few occasions. It seems strange to me that they have such a fine reputation for snobbery, as I rarely see it. But this particular waiter at his restaurant famous for its extensive cave (including sales and tasting in the grotto below), fit the stereotype perfectly. He refused point blank that my wine was corked, when it clearly was. We could only get him to agree to open a second bottle when we assured him we would pay for both if it proved it was no different. It was better, gorgeously so, and he reluctantly agreed that we should only be charged for one bottle.
But the arrogance did not end there - the remainder of lunch was spent trying to attract the attention of him, and the other waiters, who he had pulled onside with visible pointing and sneering at our table. Our food was slapped down before us like a piece of microwaved pie in a mid-west truckies' diner. Our wine ran out, as did our water. We weren't offered dessert. I finally got to see the famous french pout, I guess. But I must say, it's not so pretty on a boy who thinks he's a sommelier, but is failing visibly. I left feeling perplexed. The setting and the food were excellent, but I'd never go back - except maybe to see if the boy has grown up.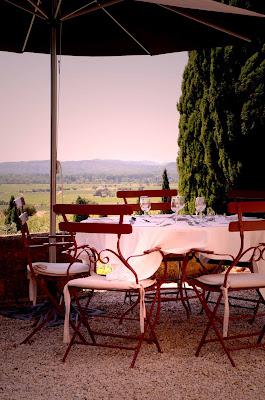 There are two sides to arrogance, and neither of them are welcome traits in hospitality. One is the sense of self importance. Confidence, in some measure is vital, but cannot be confused with a belief that the customer is stupid and lucky to be served by you. You're a waiter, serving me. Get over it. When I'm serving you (which I have done for years, incidentally), you can tell me how clever you are then. The second is a lack of care for the customer, which at some venues, can stretch to downright negligence. It's the easiest way to guarantee to upset a diner, and can end up costing the venue money if the gaps in care and the mistakes are big enough.
It goes to prove that three parts of the puzzle must fit together  - food, ambience and service. You might forgive a little failing in one, if the others are spectacular, but it's a balancing act, and unfortunately one that many restaurants in excellent locations seem to topple. Hence the phrase "Tourist Trap". And tourist traps are found in places where tourists frequent. Perhaps the waiters (and some of the chefs) of Chateauneuf du Pape believe that their diners are all sloshed Aussies who wouldn't know their Marsannes from their Roussannes, and need a little slap across the head? And perhaps, if we don't do our research, we don't deserve to stumble across the best restaurant in town. I will say, the castle restaurant was chosen by our children, who wanted to dine like lords. The other restaurant was selected for its position. Both were drive-bys, so to speak. I need to remember my own advice, and get off the main drag and find the jewel in the alleys behind.
And I need to put a review on the Michelin.uk website...
-----------------------------------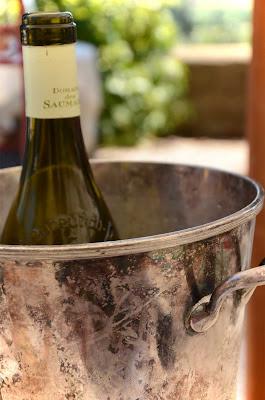 At this point, I would like to re-state that the French do not have a monopoly on arrogance - it's just as easily found in many other countries, my own included. John Cleese captured it at various stages in Farty Towels, but the added idiocy and humor is like the spoonful of sugar that makes the medicine go down. In fact, many hotels now use Fawlty Training to demonstrate the futility whilst breaking the boredom at staff seminars. Perhaps I should send the Chateauneuf du Pape version of Kryall Castle a DVD...?
I have decided against naming the restaurants, in the hope that the first was just having a bad day, and that the second has changed staff. But if you are very keen to find out, you will probably be able to with a little nosing around googlemaps and Chateauneuf du Pape tourism sites. The rest of the day progressed well, as those involving wine tasting usually do. More on that soon...
Santé