I opened up a resale shop in the storefront of a building we own and have been unable to sell in this economy.  There are slow sale days and good days, and at first it was a bit disappointing but as it turns out the store is good for the soul.  Sometimes I feel like Sam, the bartender on Cheers, as everyone who enters the doors, has a story.  Many just come in for a chat, and as I've found out you just never know how a person will affect your life.
The first time Scotty graced my presence was during our opening week in the summer of 2012.  A towering man around my age, with an umbrella in one hand and a bus pass in the other stepped through the doorway.  He took a quick walk around the place, and audibly noted items for sale.  He voiced each item twice, "books one dollar, books one dollar, brown boots six dollars, brown boots six dollars."  I immediately thought of the movie Rain-Man and thought surely this man was autistic.  He stayed a mere two to three minutes and made his way to the door where the sign posting the store hours caught his eye.  Reading it out loud and storing this important information in his memory bank, he repeated twice that days hours and quickly went out the door.  As he shuffled down the main street I could hear him chattering to himself as he clutched tightly to his umbrella.
The man came in every couple days and did the same thing.  I began to notice that he would stand at the door, let his eyes do a quick scan of the store, and at this point he would step over the threshold and name off the items that were new to store since his last visit.  The amazing part was that the new items were scattered amongst the older items, leading me to be quite impressed with his memory skills.
Day after day he arrived and departed so quickly; he spoke so quickly that I was unable to string a sentence together before he made his exit.  Each afternoon I would come home and relay the stories of these people to my family.  One day my husband said, "you know… when I was a kid there was a boy in the neighborhood, who now that I look back on it, was probably autistic.  I got into several fights for sticking up for him.  His name was Scotty.  I wonder if it's the same guy!"
So I worked the store and waited for what seemed like forever for this man to pop in.  I wanted to try and ask his name.  One morning I gazed out of the large store window and that familiar ball cap and umbrella caught my eye.  I thought to myself, "Please let him come in here today."  About thirty minutes later I heard that familiar bellowing, "Open Monday 12-4, Monday 12-4."  I smiled as he stepped through the doorway.  He made a beeline to the stack of CD's and albums, mumbling as he thumbed through each old record.  He recited each artists name and album title.  I had faith he would remember each one; storing them securely into his memory bank.
He turned toward the doorway and in his usual fashion recited the next days hours, twice.   I excitedly chimed in, "Oh wait, wait!"  He stopped, but didn't make eye contact as I continued, "You come here all the time and I don't even know your name.  What is your name?"  "Scott, Scott", he replied (and gave his last name -twice – which confirmed the connection).  It was him!  Now all grown up, this was once the boy my husband knew as a child.  He asked my name.  "Sheila", I said smiling, "it's nice to know your name Scott."  He repeated the store hours again for the next day and then said, "Sheila, Sheila" as he walked back through the door to his next destination.
Every time he comes into the store now we address each other by name.  Gradually we've worked our way into short conversations.  I will ask, "what are you doing today Scott?" and he will reply, "What are you doing today, I can do whatever I want to today, whatever I want to", as he clutches his bus pass. He has even taken to a pair of antique women's ice skates in the window.  Asking permission first, he now comes into the store just to run his fingers along the old, worn, white leather.   "Ice skates, ice skates, white women's ice skates.  Can I touch them?  Oh yes, white leather ice skates, smooth like Miracle Whip salad dressing.  White women's ice skates."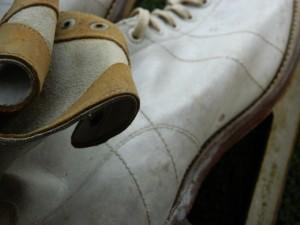 I see Scott often.  Waiting for the bus, gently rocking on his feet;  slightly swaying with his bus pass in hand; that familiar mumble.  I wonder where he is off too, what adventures he is headed for.  I wonder if other people like me are nice to him, and dread with my whole heart the thought that they might not be.  I imagine all the things in his mind and how he might process life.  I wonder what it's like in there, inside his world.  I feel so happy and blessed that the universe has connected me to him, that his energy has touched mine.  I can state without a doubt that when I'm feeling a little misunderstood I think of Scott and the issues he lives through daily.
Their world is so different than our own.  We are always trying to "fix" them.  I don't know if that is the answer.  I think we can learn a great deal from them.  I think they bridge the gap to the next level in human evolution.   Where everything is seen to the absolute fullest down to the minute detail.   Where one takes the time to stop and enjoy the simple things that make them happy.   Like him – not everyone will understand me at all times, but in my head I am just happy to be me.