That woman rubbed Thanaka wood on a flat circular stone (called Kyauk Pyin) which was poured by a little water on it. The water slowly turned white yellowish and coagulated. Then the woman smeared it on my and my friend's face.
After getting out of her house and continuing the trip, the sun and its scorching heat then was no longer burning our face. Just like wearing a mask, the skin got cooler and tightened.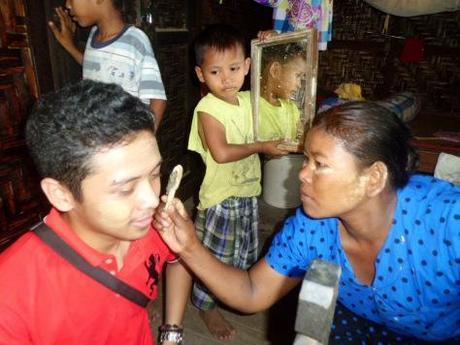 Thanaka is one typical traditional make up that now is still being applied by Burmese. Though most of them are women and children, but we could also see some men use it. Beside grinding the bark of Thanaka wood, to make the paste, people nowadays just need to buy the paste balls or the powder and then adding it with water.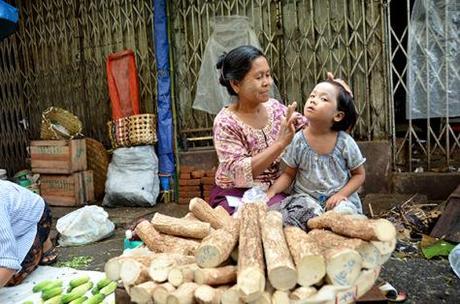 A woman is selling Thanaka wood while smearing the paste onto her daughter. Pic take from http://creativeroots.org/2013/11/thanaka-national-identity-myanmar/
Ah yeah, by the way, Don't forget to wear saroong everywhere you go. And afterward, yes, we feel more Burmese now  :D