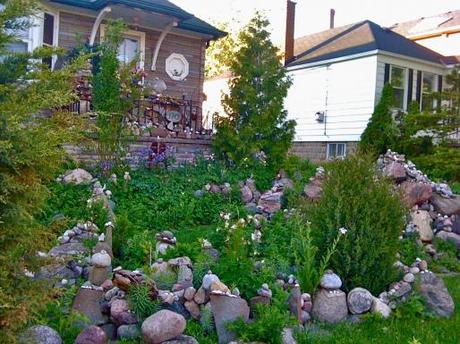 The Toronto most tourists miss. This is a quirky front lawn near Glencairn station. The owner has spelled his children's initials in rocks.
I've just finished my month-long stint at CBC Toronto. It was a fantastic department, with more than its fair share of nice people.
I'll have to blog about the experience in more detail soon. In the meantime, I'll give you a sneak peek into my notebook.
So, one thing I did was compile a list of our city's lesser known attractions for a possible summer series. Some of my suggestions may end up being spotlighted on the supper-hour news show, but I figure this list with links would be useful for you online and out-of-town types.
These attractions aren't as well known as the CN tower and the ROM, but many are well loved by savvy residents. They range from truly hidden gems  to central but often overlooked spots.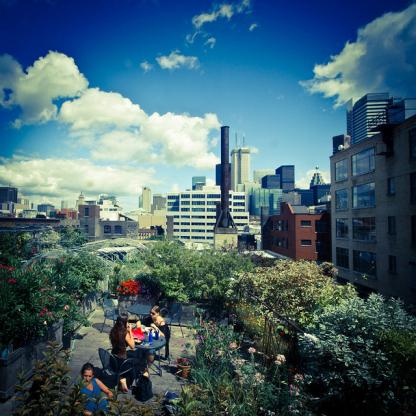 By Flickr user latigi. Creative Commons. Some rights reserved.
This green roof and patio is located near Queen St. W and Spadina Ave. It's open to the public at no cost, and features an on-site cafe, free wireless Internet, and a fantastic view of Toronto.
Points of interest:
Great place to have lunch or watch the sun set
6,500 square foot cedar deck with flowers, vines, bushes, planters, perennial shrubs and blanket of sedum that goes beyond the roof
Skyline includes a view of the CN Tower
New "bee condo" this year, maintained by York University researchers
Plants/flowers selected for beauty, aroma & ability to attract bees, butterflies, ladybugs, and birds.
The organic veggies grown on site are used in the building's cafe
Free wireless internet on the rooftop
Garden started in 1995 by Mike Moody (property manager and gardener). The 40 ft. greenhouse was erected in 2000.
Eco-benefits include easing air pollution and trapping stormwater runoff

A Stellar view from Richmond Hill
123 Hillsview Drive
Have an out-of-this-world experience at the The David Dunlap Observatory, home of the largest telescope in Canada. Incredible photos here.
Points of Interest:
Main feature is the 74-inch reflecting telescope, biggest in the country
On a clear night, visitors might see everything from craters on the moon and the rings of Saturn, to galaxies, nebula and comets
Public events are held most Saturday nights from early summer through the fall months. Other public viewing nights are listed on their website.
They offer two types of programs:
(1) casual "Observing Nights" every Saturday when the sky is clear (pay at the door – $5 for adults and $2 for children)
(2)"Star Talk nights" that begin in July. These evenings begin with an all-ages 30-minute illustrated talk given by a Canadian astronomer or space expert in the main lecture hall. They end with a viewing if the sky is clear (Reserve online – $10 for adults, $2 – $5 for kids, youth, and seniors)
The observatory has a long history – it has been open since 1935!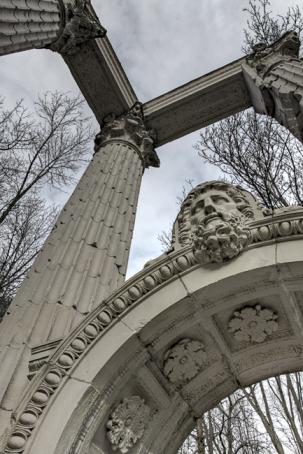 Image by Flickr user frankteney. Creative Commons. Some rights reserved.
Stroll through the Guild in Scarborough: a collection of rescued structures and sculptures from demolished Toronto buildings.
Points of Interest:
Bits and pieces of several historic buildings inside a public park (over 70 architectural fragments and sculptures within the gardens)
Sometimes host theatre and concert events
The nearby Guild Inn is an abandoned, possibly haunted (definitely creepy!) historic building
The collection started as a private project by art preservationists Rosa and Spencer Clark
The space is in a unique setting atop the Scarborough Bluffs.
Indoor and outdoor displays feature contemporary work amid the reclaimed ruins
Cinematic Treasure Chest at the NFB
150 John St.
Tired of sky-high movie prices? Get your fill of free films at the National Film Board mediatheque, where you can watch old classics and discover new favourites – like the anti-epic above.
Points of Interest:
digital viewing stations give people access to more then 5,500 free films from the NFB media library (day pass is $2 last I checked)
Located in the Entertainment District, right across the street from the Scotiabank theatre – a convenient alternative to Hollywood and high prices
Public access point for groundbreaking NFB films and a centre for media literacy for children and adults alike
Regular low-cost or free screenings of award-winning films and film festivals (often followed by provocative Q & A)
Several workshops, summer camps, and other programming for the kids, families, students (these are usually for a price)
I have lots more, but it's getting late and this post is getting pretty long. Stay tuned for my next blog entry, when I tell you about:
the inconspicuous Museum of Contemporary Canadian Art
the simulated rainforest in the Cloud Forest Conservatory
the architetural wonder of the BAPS Shri Swaminarayan Mandir complex
the rich history and tranquility of the Mount Pleasant Cemetery
the rustic charm of the Don Valley Trail Network
the best place to picnic if you prefer butterflies to seagulls
Already been there, done that? Okay, smarty pants. Outdo my suggestions in the comments section