As we previously wrote here, Rob Ford, Mayor of the City of Toronto, Canada, was caught on Twitter admittedly "probably" reading a document while driving his car on a Toronto expressway. Following suggestions that the "busy" mayor hire a personal driver, CBC reports that the Mayor, who also has a reputation for illegally talking on his cell phone while driving, refuses to hire a driver, because it is a waste of money.
We wonder if anyone else in Toronto has noticed that a Mayor who initially strongly wanted to close libraries has such a sudden passion for reading. We just kind of wish it wasn't in his Cadillac Escalade while it is in motion with him at the wheel.
3 More Things That Need To Hire Drivers
1. Every wealthy celebrity in Hollywood who gets busted for DUI or any alcohol-related driving offense. We really wonder why Paris Hilton thinks she is flaunting her wealth when she is apparently too cheap to hire a driver to help her avoid bad driving decisions involving alcohol. That goes for you, too, Kiefer Sutherland! We haven't heard your voice in a commercial for the Ford Fusion recently, but are sure somewhere an executive at Ford is wishing someone who has done Ford voiceovers or people whom by pure coincidence have the last name Ford would drive a little more responsibly.
2.Google Self-Driving Cars. Yes, for those of you who haven't been keeping up on tech, Google has developed the technology that allows driverless cars, and they're legal in Nevada. The only catch: they must have two passengers in them to be legally driven in Nevada. Because if a car's going to go on a binge weekend in Las Vegas, there better be two legal gambling aged passengers inside to spend some money in local casinos, especially if they consider themselves lucky that the vehicle didn't accidentally drive into the Hoover Dam. So enjoy your driverless car by finding someone to drive it, or just grab one of the many empty cabs outside McCarran International Airport.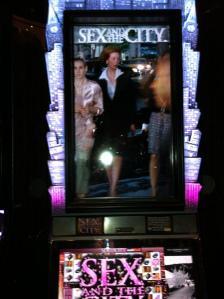 If Las Vegas is overridden by self-driving cars, who will play the "Sex And The City" slot machines?
3. Roombas. Speaking of self-driving vehicles, maybe the licensing types in Nevada aren't quite ready to let cars drive themselves because these self-driving vacuums keep almost bumping into walls, making the household cat request the Roomba take a sobriety test.