The number seven is Hollywood's Tori Spelling's lucky number. The daughter of prominent American film and television producer Aaron Spelling, actress Victoria Spelling recently celebrated her seventh anniversary to Canadian-American actor Dean McDermott. And speaking of lucky numbers, she also recently had a birthday, the Big Four-Oh.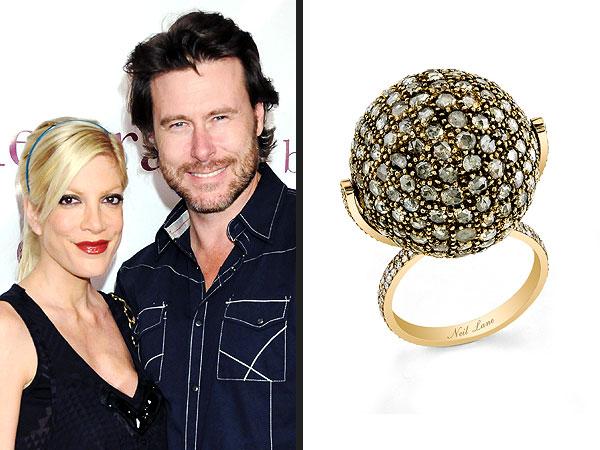 via People
Each year since their made-in-heaven marriage, Hubby Dean has presented Tori with a ring as a token of the renewal of their wedding vows. This year, he wanted something a little special. Hollywood marriages that survive to reach this milestone must survive "the seven-year itch."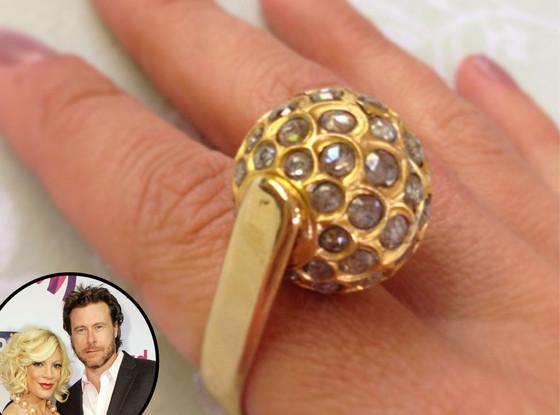 via E!
The result was a very unique ring designed by Los Angeles jewelry designer Neil Lane. Lane told People magazine, "Their seventh year of marriage was really important to him. Dean wanted something unusual, different and something very special and celebratory."
Lane contemplated many designs, having less than a week to come up with the perfect ring to mark the special seventh anniversary. He came up with the idea of a diamond sphere that spins. Set in 18K gold, the ring is comprised of 150 small rose-cut diamonds. It totals 3 carats.
"It spins around!" says Hollywood's popular jewelry designer. "It's a diamond ball, a little diamond world, and Tori can spin it on her finger."
Lane says he wanted to create something sexy with a little of a Hollywood vintage look. The ring looks like a little diamond globe. Lane says that Dean loves Tori so much, and the ring makes the statement that "she rocks his world."
Tori Spelling was born into the world of acting. Her first role was that of Donna Martin in Beverly Hills 90210. She starred in several made-for-TV movies. In 2009, she returned to star in the spin-off, 90210.
Dean McDermott has had many roles in both television and movies including the part of Constable Renfield Turnbull on the TV series Due South and the Kevin Costner film Open Range. The two star together in the reality TV shows, Tori & Dean: In Love, and Tori & Dean: Home Sweet Hollywood.
The couple has four children together.