After a lovely supper and a glass or two (maybe three) of wine with friends on Friday evening, the conversation went something like this:
K: "I am having my topsoil delivered on Tuesday".
S: "Are they going to do the garden for you?"
K: "No, I am going to spread it myself, it can't be that difficult".  Famous last words.
Me: "I've got Tuesday off, I'll come and help you".  It's surprising how generous you can feel after a spot of alcohol.
S: "I am sure P will help too".   P had not joined us for supper and this kind offer was unknown to him.  Although we all knew that he would be more than happy to help.
This morning at 8:30 a.m. the phone rang – "The top spoil has just been delivered, P is just finishing his breakfast and will be here about 9:30".
I duly arrived at K's house a little later with wheelbarrow, spade, gloves and my camera, having designated myself as the Official Photographer.
At first sight, although it was a good sized pile of topsoil, we thought there might not be enough for the whole garden.  By the time we finished clearing it, several hours later, we bowed down to the greater knowledge of the suppliers and were very pleased that there was no more to move.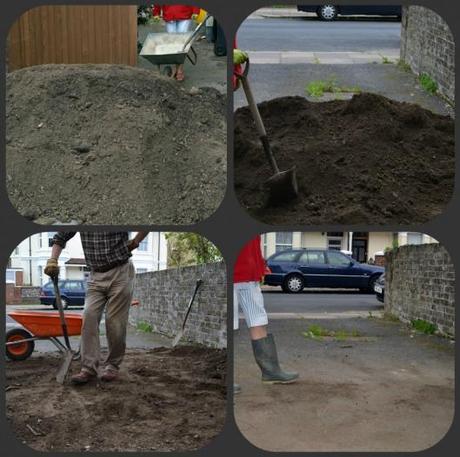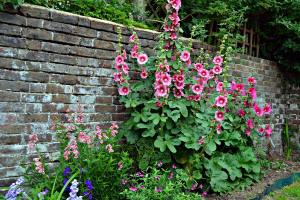 A while ago K put into action her plan to redesign her garden.  Armed with a sledge hammer she removed her garage and flatten everything else.   She moved a number of plants into beds around the edge of the garden and I couldn't get over how healthy the hollyhock looked, despite the move.
P and K shoveled the soil into wheelbarrows, and strategically tipped it on the lawn.  It was my job to spread it around with a rake, occasionally stopping to check the level.   The lawn was far from even to start with but K assured us she was not making a bowling green or croquet lawn and kindly refused P's repeated offers of his book on "How to Make a Lawn".

Like all good workmen, we had the occasional tea and biscuit breaks and for lunch K provided us with delicious cheese on toast,  washed down with ginger beer.

We laughed at the thought that between us we have made a giant cat litter tray and I think K intends to cover it with pea netting until ready for seeding.
We were exhausted by mid-afternoon, I decided I had done enough and it was time to go home but not before we viewed our hard day's work just knowing that we are surely going to ache tomorrow.