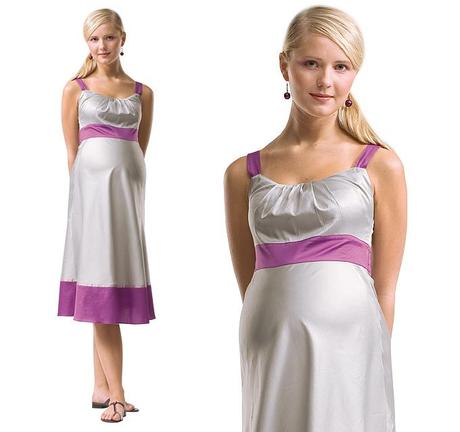 There was a time when pregnant women used to wear huge floral smocks or gowns to hide their bump. Today, times have changed and moms-to-be love looking ravishing and beautiful. Blessed with natural glow, pregnant women love to wear chic fashion labels during pregnancy to look glorious and gorgeous.
Following tips can help them to look good even when they are battling with weight and other pregnancy related problems
Dressing as per shape-One has to understand that pregnancy is going to make changes in the personality of a woman. She will pile on excess weight and will become huge as her pregnancy progresses. Instead of trying to squeeze in regular dresses, it is better to wear dresses that are more appropriate according to her changing shape. This way she will not only look nice but will also stay comfortable. Understand shape of your body and accordingly try different maternity clothes.
Undergarment comfort-One looks good when she feels good. In order to feel good, nice and comfortable, it is necessary to choose clothes to be worn with great care. This includes undergarments too. Since, pregnant women gain kilos as she progresses in her pregnancy, she needs to update her panties and bras according to changing size. It is very important to wear correct size during pregnancy as tight clothes may prove to be quite uncomfortable. Enhancing curves and growing bust size requires wearing bras with appropriate size. These days, pregnancy undergarments are available that are not only comfortable to wear but also look flattering as per a woman's shape. Lingerie in tasteful designs, colors and patterns are also available for pregnant women.
Make investment in basic clothes-Instead of spending a lot of money on pregnancy clothes which will be used for a limited time, it is better to invest in some basic clothes. It can be comfortable jeans, simple skirt, comfortable trousers etc. These can be combined with attractive tops and shirts. With expanding waistline, these tops needs to be changed, hence, it is better to buy budget clothes.
Buying basic colors-Instead of buying complicated colors with mish-mash of other colors, it is better to buy single block colors. Such single colors help in streamlining your figure and make you look lean and tall. Similarly, solid colors also help in making you look lean. The main dresses in solid colors can be combined with a dash of color by using bright jewellery, scarves or shoes.
Maxi dresses-One maxi dress in the wardrobe of a pregnant woman is a must have. This dress can be bought with short sleeves or long sleeves. Moreover, they can be short hemmed or can be a full flowing long gown style. Either ways, this dress will show off her newly acquired curves and a svelte figure despite increasing weight. Combined with a stylish jacket, the overall ensemble will offer a chic look.
These tips go a long way making a pregnant woman look gorgeous and attractive.