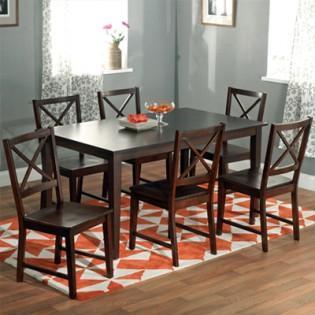 Are you hovering over the internet to buy the dining table set of your dream that matches well with your interiors?  Although it is not a very tough decision to make but many people with flourishing interiors find it a difficult choice to make as they have some lavish home decors.
Here is a guide that can help you in getting your goal of owning the perfect table for your dining space. Read the tips that can help you choose from a wide range of dining table sets to the one that will complement your space in the best way.
* Choose a round dining table set if your room or dining space has many soft corners; a round table helps to accentuate the look of a soft interior setting. A roundtable also gives a different aura to your room as it is not a regular option for people to choose from.
You can get a large variety of dining table set online that bear a round shape. Another advantage is that; if you have small kids around then round tables are the best pick. You will no longer be tensed about your kid bumping into the corners of the furniture.
* Choose a theme; you can follow a particular theme or style that matches with your interiors, this will bring an outstanding appeal to the overall look of your dining space. Imagine a dining space that is unique and follows a theme.
You can, for example, go with a black and white theme for your dining space. Get a dining table set that has a black colored table with white faux leather upholstered chairs. This can give you a ravishing effect and a jaw-dropping sight for your guests.
If you want to go for a particular style of the interior like contemporary, modern, rustic, traditional, etc.; you get a wide choice in that as well. Choose a table that goes well with the style of interior your home carries and there you go!
* Another possible combination can be of "mix and match". You can mix and match pieces of antiqued dining tables with the chairs of another style say carved chairs. This can also look amazing and can elevate your dining space with an edgy look.
* If you wish to go for colors and patterns, then floral printed upholstered chairs with plain tables can add a wow-effect to your dining experience.  Here also you can play with the colors of the upholstery as per your taste.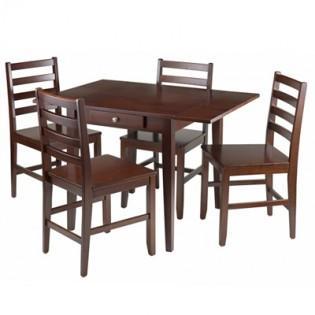 Go for extremely pastel or light shades for that beach look or opt for the something heavy, bold and bright to glamorize your dining space with the floral prints that are big and add a vintage look.
* You can experiment with other styles of furniture as well like you can go for English, European, French, Colonial style of wooden dining tables sets. These will give a totally new and a bit formal look sometimes.
Choosing a dining table set for your home is highly a personal choice but you can always refer to online help and advice that can transform your interiors. You can buy dining table set online India and get some of the most beautiful designs of dining table sets online.