A bar trolley is considered just another piece of furniture that can be used to add convenience to your party. But believe me, it can be way more than that. In fact, while not in use it can carry all the displayable stuff and add so well to your decor.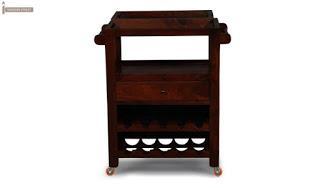 We always tend to make sure that the furniture items or any other utility products that we bring in our homes, must serve more than one purpose for our house, or to be very precise; they should be multi-utilitarian. This is why we start considering bar trolley as a less usable furniture product. But have you ever imagined how purposeful it could be if we take a bar trolley into use? It can be our kitchen trolley, and it can be a mobile platform that can help in transporting things from one place to the other inside the house. It can also be kept inside our bathrooms to hold the required toiletries and off course, it can be the small bar corner that we can use to entertain our guests or family if there is some party in our home.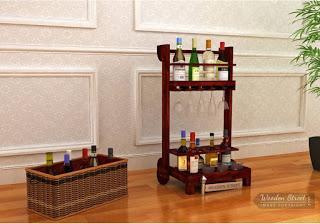 But when we go out thinking that we must also own one, we might get confused looking at the wide spectrum of options available in the category of bar trolleys. So, just to help you a little bit, consider the following points before buying a modern bar trolley for your home: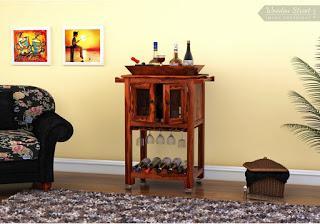 Check the wheels: As the name suggests the bar trolley is going to be something which will carry things on wheels. If there are no wheels in the bar trolley you see, try to avoid buying that one, because instead of adding convenience to your party, it will be like another stationary object carrying thing, just like the other kitchen cabinets in the house. You will have to run here and there to get the things, or you will have to drag the trolley making those unpleasant noises and scratches on the floor.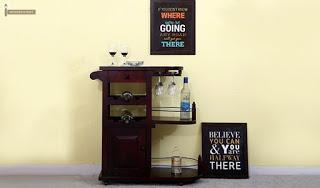 Now even if it has wheels, just make sure those wheels are smooth enough on the floor and do not make it difficult to move the bulked bar trolley or a Kitchen Trolley.
Consider the compartments: You must know that only the wine stacking won't suffice the purpose of a bar trolley. Instead, there is a need for having safe and beautiful partitions in the bar trolley, where you can stock the juggler and lime and other required bar essentials. It would look astounding if your bar trolley has some stylish display for the wine glasses or bar ware.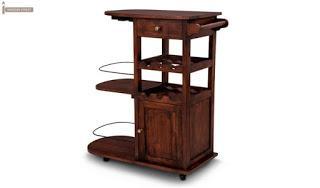 Keep in mind the home decor: If you buy a bar trolley that seems nowhere near to matching your decor, then you have failed to buy the perfect bar trolley. Since not every moment will you be using this piece of furniture, and meanwhile it is not in use, the bar trolley will be resting in some corner of your living room or kitchen trying to add to the decor. This is decided conventionally, but if the bar trolley looks completely out of the place, then an entire look of the house is visually impaired. Most Misunderstood Things About A Bar Trolley So, take a picture of your living area and then buy the bar trolley, referring to that picture, which can look good with that.
Keep in mind your collection: If you have a limited collection of wine do not go for the bar trolley that can display a whole world of wines, instead a small bar cart would do. But if there is the situation that all your friends prefer different kinds of wines, then you have to have a segregated allotment for their choices.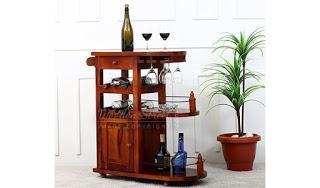 Delivery and installation details: This is the most important phase, that is the dealing phase, wherein you decide that the bar trolley you are planning to bring in will be delivered to your home safely by the team sent by the retailer himself or not. Whether they deliver it for free, or they just charge something ion extra for that. The bills and guarantees are also important to be considered.
Be a smart buyer and all you need will be just a card swap away. The more research you do for the product, the more, you will be easily reaching the correct decision. So, keep analyzing!
Wooden Street App is now available at Google Play store, Install it & Purchase Wooden Furniture Online at Great Discount Price.