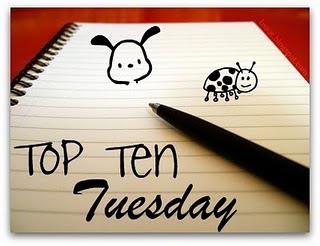 Top Ten Tuesday is an original feature/weekly meme created  at
 The Broke and the Bookish.
Each week they will post a new Top Ten list  that one of their bloggers at The Broke and the Bookish will answer.
Top Ten Books To Read In A Day
Katie P. Edition :)
Top 10 Books to Read in a Day:
*HALLA*
1)
The Last of the Really GreatWhangdoodles – Julie Andrews Edwards
2)
The Lion, The Witch, and theWardrobe – C.S. Lewis
3)
  

AWrinkle in Time – Madeleine L'Engle
4)
Old Magic – Marianne Curley
5)
  

Moon Called –Patricia Briggs
6)
  

Beastly –Alex Flinn
7)
  

The Ruins of Gorlan– John Flanagan
8)
  

The Warrior Heir –Cinda Williams Chima
9)
  

City of Bones –Cassandra Clare
10)

  
My Fair Godmother – Janette Rallison
~*BONUS*~
A Kiss in Time – Alex Flinn
I have been super busy with schoolwork/ studying for an exam and my friend Katie was very kind and did my Top Ten Tuesday this week :) I hope you all enjoy!