What are the top ten snorkeling spots we've visited?
The last post
covered our five all time favorites; this is the next five. These next five were also amazing underwater experiences, but didn't hit on quite as many dimensions. Still, each one is a spectacular and unique destination that provided extremely memorable snorkeling. They're all places we feel privileged to have visited.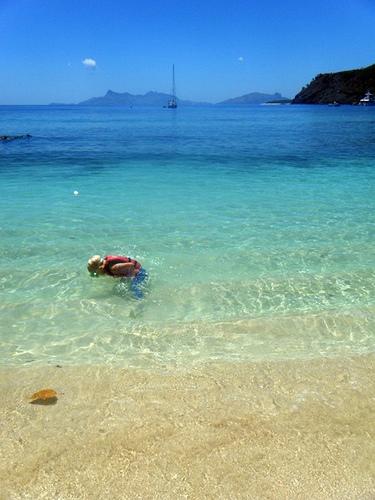 Stunning clear water in Fiji
6. Northern Raja Ampat, West Papua Province, Indonesia
Raja Ampat covers a large area, and while we counted the southern portion among our top five, the northern islands we visited were spectacular as well- but different. Where the south captured us with corals and fish, in the north it was the fascinating mangrove reefs that captured us in particular. Unlike most coastal mangroves, these were surrounded by crystal clear water, with nurseries for fish in the mangrove roots- even soft corals growing right onto mangroves. When Niall and I first got in the water in a little anchorage off the west end of Gam Island, we were so overcome we kept grabbing each other and high-fiving in the water. It was that cool. More of our experiences in
northern Raja Ampat
are chronicled here.
7. Isle de Maitre, New Caledonia
Isle de Maitre is a short sail from Noumea, inside one of the world's largest lagoon off the SE end of New Caledonia. The marine reserve adjacent to the island held beautiful fish and other marine life, and also larger pelagic fish, turtles, and sharks in the deeper waters adjacent to the shallower reef areas. We found one spot that became dubbed "the turtle highway", because a constant stream of large sea turtles that passed through. Just outside the conservation area was some of the best spearfishing we've had, and Jamie brought in some nice big pelagics to keep us well fed. Read about how what started as a weather delay turned into an underwater adventure.
8. Navadra Island, Yasawas, Fiji
We found most of our snorkeling expeditions in Fiji disappointing. The water is terribly overfished, so the reefs aren't healthy. It adds up to less interesting snorkeling destinations than the reputation suggested, although we notably did
not
go to the Rainbow Reef off Vanua Levu, which everyone raves about. This area, at the border of the Yasawa and Mamanuca groups, was the exception. Naviti is unpopulated, which surely helps. The currents flying through here mean lots of nutrients and the marine life was distinctly richer than what we'd seen elsewhere. Just above Navitii, the reefs off a distance from the south end of Waya (speedy dinghy or local boat required) were interesting as well. Jamie and Mike hooked up with some local guys for an afternoon of wild and crazy spearfishing there that will go down in infamy (raw giant clam, anyone?). The second half of this blog post has some stories and photos from Fiji underwater.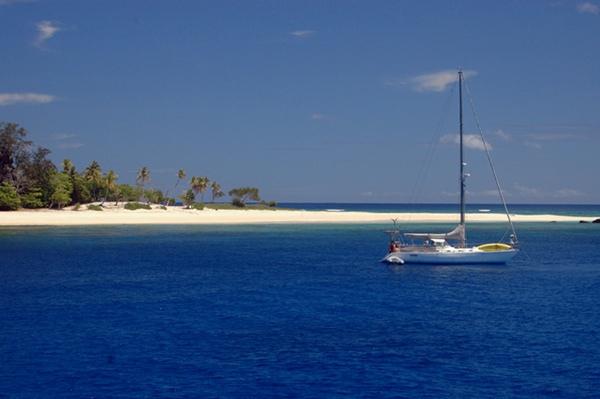 Totem in repose, Navadra, Fiji
9. Kenutu island, Vava'u, Tonga
We only spent a couple of weeks in Tonga's Vava'u group, but it was enough to soak in many of the islands and anchorages in the group. Once again, we the impact of overfishing was sadly palpable. There were some moderately interesting coral gardens in the islands, but the best of all was the ocean-facing reef near Kenutu, at the south east side of this island group. Here, there were massive canyon formations that made for epic swims. What keeps this spot especially present in our memory of great snorkeling spots are the zebra and nurse sharks. Entirely docile, and stunning at close range.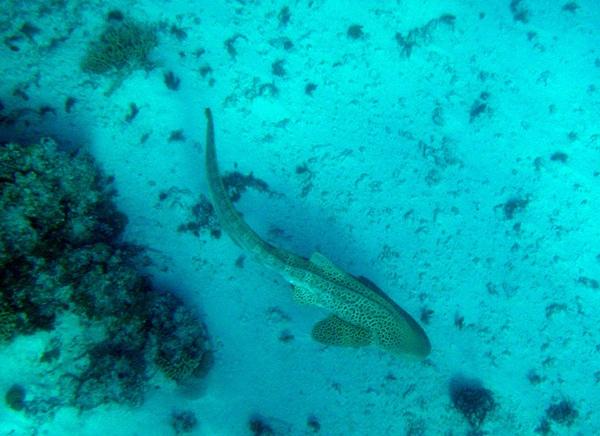 Zebra Shark, Vava'u, Tonga
10. Unnamed reef/islet, near Analeua Island, New Ireland province, PNG
We originally were interested in going to Aneleua (also on maps and charts as Analeva) island because we had heard about a snorkel-depth WWII wreck off the island. It was there, and it was cool, although a bit below most snorkeler's reach at about 30'. Our friends on Nalukai made it more accessible with their hookah, and we took turns hanging out at the bottom, peeking into the fuselage and scoping out fish. Better yet, though, was the snorkeling around a little unnamed dot of an island in the shallow water just south of Analeua. We jammed out in our dinghies (people, you simply cannot get to the cool spots in your cute little rowing dinghy or 2.5hp) and spent an amazing few hours. What made it a great snorkel spot? Fantastic diversity, easy depth (10-15'), and some great individual sightings- it was like a reef buffet with a little bit of everything.
Coming later… another dozen awesome spots that didn't quite squeak into "top 10" status.