There are some Hollywood families who are practically famous for being related to each other. Okay, plus the fact that they've all made a few films either in front or behind the camera. I mean, we all know that Nicholas Cage is the nephew of Francis Ford Coppolla and the cousin of his children Sofia and Roman, just as we know that David Arquette is the brother of Rosanna whilst Casey Affleck is the brother of Ben. However, there are some family connections that we might not be quite so familiar with. Here are my Top Six Family Connections for those siblings and children who are related, but you might not have realised it!
Six. Tony Scott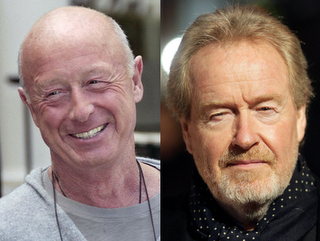 The late Director Tony Scott has been all over the media recently following his untimely death, however, he is more well known for giving us films such as Beverley Hills Cop 2, Man on Fire and Top Gun.
Nevertheless, his career has perhaps slightly been overshadowed by that of his brother, who also just happens to be a Hollywood Director: Ridley Scott, who brought us Blade Runner, the Alien films and my childhood favorite Legend.
It's interesting, because a few months ago I'd have thought that the only connection between the films Top Gun and Legend was the leading actor (Tom Cruise, of course), as I had no idea that the two Directors were brothers.
Five. Laila Morse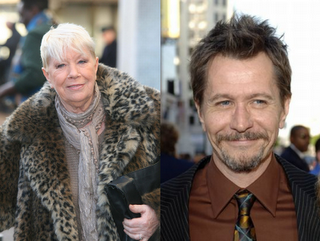 Laila Morse
is probably best known for her role as Big Mo in Eastenders, however did you know that her real name is actually Maureen Oldman, and that she is the older sister of Hollywood actor
Gary Oldman?
Yeah, we don't really see the resemblance either!
Whilst Laila has been selling dodgy clobber around the E20 area of London, and skating in Dancing on Ice, her little brother has been a little bit busier shooting JFK, biting humans, being Harry Potter's Godfather and working alongside Batman.
With fourteen years between these acting siblings you'd be forgiven for not having a clue that they're related.
Four. Oliver Hudson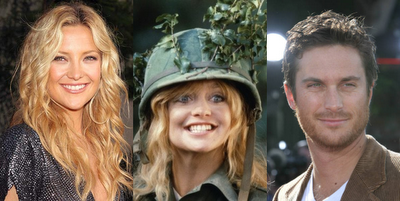 Being self-employed, I find myself watching perhaps a little too much daytime television whilst typing away on the laptop. So, recently I've been catching up on American sitcom Rules of Engagement which I'm relatively new to. Anyone who has seen the comedy will know the character of Adam, who might be good looking, but he's not too smart.
Adam is played by actor Oliver Hudson, who just so happens to be the older brother of Hollywood actor Kate Hudson. It's funny because even when I saw Oliver's surname I didn't click, but yes he is also the son of Private Benjamin and Death Becomes Her leading lady Goldie Hawn...who knew?
Three. Robyn Lively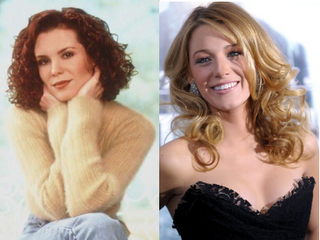 A few weeks ago my other half "encouraged", rather painfully, me to watch the third Karate Kid film. I'm a fan of the first in the series, but the others are just a bit "hmmm" to me. As is quite common in film series' I wasn't surprised that the third film saw Daniel trying to woo yet another girl, but I was surprised to discover that this lady was played by actress Robyn Lively.
Never heard of her? Me neither.
But, with a surname like Lively, I couldn't resist wondering if she would be somehow related to Gossip Girl actress Blake Lively, and expecting her to be no relation at all, but in the least maybe an Aunt or related by marriage, I was surprised to discover that Robyn is in fact Blake's older sister.
Two. Jack Quaid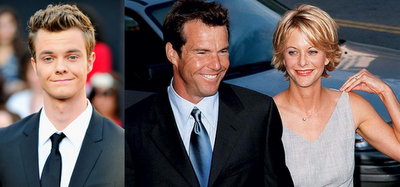 It's easy to say that the first Hunger Games film took the world by storm, and made a huge star of leading lady Jennifer Lawrence. However, with a strong cast of well-known actors, it's easy for the lesser known child actors to get a look in, even if they are the offspring of two of Hollywood's most cherished actors. Who am I talking about?
Jack Quaid of course. Jack, who played bad boy Marvel, is the son of Dennis Quaid and Meg Ryan.It's easy to see that he is definitely their son, although I have to admit that he has one of those smiles that makes me really want to punch him...I wonder which parent that came from...
One. Jason Schwartzman

I first encountered actor Jason Schwartzman starring as the writer sibling alongside Adrian Brody and Owen Wilson in Wes Anderson's brilliant The Darjeeling Ltd. Never knowing that he was part of Phantom Planet, the band who performed the theme tune to hit US teen drama The OC.
However, it is Schwartzman family connections that have held the most intrigue for me, because he is actually the son of Talia Shire. Shire is, for anyone who doesn't know, the sister of Hollywood Director Francis Ford Coppola, who in turn is the father of Director Sofia Coppola, and also the Uncle of actor Nicholas Cage. Thus making Schwartzman, younger Coppola and Cage all cousins. Phew, that seems a lot doesn't it. But, the famous family connections don't actually end there.
Sofia's brother Roman is also in the industry, regularly working as a co-writer alongside Schwartzman and Wes Anderson. Younger brother Robert Schwartzman was a member of the band Rooney, and has also starred in films such as The Princess Diaries, and cousin Sofia's film The Virgin Suicides.
Schwartzman's half brother John is a Cinematographer, with a career spanning Armageddon, Sea Biscuit, Pearl Harbor and many others. Whilst half sister Stephanie has worked in the Art Department for films such as Edward Scissorhands and Ed Wood.
Other cousins include Cage's brothers Christopher Coppola who has worked as a Director, Producer and Writer, and DJ Marc Coppola.
It's fair to say that the Coppola/Cage/Schwartzman's are one heck of a family!!