Yes, this is going in my Top 10 Lists category.  And yes, I should be writing a Top 10 Places to Dine in The World rather than just 5.  But it takes a lot to blow me away, and the last thing I want to do is search the dusty shelves in the back of my brain for places to fill my list with. 
Instead, I want to compress a big list to only the ones who really deserve a mention.  So here I bring you The Smart Girl's top restaurants in the world. Use it as a guide or just soak up my thoughts…..
Top Restaurants in The World: My Top 5
I wish I was a foodie.  I'm not.  I'm just a girl who loves to eat.  I don't consider myself an expert in the origins of different ingredients, I don't recognise the smell of Benedictine Bleu in a cheese shop, I can't spot the difference between Beluga and Paddlefish caviar (but I do love either), I can't understand why people swirl their wine, and I can't tell explain the distinct difference between foie gras and pate without turning to Google.
But what I can do, is separate the frills of pricey, Italicized menus (probably hand written with a gold coated quill), with reality.  And reality usually boils down to two all important questions:
1. Does it taste good?
2. Am I having a good time?
Whether it's a dirt cheap noodle shack on the streets of South East Asia or a credit card killer, I'm always looking for top restaurants in the world to push onto other travellers like myself.  I must confess, as a self-diagnosed travel addict, I've become quite the critic.  It's not that I enjoy being judgmental ; I'm just a girl in search of my favourite things.
A Deserving List of 5 Top Restaurants in The World
I started to create a list for the the top 10 places to dine in the world, but I found myself picking fault with every establishment.  As I'm yet to plague the entire planet's eateries with my opinions just yet, here are my top 5 places to wine to dine.
1. Sirocco (Lebua State Tower) – Bangkok, Thailand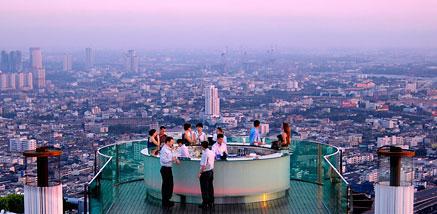 I hate expensive things, I really do.  But this place deserves all kudos I'm about to give it.  The Sirocco al fresco dining experience is possibly too great for the English lexicon to describe.  It's almost intimidating as I rummage around for words to fit.
The food was delicious, and even though it didn't knock my socks off like a French Vanilla slice (I do love a Vanilla slice), the view completely consumed me.  If you stop for a cocktail at the SkyBar before or after dinner, you will literally be standing one sheet of glass away from the rest of Bangkok. 
2. Miss Mamie's Spoonbread Too – Harlem, New York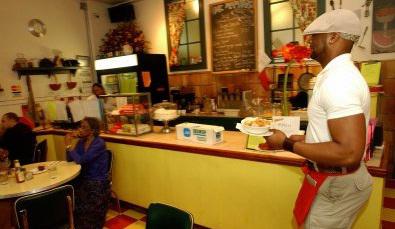 Dare I say it? I'm not a fan of American food.  It's a sweeping statement, I know, but I just haven't been wowed yet.  I found a superb little gem in Harlem with all the things I'd seen in the movies, the perfect soul food. Meatloaf, homemade barbeque chicken wings, cornbread – all the things you imagine you'd tuck into after church choir.  Stop here for the best chicken wings on the block and you won't need to part with too many of your hard earned pennies either. 
 
3. U Fukier – Warsaw, Poland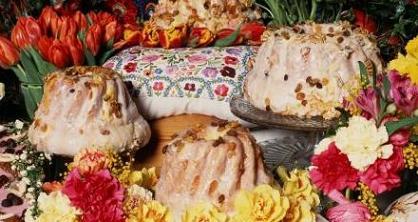 This place, found in the Old Town Square in Warsaw, is amazingly quirky.  You'll feel as though you've just entered into a time warp by candlelight; the entrance is overrun by conifers and fairy lights, the corridors are lined with pumpkins and foliage, tables are brimming with cakes and flowers.
The atmosphere is wonderful, so cosy and fairytale-like, and the food is an exquisite Polish dining experience – a great way to discover local cuisine.  And the dessert?  The dessert is just to die for.  If you visit U Fukier in Warsaw, be sure to try the 'Soup of Nothing'. 
But the best things you'll find about U Fukier are the prices.  Get a seriously luxurious dining experience for the cost of a British pub lunch.
4. Commonwealth Crescent Food Centre – Singapore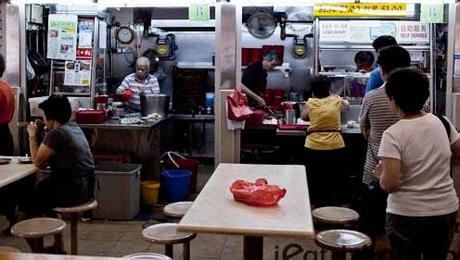 This is a hungry backpacker's paradise, it really is.  Despite the common misconceptions surrounding street food, Singapore's food hawkers are among the most hygienic, and don't let the simplistic decor put you off.  The Commonwealth Crescent presents you with a huge selection of delicious noodle huts and dessert stalls. This is where I tasted aloe vera jelly for the very first time; mixed in with sorbets, fresh fruit and condensed milk, there's just nothing more refreshing than this Asian dessert on a sweltering hot day. 
5. Café des Deux Moulins – Montmartre, Paris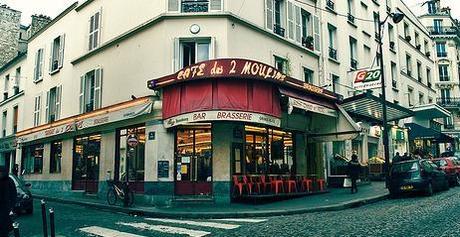 Nestled in a pretty little street in the arty area of Montmartre, where you will find the Sacre Coeur, Cafe des Deux Moulins is for anyone who loves Amelie like I do.  Like a crazed French cinema fan, I ordered cocktail after cocktail named after all the characters in the film, including my favourite, Dominique Bretodeau.
I indulged in a classic coq au vin dish followed by a lovely crème brulee.  The place was filled with other tourists getting high off the same movie references, but as soon as the bar staff starting quoting from the film, I knew it was absolutely fine to be touristy.  For such a major tourist attraction, the prices are very reasonable too.
My Top 10 Places to Dine in The World…..To Follow?
Who knows. I could be wowed again pretty soon.  If you would like me to review your restaurant, please feel free to contact me on [email protected].