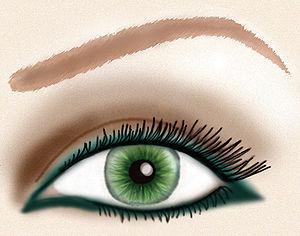 Image via Wikipedia
Many women report that eyeliner is the one cosmetic item they won't leave the house without wearing. Eyeliner can make you look polished and put together with relatively little effort. That's why it's frustrating when your eyeliner rubs off during the day.  If you live in a humid environment, work long hours, or get teary-eyed at the drop of a hat, you need something that can go the extra mile. There are plenty of liners on the market and not all are created equally. If you want a liner that will stand the test of time, read on for our top 5 long lasting eyeliners.
1. Wet n Wild Gel Liner
Long-lasting gel liners used to only be available from high end lines. Now, the budget-friendly Wet n Wild Gel Liner makes this popular format accessible to everyone. The gel liner comes in a pot, is well-pigmented, and lasts all day just like the MAC and Bobbi Brown gel liners but at a fraction of the price. It's also great for control freaks because you can dip any size brush you like into the pot to get the exact look you want.
2.Estee Lauder Double Wear Stay-in-Place Eye Pencil
This eye pencil goes on smoothly without tugging at the eyelid. In fact, it's one of the easiest long-lasting eyeliners to apply. Best of all, it lasts and lasts. It also has a great color payoff. Bronze looks amazing on blue eyes, Black Plum brightens hazel or green eyes, and Coffee is a universally flattering shade of brown.
3. Stila Stay All Day Waterproof Liquid Eyeliner
One of the best things about this long-lasting liner is the applicator. It's a pen-style liner with a fine felt tip that enables you to get a very precise line or a dramatic one depending on your mood. It manages to stay put on even the oiliest eyelids. It doesn't flake or transfer yet removing it is not a difficult feat.
4. Urban Decay 24/7 Eyeliner Pencil
This liner is great for those who want the look of a pencil liner but the wear of a liquid or gel. It wears extremely well and is highly pigmented. Although it requires frequent sharpening if you want a fine line, it's well worth the effort. It also comes in an impressive array of colors. Two standouts are the dark blue Rockstar and mossy green Mildew.
5. MAC LiquidLast Eyeliner
MAC LiquidLast Eyeliner is a liquid eyeliner that truly lasts. That can be a good thing and a bad thing. If you insist on wearing eyeliner while swimming, this eyeliner will be your new best friend. If you hate making extra effort when taking off your makeup at the end of the day, avoid this one. Be forewarned: this eyeliner is a bit tricky to apply so if you're new to liquid liners, it might take some practice to get it right. It also needs a minute or two to dry completely. Two great shades are Point Black, a true black color, and Inky, a black with navy blue shimmer.
Cindi Lewis write for GLOSSY, a hair care and beauty products online retailer.