Unsurprisingly, the Maldives were voted one of the top five holiday destinations of 2011 right here on this blog. In reality, these lovely islands have been at the top of shortlists for years, and with good reason. They're exclusive, peaceful, and full of luxurious hotels, gorgeous views, and the potential for intimate, romantic moments. They're frequented by celebrities – Girls Aloud star Sarah Harding just got engaged there – and royalty along with the rest of us plebeians!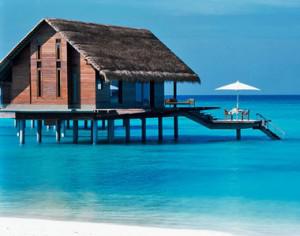 My favourite way to experience the Maldives is in an overwater bungalow. They're expensive but oh so worth it, especially on your honeymoon. They are gloriously private, well-spaced away from one another, with immediate access to the water whenever you like. Sitting on your deck and gazing out at mile after mile of beautiful blue ocean – how could anyone resist? These are simply the perfect choice for relaxation, solitude, and that necessary peace after the hustle and bustle of a modern wedding.
If you can't afford an overwater bungalow, that doesn't mean you need to exclude the Maldives from your honeymoon planning. Far from it – because the Maldives are such a popular destination, there are a vast array of properties with different prices and standards. By far the most important thing to do with this particular destination is to get your research going. Because you have so much to choose from, and because the competition is pretty fierce, you have a great chance of getting some good deals.
You also know that the hotel's standards have to remain high for them to be popular. With the popularity of websites like TripAdvisor and ReviewCentre, we can easily find out which hotels make the grade and which really do not. For luxury, though, the Maldives are clearly the place to go. Two of ten resorts on TripAdvisor's recent 'Top Ten Luxury Hotels in the World' list are located in the Maldives – Cocoa Island Resort and Baros Maldives. They are both incredible choices, so it's difficult to say I'm surprised! The reviews are glowing and tell the story all by themselves. It's refreshing to choose a resort that you know will deliver on your expectations.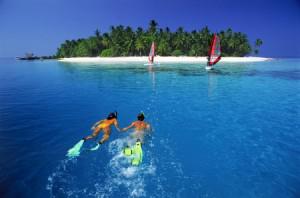 While the Maldives can be seen as a get there and 'flop' destination, there is still plenty to do during the days, even remotely. Watersports are big, and I'd highly recommend scuba diving. Many resorts offer courses right on site, making it easier than ever to get started right on your honeymoon. You won't miss a thing, and you'll have an exciting new experience to remember from your honeymoon. Underwater views are just incredible; trust me, you'll never get enough, and you may find the rest of your holidays based around what you can see under the sea!
Many of the resorts in the Maldives also pay extra attention to the quality of their food. I'd definitely recommend going all-inclusive with one of these destinations, because you won't be leaving the resort. You might think you can go elsewhere or economise on food, but in reality this is unlikely. Many of these resorts take up an entire island and, if you're not all-inclusive, food prices can be extortionate. Luckily, though, these resorts take your requirements into mind, and most packages will include all meals and some drinks. For a honeymoon, where lying back and relaxing is a priority, you want this taken care of before you travel.
What are your Maldivian travel tips?